PokerStars EPT Dortmund, Day 3: 'Timex' Grabs Narrow Lead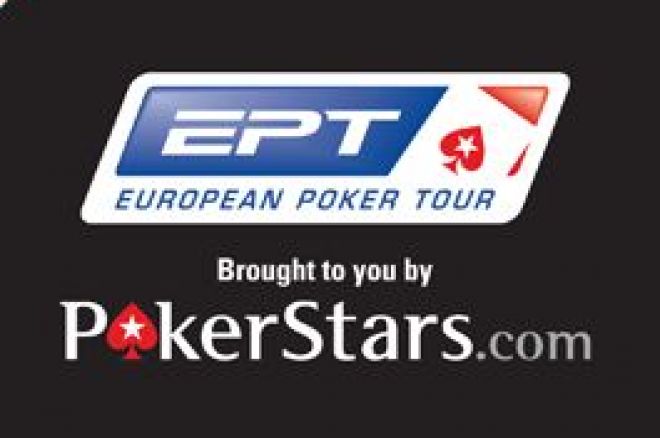 When Day 3 of the PokerStars European Poker Tour German Open kicked off, 32 players remained, with Spain's Diego Perez the chip leader. By the time the final table had been decided, Michael 'Timex' McDonald, fresh off an impressive three cashes at the Aussie Millions, had claimed the top spot on the leaderboard. The top ten chip stacks to start Day 3 were as follows:
Diego Perez — 361,600
Michael 'Timex' McDonald — 335,700
Claudio Rinaldi — 278,700
Marco Liesy — 278,200
Johannes Strassmann — 276,400
Aniol Alcaraz — 216,200
Brandon Schaefer — 202,300
Andreas Gülünay — 201,100
Jan Heitmann — 200,400
Manfred Hammer — 135,300
2005 EPT Deauville champion Brandon Schaefer began the day in difficult fashion when his pocket aces were cracked by Jiri Kulhanek. Kulhanek raised from the button on a steal attempt and Schaefer pushed all in with
. Kulhanek called with
, and the flop came down
. The turn brought the
and left Schaefer drawing dead. He was eliminated shortly afterwards, along with Sebastian Till and Andreas Sarling, a 19-year-old playing in his first international tournament who made a strong showing here.
Marcel Luske went to the rail soon after when he made a move on Johannes Strassmann's preflop raise by pushing all in with
. Strassmann called with
, and the flop came down
. Luske could not pick up a king or another five on the turn or river, and the Flying Dutchman was eliminated.
Michael 'Timex' McDonald went on a rush to start Day 3, taking over the chip lead early, and then regaining it late in the day after losing some chips in the middle of the session. In one pot with Johannes Strassmann, McDonald called a preflop raise to see the flop come
. Both players checked to the river, when McDonald made a large river bet that Strassmann called with
. McDonald tabled
for top pair, and dragged a huge pot just before the dinner break.
Eliminations came in a flurry after dinner with Aniol Alcaraz busting very shortly after returning from dinner. Jiri Kulhanek and Manfred Hammer both busted very soon after, and then Daniel Carter ran into a rough pair of back-to-back hands to end his tournament. In the first, Daniel Ryan doubled through Carter with
against Carter's pocket queens. Ryan spiked an ace on the river to stay alive, and then Carter got the last of his chips in on the very next hand holding
against Andreas Gulunay's
. The board ran out
, and Gulunay's kicker played to send Carter to the rail.
Alexander Milanov became the final-table bubble boy when he exited in ninth, setting the final eight spots in the German Open. The chip stacks and seating assignments looked like this as the players redrew for tomorrow's final, with McDonald, Strassmann and Perez leading the way:
Seat 1: Mike McDonald — 862,000
Seat 2: Diego Perez — 744,000
Seat 3: Thibaut Durand — 148,000
Seat 4: Johannes Strassmann — 827,000
Seat 5: Christian Harder — 339,000
Seat 6: Andreas Gülünay — 560,000
Seat 7: Torsten Haase — 369,000
Seat 8: Claudio Rinaldi — 276,000