Second Annual Jennifer Harman Nevada SPCA Fundraiser a Huge Success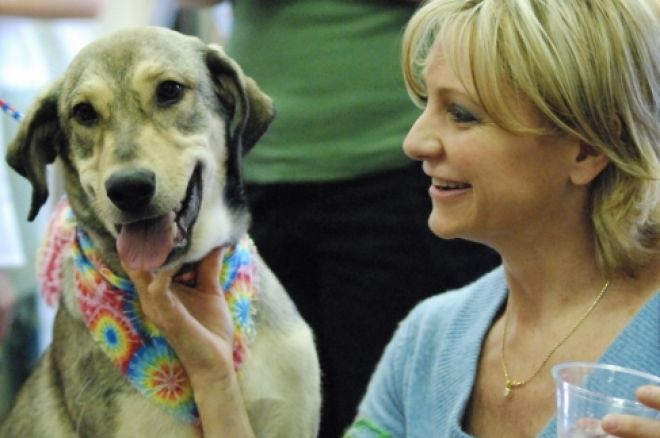 There are many charity poker tournaments these days, but only a few of them would qualify as events. Friday at the Venetian, about 275 generous poker players saddled up to play some poker and help a great cause at the second annual Jennifer Harman Nevada SPCA Fundraiser.
The room was a virtual "who's who" of poker, as celebrity poker players gathered to help out animals in need. Brunson, Ivey, Negreanu, Greenstein, Hachem, Lederer, and dozens of poker's brightest stars sat down to rebuy until they could rebuy no more, and raise some money while re-raising each other.
The "rebuy battle" was on early, as Daniel Negreanu and Eli Elezra were out to see who could rebuy more times. Chau Giang was all in almost every hand in the first level, and the atmosphere was light and festive. The winner of the tournament would walk away with a seat in Main Event of the WSOP this year, and everyone at the final table would pick up a nice prize.
In addition to a memorabilia auction (for the second year in a row, Doyle Brunson auctioned the hat right off his head), there were some very cool bounties. PokerNews CEO Damon Rasheed just missed out on collecting Doyle Brunson's bounty – a signed $1,000 bill (For those of you under 30 years old, yes, we used to have $1,000 bills in this country – they were quite "baller".) donated by Mark and Cheryl Scott of Sahara Coins and Collectibles.
There were some very cool items up for auction, including things such as a package where the winner would be invited to fly on a private jet to Vince Neil's celebrity golf tournament, dinner and poker lessons with the tournament hostess Jennifer Harman, and many others. Jeff Madsen picked up a nice snowboard, while 'Al from Bakersfield' picked up Doyle's hat – and put it right onto his own head.
The Venetian provided a fantastic environment for the tournament, with Kathy Raymond and her staff opening their room – and their wallets – to provide the venue, and also chipping in $5,000 on top to help out the Nevada SPCA.
Top tournament director and PokerNews.com columnist Matt Savage was on hand to walk amongst the tables and keep the players honest. But, this was not a day about rulings, this was a day made for having fun and being reminded that poker can do a lot of good in this world.
Our own Tiffany Michelle wound up finishing eighth in the tournament, and picking up a nice prize. But, before she sat down to play some poker, she worked the red carpet, and talked to some of poker's biggest names about this tournament, which truly was an event. You can see Tiffany's interviews below.
Thanks to the tournament organizers, the staff of the Venetian, and the players who generously donated their time, and uttered the magic word "Rebuy!" early and often. See you next year.
<object width="450" height="350"><param name="movie" value="http://video.pokernews.com/v/48097adfba3b8.swf"></param><param name="bgcolor" value="#000000"></param><embed src="http://video.pokernews.com/v/48097adfba3b8.swf" type="application/x-shockwave-flash" width="450" height="350" bgcolor="#000000"></embed></object>