Women's Poker Spotlight: Upcoming Women's Events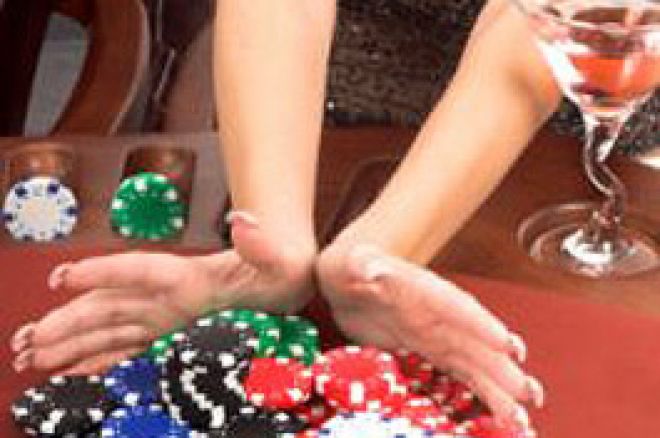 Now that the 2008 WSOP is winding down, it's time to look forward to the next tournament. Many players take a few weeks off to rest and take a well-deserved vacation to ready them for the next season. However, for the women who travel from tournament to tournament, here's a schedule for upcoming events.
The Orleans Casino begins its Orleans Open July 10th thru 20th. Saturday, July 12th, at noon, the new Gender Defender No-Limit Tournament will be put to the test. A new concept in poker, two tournaments will run at once, men on one side of the room, and women on the other. After playing down to fifty players on each side, the two tournaments will be combined with seating arranged alternating male and female. The tournament will continue until one player determines the best of the genders. Gender Defender has a buy-in of $300+$30 and $4,000 in starting chips with 45-minute rounds.
The following day, Sunday July 13th, The Orleans Open will host the LIPSTour Championships. Beginning at noon with a buy-in of $300+$30, ladies will begin with $4,000 in starting chips with 45-minute rounds.
The Wildhorse Resort and Casino in Pendleton, Oregon, as part of the LIPSTour, will host its annual Summer Poker Rodeo, July 16th thru 20th. The ladies' no-limit event will be held on Saturday, July 19th at noon for a buy-in of $165. An additional $3,000 will added to the prize pool by the casino!
The Grand Sierra Pot of Gold Poker Series will be held in Reno, Nevada from July 24th thru August 3rd. The LipsTour has returned to this event to bring another ladies' no-limit event, which begins July 27th at 4 p.m. with a buy-in of $125.
The Bicycle Club, located in Bell Gardens, California, will host its annual 2008 Legends of Poker series beginning July 30th and running thru August 29th. There will be two ladies events at this series. On Sunday, August 3rd at 2:15 p.m., a LIPSTour no-limit ladies event with a buy-in of $340. The second ladies tournament will be scheduled for August 16th at 3:15 p.m. for a buy-in of $545. This tournament has, in the past, been a qualifier into the WPT Ladies Night. The winner always fills the sixth and final seat for this annual event presented by the WPT. Since there has been no announcement of a new season of the WPT, this event may, or may not, be a qualifier.
Oceans Eleven, located in Oceanside, California, will once again host the 2008 California State Ladies Championships on September 18th thru 21st. This series is without a doubt the biggest poker party in the history of women's poker tournaments. Women from across the United States will travel to Oceanside for these three days of tournaments, food, entertainment, poker seminars and fun! Oh yes, I almost forgot, and poker!! Oceans Eleven Tournament Director Suzanne Carter has posted this agenda for the ladies:
September 18th
9am-11am: Satellites for all events
1pm-4pm: Ivey Ranch Hands-on Project
7pm: Forum with Special Guests/ Enjoy Wine tasting and our Meet and Greet Party
September 19th
10am: LIPS Tournament $175 buy-in
7:30pm: Special guest talent
8pm: Talent Night
(base your talent on Hollywood/California)
September 20th
10am: CA Ladies State Championship (two-day event) $250 Buy-In
8pm: San Diego County- SURFING USA
September 21st
11am: Tag Team Tournament $200 Buy-in per team (Omaha-8/Hold'em Limit
8pm: Awards Ceremony
Ladies, you don't want to miss this event. I've attended every year, and it is by far the best poker and social event of the year!