PokerStars 2008 WCOOP Day 10 Summary Report: Jacobs Tops 'ElkY' in Heads-Up Final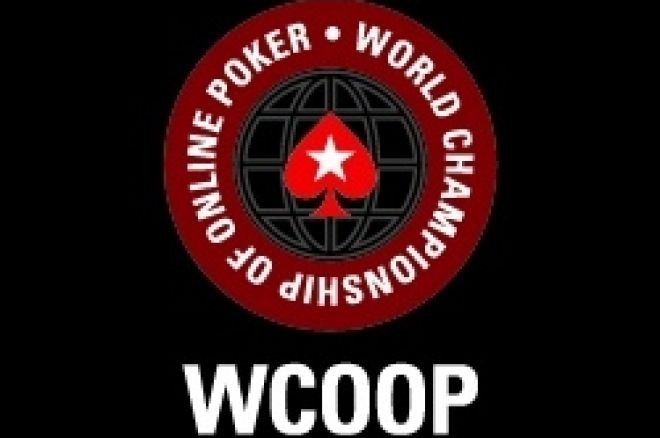 Big action and big names marked the PokerStars 2008 World Championship of Online Poker on a Sunday full of stories for poker fans the world over. The highlight of the night was Event #19, the $25,000+500 Heads-Up NLHE tournament, which featured 64 of the world's best players in a bracket-style format until only one player remained: Steve "stevesbets" Jacobs, who topped Team PokerStars Pro Bertrand "ElkY" Grospellier for the title. Event #20 featured a massive field, with play finally suspended and resumed today to determine a winner.
WCOOP Event #19, $25,000+500 NLHE Heads-Up
The 2008 World Championship of Online Poker (WCOOP) at Pokerstars held its biggest-buyin event on Sunday, a $25,000+500 heads-up NLHE tournament with an elite field that will not often be matched. Almost every finish was notable, but only eight made it to the money. Just missing out were Tom "Hold_emNL" Dwan in 10th place, Daniel "KidPoker" Negreanu in 15th place, and Dario Minieri in 16th place. The remaining eight players looked to turn their $25,500 entries into a first-place prize of $560,000.
Elite Eight:
Bertrand "ElkY" Grospellier quickly won his match against brianm15 after they were all in on a flop of
. ElkY showed pocket kings and they held up against brianm15's pocket queens to advance to the final four.
Gavin Griffin defeated Victor Ramdin in a battle of Team PokerStars pros. The chips made it into the middle on a flop of
. Griffin held
for middle pair against Ramdin's
. He was able to dodge all of Ramdin's outs and advanced to the next round for a showdown with ElkY.
Steven "stevesbets" Jacobs got the best of PAW717 when the board showed four hearts and stevesbets held the heart queen to make a higher flush and made it to the $160,000 level.
Zivziv closed the door on Vanessa "LadyMaverick" Rousso's attempt at a comeback. Short-stacked, Rousso check-raised all in on a
board with
but was called by zivziv's
. Rousso did not hit a four on the river and zivziv advanced to the final four to face stevesbets.
Final Four:
ElkY seemed to have Gavin Griffin's number and held the upper hand throughout their match.. It came to an end when Gavin was all in for his tournament life on a flop of
. He held
but would need significant help against ElkY's
. No help came for Griffin, and he earned $160,000 for fourth place. ElkY was now guaranteed at least $320,000 as he waited for the other semifinal match to come to a close.
Stevesbets battled back from being down 11-to-2 in chips to defeat zivziv. The two were nearly even in chips when stevesbets won the hand that swung the match in his favor. They saw a flop of
and stevesbets put in a check-raise that zivziv called. The
hit the turn and stevesbets led out. Zivziv flat-called and the river came the
, which led to an all-in shove from stevesbets. Zivziv wasted little time in calling and showed
for trips, but it was second best to stevesbets'
for deuces full. The match ended a few hands later and zivziv earned $160,000 for third place.
Championship Match:
Bertrand "ElkY" Grospellier vs. Steven "stevesbets" Jacobs
Each player started the match with $320,000 guaranteed as well as 320,000 in chips. The blinds were 320/640 as the stage was set for a long and grueling championship battle. Stevesbets jumped out to an early lead, but the first big pot went to ElkY. The blinds were at 800/1600, when, on a board reading
, stevesbets fired 121,600 and ElkY called, tabling
for two pair, besting stevesbets'
.
The match would even itself out again. Stevesbets would win a flurry of pots to take the chip lead as the blinds moved into the 2400/4800 range. He held a 4to-1 lead on ElkY before a timely pocket-pair-vs.-pocket-pair hand favored ElkY, to double his stack. Grospellier's
held up against stevesbets'
to pull ElkY closer, and eventually he retook the chip lead.
However, things would change at the 3,200/6,400 level. Steven "stevesbets" Jacobs min raised to 12,800 preflop and ElkY called. The flop came
and ElkY check-called a bet of 19,200. He would again check-call the
turn, this one to the tune of 46,400. The
hit the river and again ElkY checked. Stevesbets bet 116,400 and ElkY clicked the call button, then mucked when stevesbets showed
for the full house.
The chip counts at this point were:
Bertrand "ElkY" Grospellier: 133,120
Steven "stevesbets" Jacobs: 506,880
ElkY managed to gain a little bit of ground climbing back up to 241,920, but it would not be enough as he would soon lose the match. With the blinds still at 3,200/6,400, stevesbets opened to 19,200 and ElkY popped it up to 236,800 and essentially put himself all in. Steven "stevesbets" Jacobs reraised all-in and ElkY called his remaining 5,120 all-in. The hands were:
Grospellier:
Steven "stevesbets" Jacobs:
No three would arrive as the board came out
and Bertrand "ElkY" Grospellier earned $320,000 for finishing as the runner-up. Steven "stevesbets" Jacobs took first place for a $560,000 payday! En route to victory, he defeated CADX2, Isaac "philivey2694" Haxton, Chris "Genius28" Lee, PAW717, zivziv, and finally Bertrand "ElkY" Grospellier.
The final results:
1. Steve "stevesbets" Jacobs - $560,000
2. Bertrand "ElkY" Grospellier – $320,000
3. zivziv - $160,000
4. Gavin Griffin - $160,000
5. Vanessa "LadyMaverick" Rousso - $100,000
6. Victor Ramdin - $100,000
7. PAW717 - $100,000
8. brianm15 - $100,000
WCOOP Event #20: $1,000+50 NLHE
Event #20, a $1000+50 no-limit hold'em tournament, was the second two-day event of this year's WCOOP. Thirteen hours of play on Day 1 saw a field of 3,467 left with only 43 players. Among those making the money but failing to make it past day 1 were Hoss_TBF in 56th place ($5,547.20), Mark "RandALLin" Flowers in 153rd place ($4,160.40), Jon "PearlJammer" Turner in 194th place ($3,813.70) and Joe Hachem in 240th place ($3,467).
Bertrand "ElkY" Grospellier, fresh off a second-place finish worth $320,000 in Event #19, is still in the field and looking for back-to-back six-figure cashes. Also in the field, fifth in chips, is team PokerStars Pro Humberto Brenes. With first place awarding $468,045, an exciting night of poker is sure to be in store. The top chip counts going into play today are:
1. I'am_Sound - 3,073,340
2. BJKing - 2,851,329
3. QuasiFiction - 2,839,907
4. diatty - 2,494,279
5. Humberto Brenes - 2,285,850
6. VuaXiTo - 2,217,819
7. Ryan45 - 2,020,589
8. JSchnett - 1,971,915
9. Numbass - 1,914,718
10. golfsoc - 1,826,196