WSOPE Event #3, £5,000 Pot-Limit Omaha Day 2: Theo Jorgensen Heads Final Nine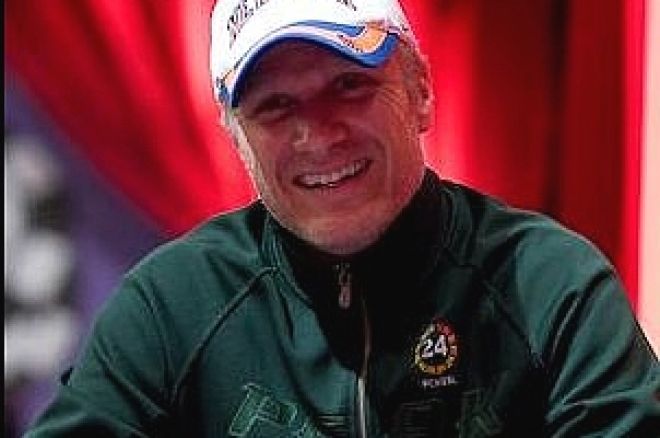 With 45 players ranging from some too young to set foot in a Las Vegas casino to one with 10 World Series of Poker bracelets, Day 2 of Event #3 at the World Series of Poker Europe, £5,000 Pot-Limit Omaha, was certainly a clash of the generations. The event drew top players from all over the world, some household names such as Doyle Brunson, and some more well-known by their screen names, like Sorel "Imper1um" Mizzi. By the end of the day, only nine players remained in contention for the WSOPE bracelet, as 36 others headed to the rail on Day 2.
With a field as solid as this one, every table was formidable and every elimination was notable. Among the early bustouts was Dave "Devilfish" Ulliott, finishing well out of the money when his top set couldn't hold again Markus Golser's big draw on a flop of
. Elliott held
for the set, but Golser tabled
for the nut flush draw and the wrap draw. Golser got there on the turn when the
landed, and the
river didn't pair the board for Ulliott, and he was out. Doyle Brunson, Roy Brindley, David Williams and recent WSOPE HORSE champion Sherkhan Farnood were among other eliminations on Day 2.
Much of the action on Day 2 centered around three young pros. Mike "timex" McDonald, Shaun Deeb and Jason Mercier put on a demonstration of a chip rollercoaster late in the day that left one young man atop a mountain of chips and two others on the rail. A short stack for much of the evening, McDonald got into a huge pot with Deeb that moved him right back into contention after the dinner break. Deeb raised preflop and found two callers in David Penly and McDonald. The flop came down
, and Deeb fired again. McDonald called and Penly got out of the way. Deeb checked the
turn, and McDonald checked behind. The
came on the river, and Deeb checked again to McDonald, who bet out. Deeb called, only to see McDonald table
for the rivered full house. "I suck for checking the turn," Deeb said after the hand. "I had the nuts — king-jack (of hearts)."
Deeb still had a sizable stack after that hand, and put it right back to use, knocking out McDonald on the very next hand. Once again, it was Deeb raising preflop and McDonald making the call, this time to see a flop of
. Deeb fired out at the flop, and McDonald raised pot. Deeb re-raised enough to put McDonald all in, and McDonald thought for a moment before calling with
. Deeb tabled
and eliminated McDonald when the turn and river came down
.
The aggressive Deeb never slowed down, but his stack took a couple of big hits as he doubled up Max Pescatori and lost a monster pot to Jason Mercier within half an hour of his big confrontations with McDonald. After Mercier rivered a Broadway straight to catch up to Deeb's two pair, Deeb was left on a short stack. He got all his money in preflop against Eric Dalby holding
. Dalby showed
. The flop came
, giving Deeb a set but also giving a flush draw for Dalby. Deeb seemed prescient when he said "Good game" to Dalby before the turn and river even landed, as though he knew what was coming. He was right, as the turn and river ran out
to make Dalby's flush and send Deeb home just shy of the money. A few hands later, Alex Kravchenko was the bubble boy, and the remaining 18 players settled in around two tables for the last nine eliminations of the evening.
The trickle of eliminations swelled to a flood as the bubble burst, with Jolyne Thompson, Stephen Kjaerstad, Allen Cunningham and Chris Bjorin falling in quick succession. Justin Smith. Padraig Parkinson and Joe Beevers all headed to the rail in a clump as the field quickly thinned to the final 11 players. Neil Channing busted in 11th place (£18,562) to move the remaining ten players to one table, and Ilkka Koskinen became the final-table bubble boy when he finished in 10th place (£18,562).
Koskinen called a preflop raise from Theo Jorgensen and both players checked a
flop. Koskinen bet out when the
came on the turn, and Jorgensen raised. Koskinen moved all in over the top, and Jorgensen made the call with
for two pair. Koskinen was well ahead with
for the nut straight and a gutshot straight flush draw, but the
on the river gave Jorgensen a full house and sent Koskinen packing. That hand left Jorgensen as a runaway chip leader going into the final table, as the nine remaining chip stacks and seating assignments looked like this:
Seat 1: Erik Friberg - 189,000
Seat 2: David Penly - 162,000
Seat 3: Jason Mercier - 650,000
Seat 4: Sorel Mizzi - 290,000
Seat 5: Tomi Nyback - 434,000
Seat 6: Theo Jorgensen - 897,000
Seat 7: Max Pescatori - 126,000
Seat 8: Eric Dalby - 277,000
Seat 9: Chris Ferguson - 282,000
Join PokerNews at 4PM local time on Friday for all the live updates from the final table of Event #3 of the 2008 World Series of Poker Europe.
Get in on the action with a Full Tilt Poker Marketing Code