PokerStars.net APPT Seoul, Day 2: Brian Kang Leads Final 16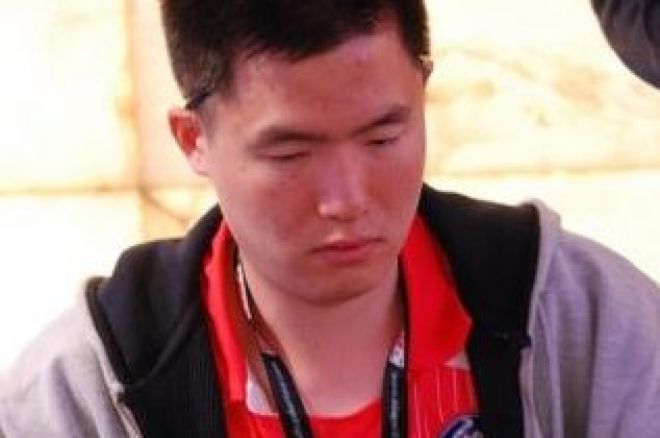 Day 2 action in the Pokerstars.net Asia Pacific Poker Tour Main Event in Seoul, South Korea, saw 83 players on hand to start play, the survivors of 165 initial Day 1 entrants at the Walker-Hill Casino. The 83 players worked down to the 16-spot money bubble as action was halted for the day, with Brian Kang emerging as the overnight leader following a wild close to the action.
The day began with Jan Van Dyk and David Saab atop the leaderboard, though neither would survive the session. First, though, came the winnowing of the shorter stacks, with several notables among them. Australian Van Marcus, who final-tabled last year's APPT Manila stop, was one of the first. Marcus exited after getting his chips in after a
flop. Marcus held
for trips, but Michael Bang held
for the same trips and a better kicker, which held up when the board completed with the
and
.
Team PokerStars Pro Bertrand "ElkY" Grospellier lasted only a short while longer. ElkY's last 16,000 went in against Osawa Masahiro after an
flop. Again it was trips vs. trips, with ElkY's
trailing Masahiro's
, and again the higher kicker held. This time the turn and river brought the
and
, ending Grospellier's tournament run.
Meanwhile, both start-of-day leader Van Dyk and recent APPT Macau winner Eddie Sabat made early climbs. Van Dyk eliminated two players to become the first to top 100,000 in chips, while Sabat neared 60,000 after doubling through early, then collecting a second large pot. Sabat, though, took a couple of big hits to depart midway through the session. On his final hand, he got his chips in on a big draw with
and a board of
-10. Sam Faqiryar was in the hand with A-J, however, which held up when the board completed with 8-6.
Jan Van Dyk fared no better as the day wore on. First, his pocket jacks went down to a shorter stack's pocket eights when an eight fell on the river, and as his stack withered, he pushed all in from the cutoff with
. Hori Katsiyohi pushed over the top from the button with
, which held up when the board rolled out
.
David Saab, meanwhile, moved out to the lead with about 160,000 in chips, but the prosperity wouldn't last. Saab shipped half his stack to Brian Kang after trying to bully Kang while holding
on a
flop. Saab raised to 8,000, was check-raised to 24,000, and then pushed all in. Kang snap-called with
and pulled in the massive pot when the turn and river both brought aces. Saab regained those chips and more in a hand where he eliminated Jae Jung. Saab tried to re-steal a pot pre-flop with
, which turned out to be ahead of Jung's
when Jung decided to play for the rest of his chips and pushed all in. Saab was priced in for the call and won when the board ran out
. "I will not fold!" cried Saab as he pulled in the chips.
Saab dropped a third of his chips soon after when he flopped two pair with 9-7 on a
flop, but had to dodge two all-ins, those of Wooka Kim with
and Hidenari Shiono with
. The
turn was harmless to Saab, but the
river gave the main pot to Kim and a larger side pot to Shiono, who had Kim well covered. Then Saab crashed out of the tournament in 17th, again while trying to bully Brian Kang.
The last hand of the night saw Saab raise to 6,000 preflop, with Kang calling from the button. Saab bet out for 17,500 after the
flop, and Kang called again. "Blah blah blah I check the turn dark," said Saab, rising from his chair as the turn brought the
. "Careful, my friend," Saab admonished Kang, but Kang bet 25,000 anyway. Saab immediately check-raised all in, and Kang immediately called. Saab showed
for bottom pair and a flush draw, while Kang opened
for another small set. The river brought the
, sending Saab off as the bubble boy and boosting Kang to the lead as play ended for the night.
The chip counts for the 16 survivors:
Brian Kang – 302,000
Yoshihiro Tasaka – 245,000
Sam Faqiryar – 242,400
Hidenari Shiono – 154,700
Diwei Huang – 131,300
Daniel Schreiber – 125,700
David Horvath – 92,500
Wooka Kim – 44,900
Fam Kai Yat – 41,200
Yuji Masaki – 39,000
Michiyuki Kondo – 37,100
Daniel Williams – 35,500
Hori Katsiyoshi – 23,800
Kwok Gi (Ken) Yeung – 21,800
Robert Campitiello – 20,900
Terry Gardiner – 16,100
Action resumes at 1pm Seoul time on Sunday (late Saturday night in North America), as the final-table lineup is setlled and the winner decided in the PokerStars.net APPT Seoul Main Event.