Inside the Tour, Vol. 98: Behold Macau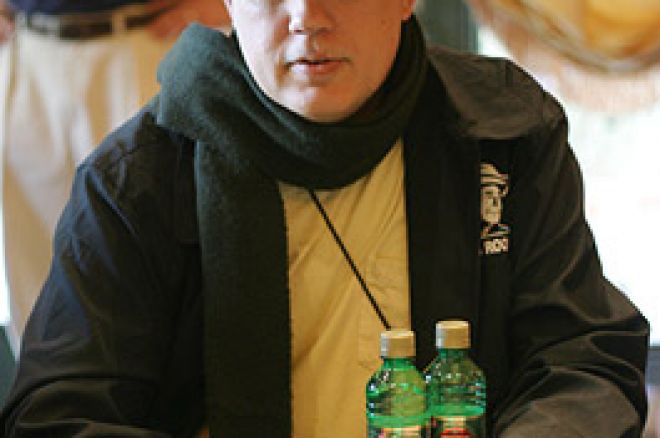 China. Well, Macau anyways, an island or three off the coast of China once a Portugese colony (from the 16th century until 1999) and now owned by China, although operating under a 50-year lease with some independence. Visualize a Las Vegas with junks. Make it bigger than you can imagine; although the land mass itself is small, the density of population is great. Put it next to the ocean so that it might be hot, but not desert hot — humid, yes, humid like the east coast of the United States, famously humid — although common in this part of the world. Put a huge pile of consumers, bettors… gamblers, let's call them… within an air flight's travel, and you have it. You can fly in here via local airlines or Chinese airlines from the United States that connect in Taiwan. Or you can fly into Hong Kong and take a ferry over to Macau without going through customs, please! Of course, if you come May through September then you might possibly experience a typhoon, that most famous of storms in this part of the world!
In any case, there are three major poker events here in the next two weeks. [Editor's note: Dennis began writing this piece prior to beginning play in his APT and APPT events.] First up (late August) is the APT (Asian Poker Tour) with a buy-in of US $5,300 and a guarantee of $1.5 million, at the StarWorld. Then the APPT (Asia Pacific Poker Tour) at the Grand Waldo, sponsored by PokerStars, with a buy-in of $3,200, followed by a "high roller event with a buy-in of over 19 thousand US dollars. The Grand Waldo is also home to the first physical cardroom owned by PokerStars which spreads no-limit daily, although you had best be prepared for smoking and a high rake, this last item demanded by an aggressive government. One has to be careful in evaluating this as most things here are spoken of in Hong Kong dollars — but those dollars trade at a ratio of 7.4 to 7.9 to the US dollar right now. As long as poker players don't care and can't seem to come up with a coherent plan, or learn to lobby effectively, they will continue to pay for everything. Additionally, I thought we were done with smoking, but I guess that only happens in the part of the world where players read about their vices, or believe what they read. If you want to shorten your life then you should smoke, by all means.
On August 28th, 2008 Hong Kong kicks off its first (as far as I know!) poker room, and that is one run by PokerStars also, with a charity event that will be attended by Joe Hachem, Lee Nelson, Phil Laak, and other celebrities at the Lan Kwai Fong Hotel.
Playing in the APT event at the very nice Starworld Hotel was a treat, a feat, and a minefield. It paid 40 spots and I blew up with 65 runners left. We started with 10,000 in chips and I had just under 16,000 when the button moved all-in for 7,475 and after some thought I called with K-Q off; he held J-10 and when it came 10-9-3-Q-K I had one foot out the door as the blinds were 300/600 with a 75 ante. Soon thereafter I moved in from the button for 5,000 in chips with
and was called by 8h8c, and when it came
I was done, sadly, short of the money, even though I had a straight flush draw. It was still a draw and when I didn't make it I was out again.
Matt Savage directed and used a player-friendly structure that still got the tournament completed within the expected time. Thomas Hall and Christopher Parker were the two Englishmen who put on a first-class event and saw that guarantees were met.
They did have a HK $500,000 no-limit buy-in live event going on and being televised, a money game. Some of the players were John Juanda, Todd Brunson, Nam Le, Chino (David "Chino" Rheem), and about four players I hadn't seen before. As I was getting ready to leave the room a hand came down where a lot of money went into the middle with
versus
on a board of
followed by
and then
. Shades of Gus Hansen, as two winners hit the board, not just one!
I didn't even look at the "tell your beat" television booth on the way out the door. That should be a popular feature, but I don't know… for years there has been a running joke about dial-a-beat, but now it is a reality… sort of, if television and video offer reality. For sure some of the runners have watched television shows as they screamed for attention, oblivious to opponents and their feelings. In other words the parlor box has taught them how to be jerks, because that is what gets the most attention, the most camera time.
I watched the final table, although it was hard to see very much, as my friend Casey Kastle represented the professionals, as he was the only one to make it through the very weak field. Casey was the chip leader at the end of Day 2, but went out fourth, after four-handed play went on for quite a while. The eventual winner was 20-year-old Yevgeniy Timoshenko, who mixed up aggressive play with some reasonable fortune and calls and brought the APT trophy home. Let me be real clear hear, he plays good and deserved to win. One thing he said was that he was glad to "finally win a main event!" Say what? The lad is 20 years old, lol, might be in a hurry, I don't know what that mysterious comment means! I do think that many tables are filled with good young players, and that candidates for dominant players abound.
A tertiary event was a bonus tournament with HK $500 for every knockout, and the big bounty being HK $5,000 for featured players, called "dragons," all of whom had a stuffed donkey in front of them. Well, a likeness anyways! It was bizarre to see these mostly Asian bounties playing around their large stuffed animals. I think that Todd Brunson was the only non-Asian bounty as Chino, Steve Sung, Quinn Do, JC Tran, Nam Le, and a Japanese fellow whom I didn't know (who went out third, by the way, outlasting all his fellow donkeys… errr players). It was a fun idea and a fun event.
Author's correction: In my previous article I mentioned that we did not know what Phillip Hilm would do when faced with further action on the river. He pointed out the obvious — there would be no action on the river, because if he chose to endanger his chips on the turn he would go all in and force the other player to call or not. [This is in a hand with K-Q off vs.
on a board of
].
Until next time, play good and be lucky!
<center>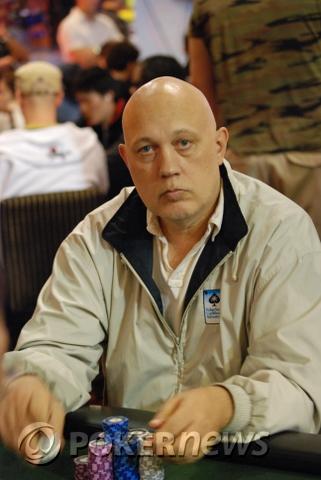 Dennis Waterman in action at APPT Macau</center>