WSOP Circuit Lake Tahoe, Day 2: Michael Binger Leads Final Table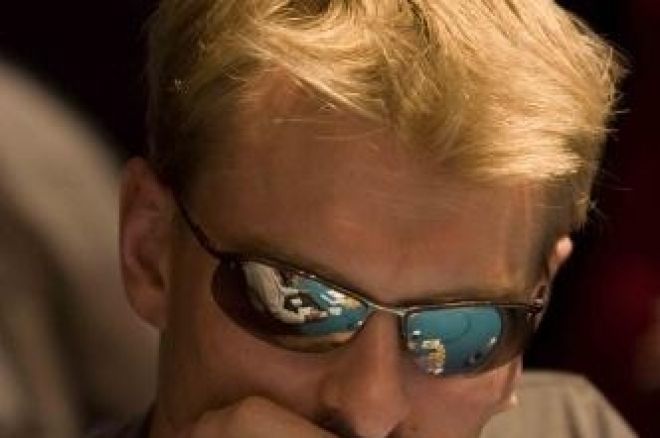 Day Two of the WSOP Circuit Event Championship at Harvey's Lake Tahoe was a grueling affair as 55 remaining players battled down to the final table of nine. Familiarity with the event seemed to matter as by the end of the day Todd Erdman made it to his third final table in as many years here in Lake Tahoe. And Scott Clements, who won this event three years ago, also found his way back to its final table. But when final-table play begins, the table will be chasing chip leader Michael Binger, third-place finisher in the 2006 WSOP Championship event.
The first thirty minutes of Day Two played fast, with the field losing 10 of its 55 players. Tim Vance was one of the early victims when he got it all in pre-flop against a raise by Tim Masinter. Masinter's K-6 caught a six on the flop while Vance's J-8 didn't improve. Mike McClain started the day as a relative short stack, but doubled up early when he pushed all in on a flop of
with
. Two more diamonds fell on the turn and river for McClain's flush to best Shayne Heinz'
. While it was a bad beat for Heinz, McClain was only getting a little revenge for the fact that he has been ESPN's poster boy for bad beats countless times. His 2003 WSOP Championship event bad beat has been the "agony of defeat" segment of ESPN's WSOP introduction for years now. McClain's early double-up started him on a run that lasted throughout the day, propelling to today's final-table appearance.
Michael Binger had a rocky start, losing two early hands with A-K. In the first hand, he couldn't improve against Preston Derden's pocket queens. In the second hand, Binger's big slick hit two pair on a flop of
against Neal Cooke's
. Cooke's flush never made it, but the
filled his gut-shot straight draw and relieved Binger of more of his stack. Binger must have decided that A-K was just a Day Two dog and invested the rest of his stack with A-9 against Thomas Galusha's A-K. An ace fell on the flop, but a nine fell on the river. Big slick succumbed again, only this time to Binger's benefit. And with that win, Binger started his comeback to end the day at the top of the pack.
The field played fairly quickly down to the money bubble of 19 players. Aaron Kanter, 2005 Main Event final tablist, was among the pre-bubble victims when he ran his short stack and pocket sixes up against Emilio Porcalla's pocket aces. To prevent stalling on the bubble, instead of playing hand-for hand, the bubble players played action-for-action. This involved the final three tables seeing their flops, turns and rivers simultaneously. Dinner break had to be postponed as the players battled the bubble for more than an hour and a half. In the end, Kathy Liebert got the dubious honor when her pocket nines lost the coin flip against Chris Dombrowski's K-Q.
Chris Dombroski started Day Two as chip leader, but had to settle for 16th place when his pocket jacks failed against Travis Erdman's A-K as the board delivered both an ace and a king. Chirs Ferguson was this year's defending champion. His win in this event last year was his third WSOP Circuit championship. But Ferguson just missed another final table here when he ran his A-J up against McClain's A-Q to finish in 11th place. Jason Saunders bubbled the final table when his pocket threes couldn't hold against Ty Stewart's A-9. Saunders finished in 10th place when a nine hit the board.
When the final table commences, professional players Allen Kessler, Scott Clements, and Michael Binger will find themselves in close quarters, occupying the one, two and three seats. Travis Erdman will be hoping that his third Lake Tahoe final table appearance will be the charm. And Mike McClain will be trying to stake out a WSOP legacy that doesn't carry the tag line "agony of defeat." And of course all nine players, listed below, will be working toward the first place prize money of $181,379.
Check back with the PokerNews Live Reporting Team for all the action when play resumes at 1:00 pm local time on Sunday.
Seat 1: Allen Kessler - 196,500
Seat 2: Scott Clements - 66,500
Seat 3: Michael Binger - 403,500
Seat 4: Bill Bostick - 100,500
Seat 5: Tay Nguyen - 132,000
Seat 6: Mike McClain - 283,000
Seat 7: Jake Solis -302,000
Seat 8: Ty Stewart - 275,500
Seat 9: Travis Erdman 224,500