PokerStars.net APPT Sydney, Day 3: Antonio Fazzolari Heads Final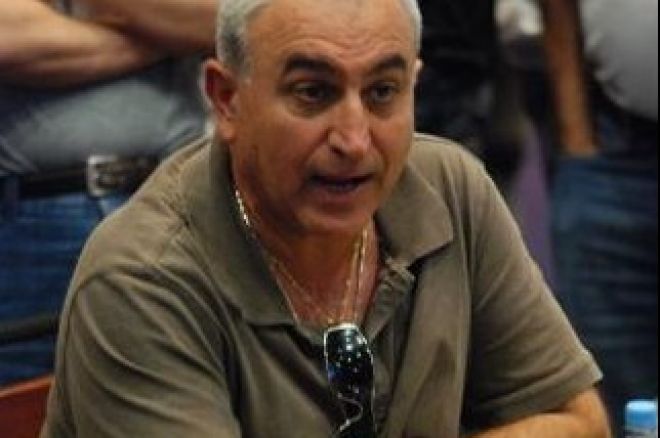 After a lengthy Day 2 to burst the money bubble, the remaining 48 players at the PokerStars.net Asia Pacific Poker Tour Grand Final wasted no time in eliminating all but nine players to set the final table. Frank Saffioti took the chip lead into the day, but it was Antonio Fazzolari sitting on the big stack when the dust settled on Day 3 at the Star City Casino.
Jimmy Wong didn't even get his seat warm before he became the first casualty of the day. On the first hand, he raised from under the gun with A♦Q♦, and Antonio Fazzolari re-raised. Wong made the call, then moved all in on the 8♠A♣9♠ flop. Fazzolari made the quick call with A♥9♥, and headed to the rail in 48th place (AU$8,400) when the turn and river ran out 6♠8♦.
One thing that contributed to the speed of Day 3 play was the number of multiple eliminations. On two occasions, players were eliminated simultaneously on different tables just as the payouts were about to increase. In the first case, the prize money for 41st, 40th and 39th was added together and divided equally among George Lind, David Gorr and Graeme "Kiwi G" Putt. Each player took home AU$9,333 for his troubles. A short while later, the same thing happened again when Roel Pijpers and Anthony Rafter were both eliminated in 32nd place (AU$11,200).
The tournament became significantly less colorful when Jamie Pickering headed to the rail in 22nd place ($AU$15,400). Pickering, who showed up each day resplendent in his cowboy hat and tie-dyed shirts, lost a big pot to Jason Gray when his pocket kings couldn't hold up against Gray's A♠K♣. An ace on the river doubled Gray up and left Pickering on a short stack. He maneuvered his short stack through the field for a while before open-shoving with K♣10♥ and being called — by Gray. Gray tabled A♣5♣, and the flop came down 9♣A♠K♥. Pickering needed a king or ten on the turn, but the 9♠ left him drawing to just a king to stay alive. The 3♣ on the river was no help, and Pickering headed to the rail as Gray padded his stack.
Eric Assadourian's run at the championship ended in 20th place (AU$15,400) when he got all his chips in preflop against Brendan Edmonds. Assadourian's A♥J♠ needed help against Edmonds' A♦Q♦, and didn't find any on a board of 6♦4♠Q♣8♦8♠. Marlon Goonawardana became the next big name to fall when he busted in 19th place (AU$15,400). After Daniel Kowalski raised preflop, Frank Saffioti and Hai Bo Chu both called, but then Goonawardana moved all in over the top. Saffioti was the lone caller with A♥Q♣, and Goonawardana tabled live cards with 9♣10♦. The board ran out 6♣4♠Q♠4♣8♣, and Saffioti's two pair was enough to send Goonawardana home in 19th.
As the field grew shorter, the confrontations between big stacks became more meaningful. No clash on Day 3 was as big as the late run-in between Tom Rafferty and Antonio Fazzolari, with the chip lead going into the final table potentially at stake. Rafferty raised big preflop, and Fazzolari called from the button. The flop came down 7♠6♠2♦, and Rafferty fired again. Fazzolari called, and the turn brought the 10♦. Rafferty led out once more, but Fazzolari put in a big raise, sending Rafferty into the tank. After a moment, Rafferty folded, as Fazzolari moved up to nearly two million chips and the secure chip lead.
After Lisa Delellis was eliminated in 11th place (AU$28,000) the final-table bubble began. In a tough series of hands, Michael "TheBigSiCkO" Guzzardi busted in 10th place (AU$28,000) to set the final table. First he lost a big coin flip to Tim English when his A♦Q♣ couldn't improve on a board of J♠8♣3♥6♣J♥. English's pocket sevens held up, and Guzzardi was crippled. Guzzardi was all in from the small blind on the very next hand, and had action from Tom Rafferty and Timothy English. English and Rafferty checked down the board of 5♠A♠6♣K♠J♥, and Rafferty showed J♠2♥ for a pair. Guzzardi hadn't looked at his cards yet, and the first one he revealed was good – the A♦. The second card was the J♦, and Guzzardi tripled up with his two pair. It wasn't enough to keep him alive for long, as a few hands later he found all his chips in the middle again, this time against Hai Bo Chu and Antonio Fazzolari. The board ran out 7♣A♦4♦J♣2♠, and Chu's 8♦6♣ was enough to bust Guzzardi's 10♦3♥ in 10th place (AU$28,000).
As Guzzardi headed to the rail, the final nine players bagged their chips and redrew for their final-table seats. The chip counts and seat assignments looked like this at heading into the final:
Seat 1: Martin Rowe - 995,000
Seat 2: Jason Gray - 1,188,000
Seat 3: Tony Basile - 863,000
Seat 4: Timothy English - 945,000
Seat 5: Daniel Kowalski - 959,000
Seat 6: Frank Saffioti - 790,000
Seat 7: Tom Rafferty - 1,101,000
Seat 8: Antonio Fazzolari - 1,775,000
Seat 9: Hai Bo Chu - 781,000
Join PokerNews at 1:30 PM Sydney time on Sunday (Saturday night in the Americas) as the final nine take their shot at the APPT Grand Final title and the guaranteed AU$1,000,000 top prize.