Oleg Suntsov Wins Russian Poker Tour Debut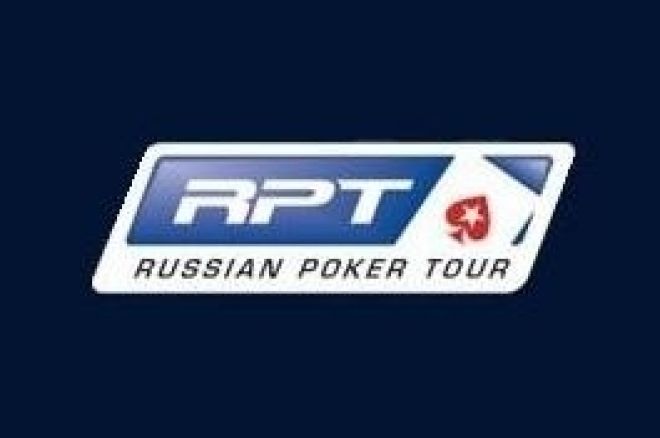 A worst-to-first run by Russia's Oleg Suntsov marked the debut of the <a href=https://www.pokernews.com/pokerstars/>PokerStars.com</a>-sponsored Russian Poker Tour in its St. Petersburg debut. Sunday's final table began with Russians occupying seven of the nine spots at the final table, the survivors of 201 initial entrants who each ponied up, either direct or via satellite, the $5,000 entry fee. The result was a prize pool of roughly a million dollars US, with circa $300,000 – over 10 million Russian rubles – on the line for first. The field also included several big international names, including Russian star and 2008 breakout player Ivan Demidov, plus fellow Team PokerStars pros Vanessa Rousso and Alex Kravchenko.
Suntsov's task was a tough one, however, with all players looking up at Moldava's Dimitru Gaina, the chip leader as action began. Suntsov, as the early short stack, doubled up twice early to jump into contention as several others in the final were kicked to the rail.
The title came down to a heads-up battle between Suntsov and Belarussian Vadim Markushevsky, with Suntsov's early surge giving him the lead entering heads-up play. The deciding hand – and the title – went Suntsov's way after the chips went in after the turn with the board showing a nondescript 6-9-3-5 board. Markushevsky held K-9 for top pair, but Suntsov offered Q-Q for the lead, and his queens held up as a deuce landed on the river.
The Russian <a href=https://www.pokernews.com>Poker</a> Tour moves on to Moscow for its second stop, with the main event beginning February 25th.
Final Results (payouts in rubles):
1. Oleg Suntsov – руб 10,616,000
2. Vadim Markushevsky – руб 5,469,000
3. Alexander Pantukhin – руб 3,217,000
4. Sergey Solntsev – руб 2,380,000
5. Bulat Bikmetov – руб 1,930,000
6. Sergey Popuk – руб 1,608,000
7. Anatoly Ozhenilok – руб 1,287,000
8. Dimitru Gaina – руб 965,000
9. Evgeny Zaytsev – руб 643,000
Check out the Everest Poker First Deposit Bonuses on PokerNews.com