Poker Book Review: Roy Brindley's 'Life's a Gamble'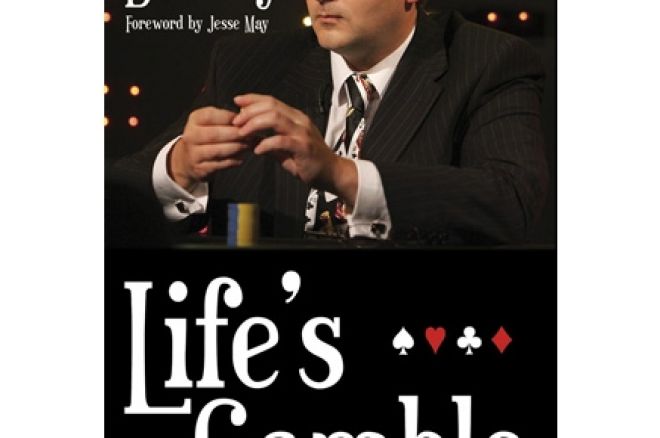 "Poker has been my redemption," declares Roy Brindley in the opening chapter of his new autobiography Life's a Gamble: The High Stakes and Low Life of a Poker Professional. Following years of compulsive, self-destructive gambling — a pursuit he alternately describes as a "festering sickness" and a "deadly addictive drug" — Brindley tells how he finally found tournament poker, where early success helped bring his life much-needed focus and stability. The resulting chronicle of Brindley's "fall and rise" is a well-crafted, engaging page-turner, of interest both for the remarkable episodes punctuating Brindley's tumultuous tale as well as for the author's reflections on the world of professional poker and gambling, generally speaking.
Born in Southampton, England and now making Ireland his home, Roy "the Boy" Brindley is perhaps best known among European audiences for the fact that some of those early tourney triumphs came in televised events, including runner-up finishes in the 2002 World Heads Up Poker Championships in Vienna and the 2003 Poker Million (The Masters). His occasional turns during recent years as a poker commentator and journalist may also make him familiar to those in the U.K. and the rest of Europe. Americans perhaps remember Brindley for his having taken part in the short-lived Professional Poker Tour, in particular his appearance at the televised feature table at the PPT's debut at Foxwoods. Brindley has amassed just over $850,000 in tournament winnings to date, including three World Series of Poker cashes and a multitude of cashes in Europe.
Life's a Gamble begins with a suitably suspenseful account of Brindley's greatest poker achievement, his victory at the Betfair.com Poker Masters of Europe in May, then looks back to trace the circuitous path that ultimately led him to that table at Riverside Studios in Hammersmith, West London. From the very start, it is clear that gambling has always been central to Brindley's existence.
Nearly all of Brindley's family members are described as devoted to gambling of various forms, especially betting the dogs and horses. His most enduring memories all tend to involve either stories of others' wagering, such as the day his grandfather "won enough to buy a row of houses" betting the horses, or his own early ventures with gambling, including a surprisingly big win at age 11 betting on his father's greyhound. As his dog neared the finish line, Brindley tells of the "adrenalin rush... like poison and an antidote injected straight into your heart simultaneously," and how from that point forward his only desire was to gamble.
The subsequent slide into degeneracy is forcefully related, full of meteoric highs and crushing lows. While Brindley's story may not equal that of a Stu Ungar with regard to the depths of its Dostoevskian despair, it is nevertheless, as Jesse May notes in his lyrical Foreword, "a blasting, naked account of what it is to be a gambler." All wins are temporary, as Brindley finds it utterly impossible to avoid the betting shop where he repeatedly plays the role of the "mug" gambler who cannot help but continue betting until all is lost. The downward spiral is only briefly slowed by Brindley's career as a trainer of racing dogs, with rock bottom finally signified by a stint of homelessness compounded by legal trouble.
The turning point for Brindley comes in part thanks to a chance viewing of both a documentary about the WSOP and the film Rounders. Brindley tells of subsequently visiting the Jackpot Card Club in Dublin where he received his first taste of tournament poker, quickly discovering both an ability and predilection for the game. Before long, Brindley becomes competitive in the Jackpot tourneys, and by 2002 finds himself playing — and succeeding — on the professional circuit.
The book's second half concentrates on Brindley's wide-ranging travels on the professional poker circuit. Since his career happened to have launched just a short period before the World Poker Tour/Chris Moneymaker/internet poker "boom," Brindley's account of his own play enables him to comment on the remarkable growth of poker over recent years, with his observations usefully supplemented by his own experiences with online poker, sponsorship, and the poker media.
From the first pages, Brindley appears interested in pursuing an argument about how playing poker is fundamentally different from that which goes on in the betting shops — as Brindley claims early on, "tournament poker is not gambling." Indeed, such statements might tempt the reader to see poker, or Brindley's "redemption" from a dissolute life as a gambler, functioning as a kind of antidote to the gambling "sickness" from which he suffers.
Of course, Brindley's stories of bad beats and alcohol-fueled victories may have the effect of compromising the argument that poker does not also involve a great deal of luck. Even so, the great difference between betting on the horses and betting on one's poker hold'em hand is clearly conveyed. "One was completely out of my control," points out Brindley, "but in a poker game your destiny is in your own hands." One might not enjoy utter control at the poker table, but, relatively speaking, one does have more of a say over one's fate there than is generally possible in the betting shop or at the track. More than anything, then, Life's a Gamble is the story of one man's struggle to influence his own destiny, a struggle complicated more than a little by the author's unique mixture of self-confidence and insecurity.
Brindley is a somewhat provocative figure in the poker world, once referred to by fellow Englishman and poker pro Barny Boatman as someone who "talks a better game than [the garrulous English pro Simon] Trumper and Hellmuth combined." Such a view of Brindley will not be changed by Life's a Gamble, a poker book which pulls few punches in its relation of the author's clashes on the professional poker circuit, nor avoids most opportunities to promote the author's stature relative to those with whom he has competed.
Yet while Brindley isn't shy when it comes to touting his own talents, his narrative also often demonstrates a disarming candor when confessing the author's many flaws. It's a compelling, complicated self-portrait with many attributes to recommend it, especially for those with an interest in poker and/or gambling.
Check out the Poker Stars First Deposit Bonuses on PokerNews.com - Be sure to enter the bonus code only when making Your first deposit to Poker Stars