FTOPS XII Event #12: 'Jas11' Takes it Down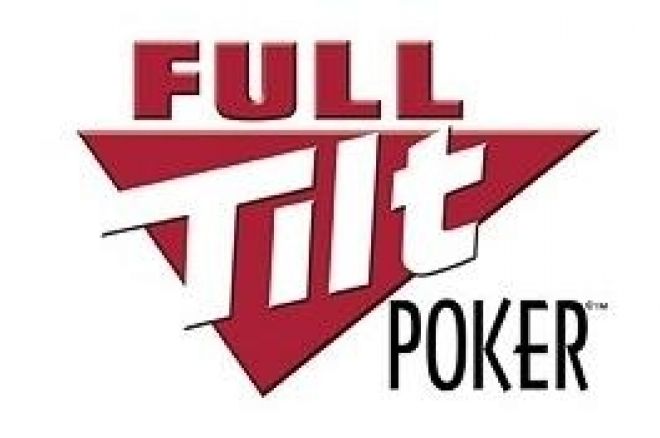 Online player "Jas11" hung tough and closed out the tournament with an emphatic bang to win Event #12 of the 12th Full Tilt Online Poker Series (FTOPS XII). A crowd of 1,349 gathered to play in the $1,000+$60 no-limit hold'em six-max tournament, with all eyes on the first-place prize of $300,000. Among the notables going deep in the event but still falling shy of the final table were Kevin "GetPWN3D" Saul in 10th ($20,250), James "Mig_com" Mackey in 25th ($6,450), Tyler "tydean14" Smith in 26th ($6,450), Jonathan "HoosierAlum" Depa in 31st ($5,400), Jason "JCarver" Somerville in 32nd ($5,400), and Russell "rdcrsn" Carson in 35th ($5,400). The chip counts at the start of the final table were as follows:
GotURead – 2,811,645
Stephen "stevie444" Chidwick – 1,967,861
bonya37 – 1,203,786
Jas11 – 1,148,548
KiKaMo – 682,212
Josh "doctorhowser" Norris – 279,948
Josh "doctorhowser" Norris kicked off the action at the final table by doubling up on the first hand. His
held against chip leader GotURead's
to get back in the game. The first elimination came at the 17,000/34,000/4,000 level, in a clash between the two big stacks. From the hijack, Stephen "stevie444" Chidwick raised to 84,630 and GotURead reraised to 240,400 from the cutoff. Action folded back around to Chidwick who, after requesting time, shoved for 1,992,341. GotURead thought for a few moments before calling with
, trouncing Chidwick's
. The ladies remained in front as board ran out
and Stephen "stevie444" Chidwick hit the rail in sixth place for $49,500.
At the 20,000/40,000/5,000 level, Josh "doctorhowser" Norris was the next to bust. KiKaMo raised to 120,000 in the cutoff and Norris pushed all in from the button for 604,396 holding
. It folded around back to KiKaMo who called with a dominating
. No help arrived for Norris as the board came
. Josh "doctorhowser" Norris pocketed $72,750 for his fifth-place finish.
KiKaMo's tournament came to a close at 30,000/60,000/7,500. GotURead made it 140,000 to play from the button and Jas11 called from the small blind. KiKaMo went all in from the big blind for 1,102,590 and GotURead called. Jas11 got out of the way and the hands were revealed to be
for KiKaMo and
for GotURead. An ace peeled off right on the flop as the board fell
. KiKaMo took fourth place for $105,000.
The tournament came to an abrupt end during the 40,000/80,000/10,000 level, with a dramatic double elimination. The chip counts prior to the hand were:
Jas11 – 3,445,527
GotURead – 2,986,073
bonya37 – 1,662,400
Jas11 had the button and raised to 200,000. Bonya37 responded by pushing all in from the small blind holding
. GotURead woke up with
in the big blind and shoved all in for more. Having both players covered, Jas11 called both all-ins and tabled
. The board ran out
as the lone pocket pair held up to slay two players at once and give the tournament to Jas11. Bonya37 took third place for $138,300 and GotURead earned $198,000 for finishing as the runner-up. The winner of FTOPS XII event #12 was Jas11 for $300,000.
Final Results:
1. Jas11 - $300,000
2. GotURead - $198,000
3. bonya37 - $138,300
4. KiKaMo - $105,000
5. Josh "doctorhowser" Norris - $72,750
6. Stephen "stevie444" Chidwick - $49,500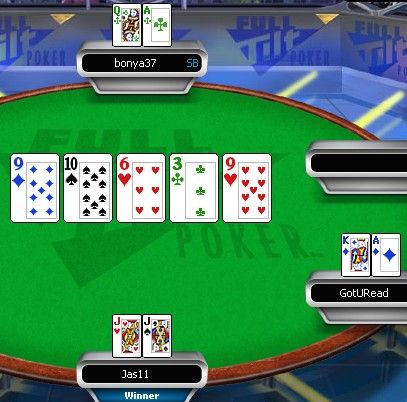 Get Your FullTilt referrer bonus code on PokerNews.com - The leading poker authority.