High Stakes Poker, Season 6, Episode 2: A High Stakes Funeral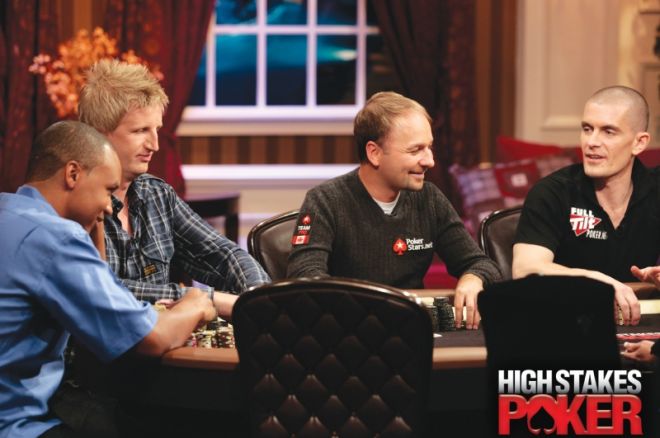 Remember how much fun you had watching last week's High Stakes Poker episode of "Who wants to win Phil Hellmuth's money?" Well, that's exactly how dreary and uninspiring this week's episode of "Please, no one get Phil Ivey angry" was. With Phil Hellmuth probably still in the parking lot cursing up a storm, the rest of the players seemed to be in deep mourning that the sheep had been sheared so soon. Until Eli Elezra showed up ten hands in, there was no wisecracking, no aggression, and no entertainment value.
Cast: Ivey,Tom Dwan, Andreas Hoivold, Daniel Negreanu, Gus Hansen, Antonio Esfandiari, Dario Minieri, and later Elezra.
Big Winner: Hansen, who took down the only big pot of the night on the final hand. Appropriately enough, he did it with six-three off suit.
Big Loser: Hoivold, who dropped his $200,000 and followed Hellmuth out the door for the rest of the season. "Well, if top pair top kicker isn't good on the turn, then I'm out of here!"
Most Mocked: Hellmuth in absentia. Hansen opened the show with a gleeful "describe Phil Hellmuth in ten words or less – Quickest exit from High Stakes Poker I've ever seen!" Gabe Kaplan posited that if Hellmuth had brought his 11 WSOP bracelets to the game, he'd have lost those to Ivey, too.
As for those present, the big winner was Hoivold, who had this category wrapped up even before dropping his stack to Hansen on the last hand. When Andreas watches this on TV, he'll get to revel in having his hairstyle described by Kaplan as "Dennis the Menace on mushrooms!" Kaplan found similar delight in Hoivold's claim that he had paid off Dwan's set of kings for $5,700 worth of "information."
Best line of the night: It probably loses a lot without the Norwegian accent and the dazed look on his face, but we enjoyed Andreas pointing out that when you run a hand twice, "It's always good to win the first one." The runner-up award also goes his way for looking straight into Hansen's face and declaring "I'm not folding," seconds before losing his stack.
The "was he really there?" Award: Antonio Esfandiari – If he saw a flop, it was because he didn't fold his unraised big blind.
Most Welcome Addition: – Thank God, Elezra showed up to chastise the crew for putting us to sleep by demanding straddles and reckless play. "Put a straddle on, man, what is going on with this game?"
Angry Man of the Night: Elezra, who didn't seem at all pleased to see Minieri river a set of eights against his pair of queens. Elezra was even less pleased with Minieri's claim that he felt his eights were good the whole time.
Negreanu, in his lone barb of the night, seemed to find the possibility that Elezra couldn't beat a pair of eights in that hand to be much higher than Elezra's exasperation indicated.
Baffling Statement of the Night: – When asked how he'd deal with having Ivey on his left, Elezra gave this bit of indecipherable wisdom to Kara Scott: "You can not be worried about certain players at the table; you just have to worry about yourself, and how to be able to play the other players and the game." Huh? In fact, can we get someone to translate all 30 seconds of Scott and Elezra? He did manage to further knock the departed Hellmuth with "I believe that if I get his hands that I do better than him," which Kaplan translated into "Phil Hellmuth basically sucked on this show."
Baffling Hand of the Night: No one really did anything heinously wrong in this hand, but who'd have ever thought that we'd see this little aggression on this show.
Ivey raised from the cutoff with
and Negreanu called on the button with
as did Dwan with
. The flop came
and Ivey bet $7,000 and was called by both players. The turn was the
, Ivey bet $23,000 and got called by Negreanu, who had the nut club draw. Dwan then folded top pair.
When the
came on the river, Ivey gave up, and Negreanu, who now had two pair, let him off easy by checking the hand down. Sure, the last time we remember Negreanu value betting a river on this show, Hansen was waiting for him with quad fives, but is there anybody else besides Ivey who Negreanu checks this down against?
Kaplan: "That's the Ivey effect. He did not want Phil Ivey to come over the top and raise him. He wouldn't know what to do."
Biggest Pot of the Night: Dwan raised from early position to $3,000 with
and got four callers, Hansen with
, Negreanu with
, Hoivold with
and Elezra with
. The flop was
ane everyone checked. The turn was the
and Hansen led out for $11,000 with his bottom-two pair. Dwan called with his pair of queens, Elezra, surprisingly folded his flush draw, but then Hoivold raised to $50,000 with top-pair, top-kicker.
Hoivold then said to the table: "I'm not folding!" Well, neither did Hansen, who pushed all-in. True to his word, Hoivold called, and running it twice did the Norwegian little good. He lost both rivers and wandered out to see if Hellmuth was still around to give him a lift to the airport. Hansen, with a prototypical Hansen hand, won the $190,000 pot.
Final Evaluation: There was little interesting poker Sunday night. No one did anything brilliant. No one did anything crazy. Maybe next week the action will pick up.
Be sure to check out next week's High Stakes Poker episode on GSN on Sunday night at 8:00 p.m. EST and get involved in some high-stakes action yourself by signing up for an online poker account now.