The WSOP on ESPN: The Poker Brat, the Godfather, the Magician, and the Mystery Swede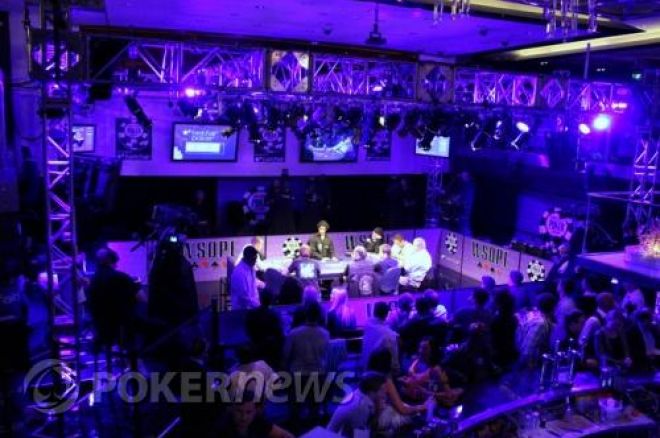 Poker fans got a triple dose of the World Series of Poker Europe on Sunday night as three of ESPN's eight hours of coverage hit the airwaves. If you were in the throes of a Super Bowl celebration or were already passed out from the festivities, don't worry, we have the highlights reel right here.
Cast of characters. Both the main featured table and "Table Two" were packed with familiar faces during all three episodes. Doyle Brunson, Phil Hellmuth, Bruno Fitoussi, Barry Greenstein, Daniel Negreanu, Chris Ferguson, Antonio Esfandiari, Jason Mercier, Steve Zolotow, Sandra Naujoks and Annette Obrestad all made appearances on the main featured table while Andy Bloch, Mike Matusow, Nikolay Evdakov, Patrik Antonius, John Juanda, Scotty Nguyen and Jean-Robert Bellande caught some airtime on Table Two.
Out in the field, the camera found even more big-name players including Tom "durrrr" Dwan, Erik Seidel, Andy Black, Christian Harder, Jeff Madsen, Huck Seed, Liz Lieu, Phil Ivey (mid-massage of course), and Alex Kravchenko. Also taking another shot at a Main Event title were 2009 November Niners Steve Begleiter, Antoine Saout and James Akenhead. At the time, all three were smack in the middle of the four-month delay before the final table.
Not again! Phil Hellmuth echoed his display of pageantry and ego from this year's Las Vegas Main Event and made another gaudy entrance dressed as Caesar. His costume included a bronze breastplate with a faux-six pack, leather gloves, and a crown of leaves.
He wanted to audition for the role of Brutus. Doyle Brunson visibly rolled his eyes as Hellmuth made his way to the featured table in costume and once the Poker Brat had changed back into his usual attire, Brunson had a serious question for him.
"You've done something to the poker world with this entrance that you make. I mean, tell me the truth, are you embarrassed at all?" Brunson asked.
"Not at all," Hellmuth replied.
"Not at all? I'm embarrassed for you," Brunson retorted.
"Doyle, I thought you of all people would be proud of it, knowing that it's putting money in your pocket."
"Making a circus out of a poker game?"
"Are you kidding me? I add a little drama, a little theatre to the game."
"If people want to go to the theatre, they go to the theatre."
"I'll ask you one quick question. Do you think it's bad for poker when I show up like that?"
"Yes"
"Really?"
"Yes."
And you thought the Hellmuth antics ended there. With 111,000 in his stack, Esfandiari opened for 2,000 with
and Hellmuth, with about 20,000 behind, made the call from the big blind with
. Hellmuth checked dark and Esfandiari bet 3,700 on the
flop. Hellmuth called and checked dark again before the
hit the turn. Esfandiari checked behind. The river was the
, making full houses for both players – Esfandiari's queens full the bigger boat. Hellmuth checked a third time and Esfandiari moved all-in. After a few moments of consideration, Hellmuth called off his last 14,600 and launched into one of his signature tirades as he saw the bad news. The Cliff's Notes?
Hellmuth: "How do you get so lucky that you hit a ten there and can move in?"
Esfandiari: "Any time you want to play heads-up for $100,000 and the winner shoots the loser with a taser, I'm available."
Could you make this laydown? Holding
, Annette Obrestad made a pre-flop opening raise and was flat-called from position by Daniel Negreanu with pocket jacks. The flop came down
, Obrestad hitting top pair while Negreanu flopped middle set. Obrestad check-called a 1,000 bet from Negreanu. The
on the turn made Obrestad trips and filled up Negreanu. Obrestad checked, Negreanu bet 3,000, and after some careful deliberation, Obrestad turned up the
as she folded her hand. Astonished by Obrestad's read, Negreanu showed her his full house.
MVP = Daniel Negreanu. Negreanu weathered some early setbacks that sent his chip count plummeting to 12,000 from his 30,000-chip starting stack. He started picking up steam, however, when he doubled through Barry Greenstein after flopping a set of deuces against Greenstein's king-high flush draw. Negreanu turned a full house and led out, Greenstein raised, and Negreanu got the rest of his money in with Greenstein drawing dead.
"Kid Poker" also reminded everyone that he can read hands with the best of them and made a deft laydown against the seemingly psychic Annette Obrestad. With the board reading
on the turn, Obrestad set Negreanu all-in after turning two pair with
. Negreanu's
found the muck and he lived to play another hand. By the end of Day 2, Negreanu had run his stack all the way up to 113,100.
Worst fashion statement. A purple Ed Hardy tee worn by David "Devilfish" Ulliott.
Worst beat – Jesus two-outers Shaun Deeb. If it was this hand that led Shaun Deeb to contemplate his retirement from tournament poker, well, we wouldn't blame him. Deeb opened with
and Chris Ferguson smooth-called with pocket jacks. Deeb hit trips on the
flop and led out, Ferguson making the call. Deeb fired another 3,125 when the
hit the turn, Ferguson shoved and Deeb snap-called only to watch in horror as the
hit the river. Deeb was down but not out while a short-stacked Ferguson doubled up.
Quote of the week. "I von zee pot against da Poker Brat!" – Frederick Andersson, a Northern European, after winning a third of Hellmuth's stack.
Hand of the Week – Is that Isildur1? The name Viktor Blom has come up the most when it comes to the guessing game that surrounds the identity of "Isildur1," and last night TV cameras got their first peek at the baby-faced Swede with exquisitely tousled blond hair.
Blom opened
for 3,000 from middle position, Munns reraised to 9,000 from the button with A-7 and Blom called. The
flop gave Munns trips while Blom missed completely. Still there was no stopping the Swede. Blom check-raised to Munns' 9,000 flop bet to 58,000, hoping to move his opponent off the hand. Munns, however, wasn't going anywhere and three-bet to 116,000. Still believing he could get his opponent to fold, Blom shoved for 231,000, and Munns called.
As Blom's hole cards went on their backs, Todd Brunson couldn't suppress his giggles. The
on the turn locked up the hand for Munns, Blom fleeing the table like it was on fire.
Notable eliminations. Bloch, Seed, Antonius, Bellande, Jeff Madsen, Ben Grundy, David Williams, and Ferguson didn't last past Day 1 while Howard Lederer, Matusow and Seidel met their tournament end on Day 2.
The next two episodes of the 2009 World Series of Poker-Europe Main Event air on Sunday, Feb. 14 on ESPN. Check your local listings for airtimes. You know what else you should do? Follow us on Twitter.