World Poker Tour Grand Prix de Paris Day 5: Jorgensen On Top of the World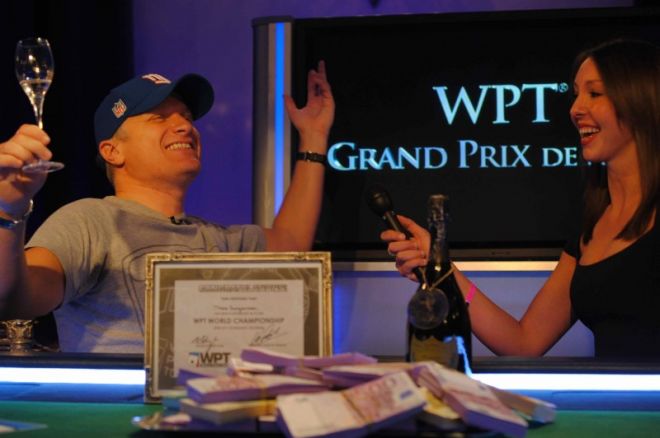 This year the World Poker Tour Grand Prix de Paris attracted 247 of Europe's poker elite: intrepid young players both local and long-haul, and stalwarts of the top-end tournament circuit looking to take a shot at the title and the €633,902 top prize. In the end, the trophy (literally The World, a giant shiny globe) was lifted by Theo Jorgensen, but he was given a run for his money on the way between starting ahead and ending with the title.
The first level of the final table may have passed without significant change in the table dynamic or line-up, with Jorgensen holding a significant chip lead with 2.6 million chips, more than double the second-place stack (Fabrice Touil, 1.2 million), and the others looking for a double- through to take on the leaders. Jorgensen's failed attempt to knock out short-stacked Antoine Amourette (with a dominated
vs.
) left Jimmy Ostensson in the short position, and he took a shot with pocket nines in good shape against Touil's
. Both of Touil's cards hit, however, leaving Ostensson, chip leader coming into the previous day, the first of the finalists to hit the rail with over €70,000 in consolation money.
Another player who may have been tipped to climb the dizzy heights of the final back on Day 4, but who fell just short in seventh place, was Arnaud Mattern. This pro player, no stranger to the stresses of major finals (he was EPT Prague Champion in 2007), had built a big stack on the previous day, only to see it dwindle toward the end and leave him starting the final with middling chips. After taking a few hits, the rest went in with
over the top of Amourette, who snapped like a mousetrap having picked up
.
Meanwhile, Amourette made good use of his early boost in chips, heading above Per Linde, until Linde made a resurgence getting his pair of queens in preflop vs. Nourredine Aitalebís
. "Come on boy!" became the French refrain of encouragement, but even this didn't save Aitalebis who, after grinding a short stack all the way to the final table, left it in sixth place with €93,910.
The five-handed period of the final table saw various players try their hands at preflop domination, Mickael Guenni going through a period of respected raising and Amourette almost catching up with perma-leader Jorgensen at one point. His on-and-off battle with Swede Per Linde took its toll, however, as Linde moved all-in a couple of times preflop against Amourette and others with timing that appeared spot-on, keeping his head above water with around 1.5 million when Touil was eliminated in fifth place.
Touil, who'd already started to occasionally ship-it-in-preflop, thus far uncalled, had his stack further diminished when Amourette, now no longer in comfortable shape chip-wise, moved all-in preflop on the button with
. He took what was becoming his traditional decent amount of time to call with
, but failed to outdraw him. Despite doubling back from micro- to short-stacked, Touil eventually moved in preflop with
over the top of Jorgensen who called with the dominated
but spiked two pair to send Touil to the rail with a fifth-place prize of €140,870.
Meanwhile, after one of the most dramatic double-ups of the tournament in which Guenni, all-in preflop, hit a rivered full-house with
even though one of his two preflop callers, Amourette, had turned the ace-high flush! Three hands later, though, he was all-in again preflop, this time with dominated pocket fives vs. Jorgensen's nines. He finished in fourth, for €187,825, and had barely caught his breath on the rail before he was joined by Linde.
Linde's third-place exit was a two-stage affair, first doubling Amourette to around 700k, then moving in preflop for the 415k he had left. Jorgensen gave him a spin, worrying out loud, "I think I need to suck out," but it turned out that not only was his
in front of Linde's
but he proceeded to flop the nuts, a straight to the king, and have his opponent drawing dead on the turn.
Jorgensen now had a commanding chip lead (over 6 million to 600k over Amourette) and no sooner than a large pile of Euro notes of eyebrow-raising high denominations had been poured out on the baize to signify the near €634,000 going to the winner, than Amourette was all-in. He held the dominated
vs. Jorgensen's heads-up monster
. The audience held their breath for a miracle comeback as the
arrived on the flop, but the
crushed those hopes and the
river permanently ended them.
Jorgensen's father arrived on stage as the champagne looked like it would soon be flowing for all the finalists, and the Aviation Club cheered the winner and runner-up. Amourette, incidentally, ran well at the races during the day off and appeared at the final with what looked like a painting of a racing theme, and ran almost as well for the final itself. But it was aggressive, big-stacked Dane Theo Jorgensen for whom the day spun out perfectly, sending him home with a WPT bracelet, the trophy and the top prize.
Looking to take a WPT title of your own? Sign up for a PartyPoker account and start building your bankroll now.