Road to South Africa Promotion on Moneybookers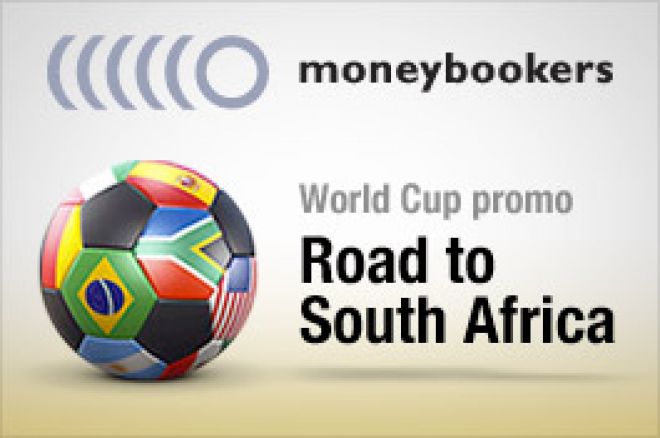 Moneybookers is the easy way to store, send and spend your money online. Whether you spend your time at the online poker tables or sifting through ebay, Moneybookers makes spending your money online safe, secure and simple.
It's not just the an easy way to deal with your money online, but PokerNews can get you into the one-of-a-kind Moneybookers' Road to South Africa Prize Giveaway! Sign up using our Exclusive Moneybookers Promotional Link and you're automatically entered and qualified to win Road to South Africa Prizes.
Now through July 11, 2010, every purchase or deposit over €50 gets you into the big weekly prize draw. The more transactions you make on Moneybookers, the more chances you have to win. The larger the transaction, the bigger the prizes you can win. You can win prizes every week.
Prizes range from World Cup footballs, licensed shirts and merchandise, to Blu-ray players, home cinema packages, Sony Vaio laptops and LCD TVs.
Don't have a account yet? Register with Moneybookers using PokerNews links and you will be automatically enrolled to the promotion.
Want to learn more about Moneybookers or find out which online poker rooms accept Moneybookers? Check out our Moneybookers deposit review
Moneybookers Road to South Africa Prize Draws
We will give you one entry into a weekly prize draw for every deposit to a merchant via your Moneybookers account over €50 you make in a calendar week through July 11th, 2010. The prizes you can win depend on the amount per deposit to Moneybookers. The number of deposits eligible for the draw is limited to 5 per week.
Moneybookers prize draws will take place weekly and winners will be selected for every 200th deposit to any of our merchants per prize tier. With currently over 12.5 million Moneybookers customers this means hundreds of Road to South Africa winners every week!
Register using PokerNews' Exclusive Moneybookers Promo Link and you're automatically in to Moneybookers' Road to South Africa prize giveaways!