The Vegas Grinder: Detox Poker Series at Hard Rock, Caesars Palace Cash-Game Promotions and More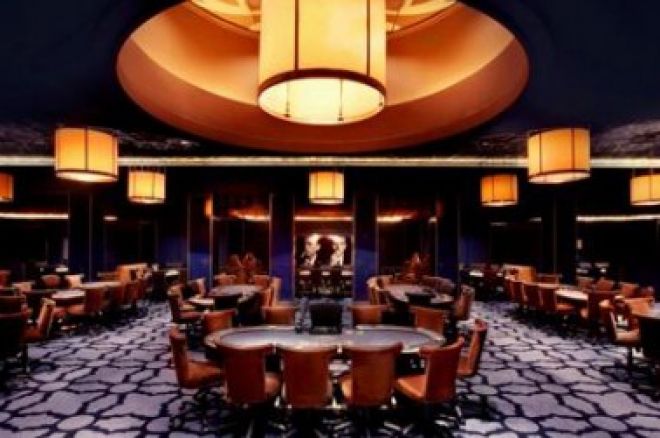 Las Vegas is home to some of the best poker rooms in the world, and all are competing for their share of the Sin City player pool. In this monthly column, PokerNews is bringing you updates on the biggest news, promotions, and tournament series going on in Las Vegas.
The month of August is usually one of the slowest months of the year for poker rooms in Las Vegas. At the end of July, the bustling World Series of Poker traffic quickly exits the desert and many of the locals go into a post-series hibernation, perhaps feeling the need to detox from the addicting pull of constant action at the tables. Not only are poker rooms doing their best to keep players in their rooms, but if detox is what you're looking for, the Hard Rock is the place for you.
The Hard Rock
The Strip's one and only "Poker Lounge" is hosting the Detox Poker Series this month, run by world-renowned tournament director Matt Savage. This unique series runs from August 13 through the 22. The preliminary buy-ins range from $230 to $350 and include a wide variety of events. The $550 No-Limit Hold'em Main Event starts on August 20 with two day ones and boasts a guarantee of $200,000. The following list shows the complete schedule:
Event 1: Aug. 13 (Day 1A) Aug. 14 (Day 1B) - 1 p.m. $350 No-Limit Hold'em ($100,000 guaranteed)
Event 2: Aug. 13 - 5 p.m. $350 Omaha Eight-or-Better
Event 3: Aug. 14 - 5 p.m. $350 H.O.R.S.E.
Event 4: Aug. 15 - 1 p.m. $350 No-Limit Hold'em Bounty
Event 5: Aug. 15 - 5 p.m. $350 Scott Fischman 7-Game Mix
Event 6: Aug. 16 - 1 p.m. $350 No-Limit Hold'em with $200 Rebuys
Event 7: Aug. 16 - 5 p.m. $350 Pot-Limit Omaha Eight-or-Better
Event 8: Aug. 17 - 1 p.m. $350 No-Limit Hold'em Six-Handed
Event 9: Aug. 17 - 5 p.m. $350 No-Limit Hold'em Shootout
Event 10: Aug. 18 - 1 p.m. $230 No- Limit Hold'em with one $200 rebuy ($50,000 guaranteed)
Event 11: Aug. 18 - 5 p.m. $230 Pokerati No-Limit Hold'em/Pot-Limit Omaha One Rebuy
Event 12: Aug. 19 - 1 p.m. $350 No-Limit Hold'em
Event 13: Aug. 19 - 5 p.m. and 9 p.m. $140 Mega Satellites (1 in 5 get a seat in Main Event)
Event 14: Aug. 20 - 1 p.m. (Day 1A) Aug. 21 (Day 1B) - $350 No-Limit Hold'em Main Event
Event 15: Aug. 22 - 5 p.m. Player Appreciation with $50 Rebuys ($5,000 Added)
-Entry into Player Appreciation is free with three Detox Tournament Series receipts
For more details on times, structures, and satellites, visit the official Detox Poker Series website.
Caesars Palace
Caesars Palace has added some extra pizzazz to its cash games. Two promotions are running 24-hours a day. One is a $10,000 Bad Beat Jackpot. To qualify, quads or better must be beaten with both players using their two hole cards. The player with the losing hand is paid $4,000; the winner receives $2,000; and the rest of the table splits $4,000. The other ongoing promo is payment for high hands, which are $100 for quads and straight flushes, and $500 for royal flushes, but for the month of August, between midnight and 6 a.m., high hand prizes double. Then, from 6 a.m. to noon, the poker room "Splashes the Pot" at the top of every hour by adding $50 to a pot at every cash-game table. From noon to 6 p.m., a "Push the Pot" promo takes over. For every pot won, a player receives a an entry ticket to a raffle that awards five winners $200. The drawing takes place at 6 p.m. Last, from 6 p.m. to midnight, pocket aces beaten gets you $100. Most of these promotions end August 31st.
For more information, call the Caesars Palace poker room at 702-785-6566.
The Mirage
For those looking to play some poker without sitting through a long multitable tournament or cash games, the Mirage is really the only place to go for sit-and-go tournaments. The poker room offers $70, $115, and $175 buy-ins and as soon as 10 players sign up, the cards are in the air.
Beginning players can also take advantage of Mirage's complimentary poker lessons. Anytime a guest or group of guests wants to learn, the poker room will provide a knowledgeable dealer to teach how the game is played in a casino, as well as tips on how to improve.
In addition to sit-and-gos and free lessons, the room is running promotions. Between 8 a.m. and 1 p.m., pocket aces of the same color cracked gets you $150, while different colored pocket aces cracked wins you $75. Flopped quads are worth $100, and quads by the river ― $75. Flopped straight flushes are $200, and a straight flush by the river is $150. Quads or better beat will get the table a bad-beat jackpot in which the loser of the hand wins $5,000, the winner of the hand wins $2,500 and each participating player at the table receives $599.
For more information, contact the Mirage Poker Room at 702-791-7291.
Follow us on Twitter for up-to-the-minute news.