World Series of Poker Circuit Biloxi Day 3: Lutes Wins Main Event!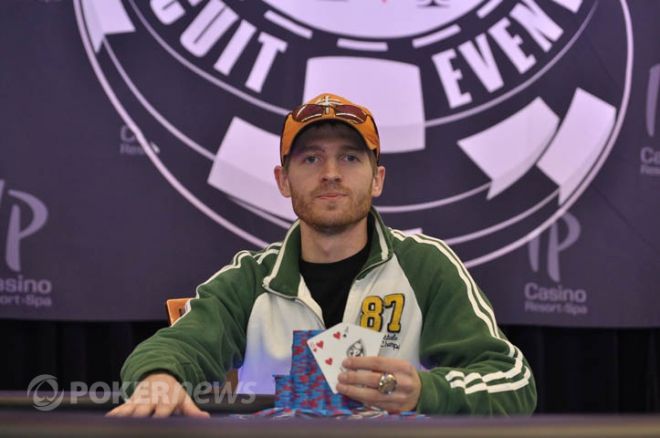 After an exhilarating three days of tournament poker, the 2010-2011 World Series of Poker Circuit Main Event from Biloxi, Mississippi, ended with Travis Lutes being crowned champion!
The event began with a field of 270 players vying for the title. It was mainly a mix of local pros and circuit regulars willing to pony up the cash to let it ride in this event. Only nine made it to Day 3, all with their eyes on the top prize of $95,253. The chip counts heading into the final table were as follows:
Seat 1: Jerry Monroe - 154,000
Seat 2: Jason Cluxton - 589,000
Seat 3: Steven Marshall - 106,000
Seat 4: Yair Alon - 404,000
Seat 5: Farid Nasserazad - 1,697,000
Seat 6: John Holley - 315,000
Seat 7: Robert Gunter - 144,000
Seat 8: Bob Talbot - 276,000
Seat 9: Travis Lutes - 1,725,000
The pressure was on with every move, and the action got off to a fast and furious start. On the first hand, John Holley three-bet all-in with
but was unable to shake original raiser, Farid Nasserazad, who called with
. Two eights fell on the flop and Holley, who could not recover, was eliminated in ninth place. Even though Nasserazad took the chip lead with that pot, he remained pretty quiet for the next 75 minutes or so when the rest of the table started dropping like flies.
Steven Marshall exited next when he shoved
into Yair Alon's
in a battle of the blinds. A king hit the flop but was not enough for Marshall. Less than five minutes later Alon struck again, calling Jerry Monroe's all-in bet with
. Monroe tabled a dominating
, but a nine fell on the flop and Monroe did not catch up, finishing in seventh place.
Robert Gunter busted in sixth, running his two red nines into Bob Talbot's
. Yair Alon was the next to go, four-betting all-in with
smack into Travis Lutes'
. No help came for Alon, who exited in fifth place. Jason Cluxton seemed primed to double up four-handed, calling all-in with
after Bob Talbot shoved with
, but the board ran out
to make a straight for Talbot. Those chips did not last very long for Talbot, though, as he was our third-place finisher. In a limped pot between the blinds, Talbot and Nasserazad clashed. The final board read
and Nasserazad check-called bets on every street, culminating with an all-in call on the river holding
besting Talbot's
.
Just like that, we were down to heads-up play within 90 minutes. Nasserazad help about a 2-to-1 chip lead over Lutes and the two battled for over five hours before it came to an end. At one point, Lutes was facing a 6-to-1 deficit but battled back and truly earned the title. On the final hand, Nasserazad called on the button and Lutes checked out of the big blind.
The flop came down
and Lutes checked. Nasserazad fired at the pot and Lutes shoved all-in, quickly getting called. Lutes tabled
, having Nasserazad's
needing help. None came as the turn and river brought running fours, securing the victory for Lutes.
2010-2011 WSOP-C Biloxi Final Table Results
1. Travis Lutes - $95,253
2. Farid Nasserazad - $57,857
3. Bob Talbot - $42,523
4. Jason Cluxton - $31,295
5. Yair Alon - $23,445
6. Robert Gunter - $17,865
7. Jerry Monroe - $13,841
8. Steven Marshall - $10,898
9. John Holley - $8,717
Follow us on Twitter for up-to-the-minute news and like us on Facebook.
If you want to rail some of the biggest cash games in the world, look no further than Full Tilt Poker. Not only can you sweat the biggest names on the planet you can also participate in their $100,000 First Deposit Freeroll and bag a $600 sign up bonus.