The PartyPoker Weekly: Phil Hellmuth Caption Competition, 42 Days of Electronics Freerolls and the Poker Show Returns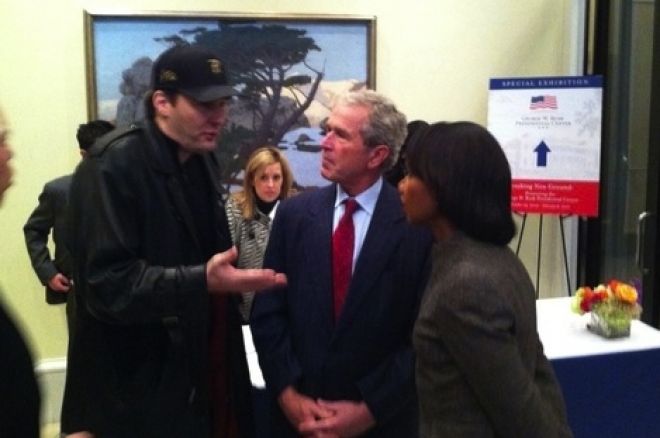 Download PartyPoker Today to get the best bonus in poker as well as compete in 42 consecutive freerolls with iPads and more on offer.
Tony G Joins Twitter & Phil Hellmuth Meets George Bush
The twitterverse will never be the same again, as PartyPoker's own motormouth Tony G has started tweeting. Add @TonyGuoga to get his regular tirades.
Over on his blog, he has had particular fun this week requesting your captions for this comical picture of Phil Hellmuth meeting George Bush. "The Poker Brat in a leather jacket and cap (no iPod on though?) at the opening of the Presidential Library. It's easy to get an invite anywhere these days isn't it?"
"Is it just me or do you get the impression this is just Hellmuth going 'can i have a picture taken with you' Devilfish style then claim they you are best mates? Yeah Phil, Bush wanted to talk about all your bracelets and advise you on a new sponsorship deal? Is that what we are going to hear next? Did you talk to him about your life coach and how all the young kids are overtaking you? I'm guessing your friends Michael Phelps, Dr. Dre, Snoop Dog and Hilary Swank were there too? You should really let us know when you meet famous people – there is no need to be so humble."
Tony is offering $100 for the best caption, which we shall post next week.
The Best Bonus in Online Poker
PokerNews has the best PartyPoker bonus in the world, and you can benefit if you have money to deposit or are starting from scratch.
Just to remind you, you can get $50 for free when you sign up to PartyPoker via PokerNews, follow our walkthough guide and use bonus code PN50Free. You don't need to deposit a single cent or give any of your bank details. This bonus is exclusive to PokerNews, you cannot find it anywhere else. But if you want to get an even bigger bonus, you can use our Party Free $50 bonus alongside our exclusive reload bonus, to get $100 for just a deposit of $50. Not only this, but the redemption requirements are much easier via PokerNews than anywhere else.
If you signed up to PartyPoker anywhere else, you would have to deposit $100 to get a $100 bonus. Then to release that bonus you would need to earn 600 PartyPoints.
However, with PokerNews, you can get the same bonus for half the deposit and nearly half of the point's target. Just follow our step by step guide.
Wait to receive your first free $25 before doing anything else.
Earn 200 Points To Redeem The Extra $25
Earn 150 Points To Redeem the $50 Bonus
Free Month with PokerNews Strategy
But it doesn't stop there, because all new Party Free $50 customers also get an exclusive free first Month with PokerNews Strategy worth $30. Once your PartyPoker account has been credited with the first $25 of your free $50, you will receive an email to confirm your free month at PokerNews Strategy. This will direct you to a special sign-up page for this promotion and you must use the same email address you registered with PartyPoker for us to recognize you as having a free PokerNews Strategy subscription.
The Poker Show is Back
The Poker Show with Jesse May is back and starts off with the aforementioned Phil Hellmuth giving a blow by blow account of his meeting with George Bush.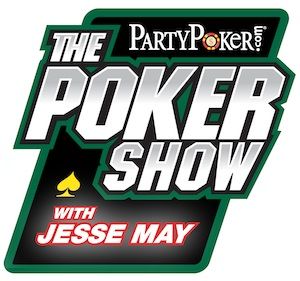 Win Laptops, iPads, iPods, 3D TVs and More for Free!
Christmas has come incredibly early on PartyPoker with a fantastic new freeroll series for new players. Win Tonight is a series of 42 consecutive freerolls starting on February 14 until March 28 (All at 20:00 CET) and all feature some of the most sought after electronics gifts on the market to the winner – as well as cold hard cash to anyone that makes the final table.
We have cameras, Sony Vaios, PS3s, iPod Touch, PSPs, Samsung TVs and of course iPads amongst the prizes each and every day. The best thing about this promotion is that you can play in every single event for free, providing you register a new account and make a minimum deposit of $25 or more between 14 February and 27 March.
Just check out the daily prize schedule below: