PartyPoker Weekly: Spring Million Announced & Satellite Tips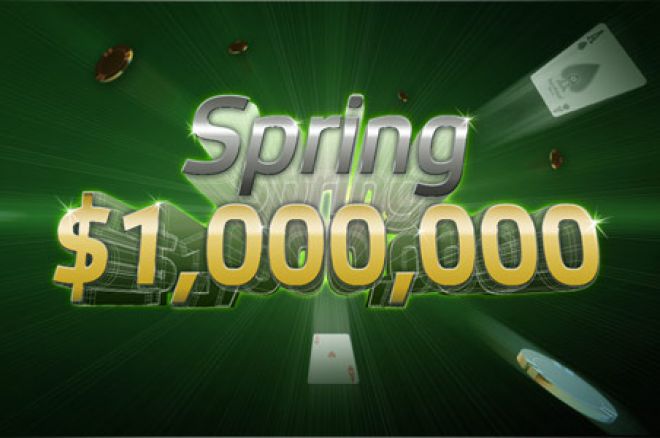 This week on the PartyPoker Blog, a $1 million tournament is coming in May and tips on how to qualify for it. Plus our exclusive Party Poker Free $50 No-Deposit Bonus.
$1,000,000 Spring Million Announced
May is looking to be a big month on PartyPoker with the announcement of a $1,000,000 guaranteed tournament. The Spring Million is set to take place on May 1 at 13:30 EDT (1700 GMT). With a $600+$40 buy-in and championship style structure, this will be one of the biggest online tournaments of the year.
Qualification has already begun with a variety of feeders starting from PartyPoints tournaments and $1 daily rebuys. Why not start your qualification campaign with……
The Best Bonus in Online Poker
PokerNews has the best PartyPoker bonus in the world, and you can benefit whether you have money to deposit or are starting from scratch.
Just to remind you, you can get $50 for free when you sign up for a PartyPoker account via PokerNews, follow our walk-through guide and use bonus code PN50Free. You don't need to deposit a cent or give any of your bank details. This bonus is exclusive to PokerNews. But if you want to get an even bigger bonus, you can use our Party Free $50 bonus alongside our exclusive reload bonus, to get $100 for just a deposit of $50. Not only do you benefit from this, but the redemption requirements are much easier via PokerNews than anywhere else.
If you were to sign up for a PartyPoker account anywhere else, you would have to deposit $100 to get a $100 bonus. Then, to release that bonus, you would need to earn 600 Party Points. However, with PokerNews, you can get the same bonus for half the deposit and nearly half the points target. Just follow our step-by-step guide.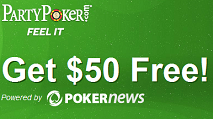 Wait to receive your first free $25 before doing anything else.
Earn 200 points to redeem the extra $25.
Earn 150 points to redeem the $50 bonus.
If you experience any problems with this or any of our promotions, please contact our Ticketed Promo Support System.
How to Win Satellites with M0NGY
If you do want to try your hand at qualifying for the Spring Million, PartyPoker player Scott 'M0NGY' O'Reilly gave some advice on how to win MTT satellites over on the PartyPoker Blog. Here are some of his top tips: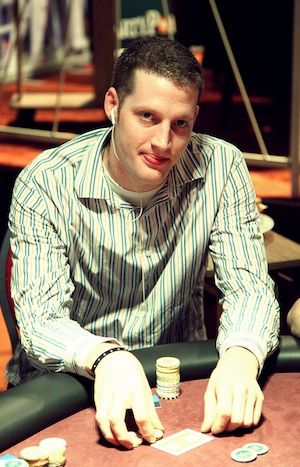 1. You don't need all the chips

First, you are not there to win it. In a regular MTT, it is all about accumulating as many chips as possible as soon as possible to try to win the tournament. In a satellite with six seats, you are only trying to get into the last six. If you get to that magic last six, it doesn't matter if you have 90% of the chips or just one chip — you end up with the same prize. The aim is to get to about one-sixth of the chips in play, and then to sustain rather than accumulate.

2. Showdowns=Variance

Second, you want to survive. It's not very often you get to the situation where you can just sit around and fold to the gold. This means you are going to have to play hands. Generally, the best way to play these multi-seat satellites is small ball poker, i.e. just trying to steal the blinds, or by exercising pot control to keep pots small. By not risking too many chips in one hand stops you from accidentally undoing all of the hard work that you have already done.

3. You are not the only one wanting to fold

On the other hand, though, you aren't the only one wanting to fold. Often the chip leader will take a relaxed approach around the bubble, opting to fold even very big preflop holdings rather than jeopardize his stack.
For more of Scott's tips check out the PartyPoker Blog.
The content and big promotions get better every week at PartyPoker, so get our exclusive Free $50 No-Deposit Bonus today to get in on the action.