The $30,000 PokerNews GIANT Still Nowhere Near Guarantee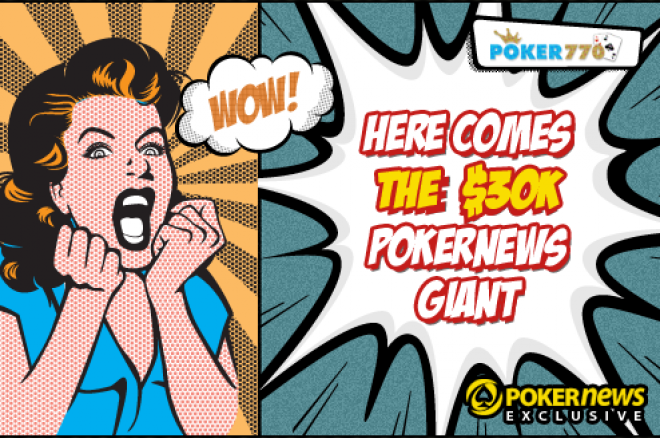 Download Poker770 to play in the PokerNews GIANT. A $2+$0.20 rebuy event on July 15 at 1900 GMT with a $30,000 guarantee. Qualify for free through a series of daily guaranteed satellites.
There are now more than 1000 players preregistered for the PokerNews GIANT – but there is still nearly a $27,000 overlay. There is still ten days to go before it starts, and despite so many early registrations, this event will surely miss the guarantee.
Taking place on Poker770 on July 15 at 1900 GMT, the PokerNews GIANT is a $2 rebuy tournament with a $30,000 guarantee. In order to meet the guarantee it needs the equivalent of 15,000 rebuys. With just over 1000 players registered, it still needs fifteen times more rebuys to get to the $30,000 guarantee.
If that wasn't enticing enough, you can play this tournament for free.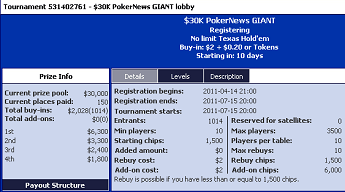 Freeroll Satellites
Daily at 1400 GMT (1000 EDT) - 10 seats guaranteed; Minimum of 10 players to start.
Freeroll for Australia Satellites
Tuesday and Saturday at 1100 GMT (2100 EDT) - 10 seats guaranteed; Minimum of 10 players to start.
Cash Satellites
$.10+$.01, Daily at 1900 GMT (1500 EDT) - 1 seat per every 20 players
PokerNews Giant $30,000 Guaranteed
$2+$0.20 Rebuy, July 15, 1900 GMT (1500 EDT)
This tournament is open to everyone regardless of where they signed up to Poker770. But, if you do sign up to Poker770 through PokerNews you will be eligible for all future PokerNews exclusive promotions, of which there have been many over the last few years. Make sure you use bonus code "PKRNEWSEN" to guarantee eligibility and to get a 200% up to €700 first deposit bonus.
Poker770 $100 Stake
We have teamed up with Poker770 to try and help out all the players who are currently worried about their funds in FTP. Poker770 has 10 years of experience processing fast and secure payments.
You can apply for a $100 stake to play with on Poker770 while you are waiting for your bankroll from FTP. You get to keep all your winnings above initial $100 and you can cash out at any time.
How do you get your $100 Stake*?
Send your "$100 Stake" application to: promotions@poker770.co.uk with your FTP and Poker770 username and "SNG" or "Cash". We will review it and confirm within 48h your eligibility for the $100 Stake*
Receive your $100 Stake* and start playing poker again on a secured and experienced Poker Room and keep 100% of the winnings above your initial stake!
This promotion is subject to Terms & Conditions. Check out our Poker770 $100 Stake Page for more information.