Get an Exclusive XXL Bonus at Carbon Poker Through PokerNews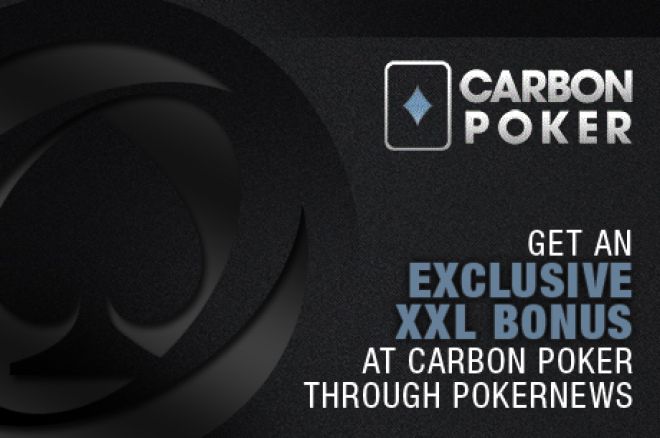 A free initial deposit bonus of 100% up to $600 on Carbon Poker sounds pretty generous doesn't it? That's what Carbon Poker is offering to anyone who comes to their site. But because you're reading PokerNews, you're not just anyone.
Get an exclusive XXL bonus at Carbon Poker through PokerNews
Thanks to PokerNews, you are entitled to a 200% bonus up to $2,000 on your first deposit. The XXL Carbon Poker Bonus means that if you deposit $1,000 using the bonus code "POKERNEWS200" you will receive a $2,000 bonus, then all you have to do is play and clear the bonus and the cash is all yours.
That makes this extra, extra large bonus, one of the biggest available on the Internet, but what are you going to do with all that spare money you'll have in your account once you sign up to Carbon Poker and clear your bonus?
How about winning $500 free cash with Carbon Poker's Royal Flush Bonus or becoming Carbon Poker's Tournament King?
Royal Flush Bonus
It's no easy feat to make an elusive royal flush and Carbon Poker is acknowledging this by giving players the chance to win bonus cash of up to $500 if they score a royal flush in any real money Texas hold'em ring games
The way the bonus is calculated is by awarding the player who hit the royal flush 100 times the big blind of the game in which they are playing. In simpler terms, if you are sitting at a table with blinds of $2/$4 and you make a royal flush, Carbon Poker will be sending you $400 cash just for making the hand.
And to think, we never thought a royal flush could look better than it already did.
Still not sure if you want to sign up to Carbon Poker? How does being crowned the Tournament King sound?
Tournament King
Would you like to be crowned a king and claim your royal throne as the Carbon Poker Tournament King?
The only way to ensure your place on the throne and claim your share of the $20,000 of cash prizes on offer every month, is to head over to Carbon Poker and start playing in all the fantastic tournaments available and start accumulating points towards the Tourney King Leaderboard. Points will, of course, be awarded according to where you finish in a tournament, with first place ensuring you the most points for your effort.
There will be a high Limit and a low Limit leaderboard each month, with each leaderboard hosting its own Grand Final tournament for the top 250 places for each corresponding leaderboard. This is where the format becomes interesting because each player involved in the Grand Final will be assigned a unique chip stack based on how many points were accumulated during the month.
Not only will the eventual winners of the Tournament King Grand Finals receive a share of the monthly $20,000 cash prize pool, but they will also receive a Tourney King accolade to show off at the tables for years to come.
With a huge sign-up bonus, royal flush bonuses and kings to be crowned, clearly there is no better time than now to sign up to Carbon Poker.
If you experience any problems with this or any of our promotions, please contact our Ticketed Promo Support System.