Overlay Imminent in the $25,000 PokerNews Showdown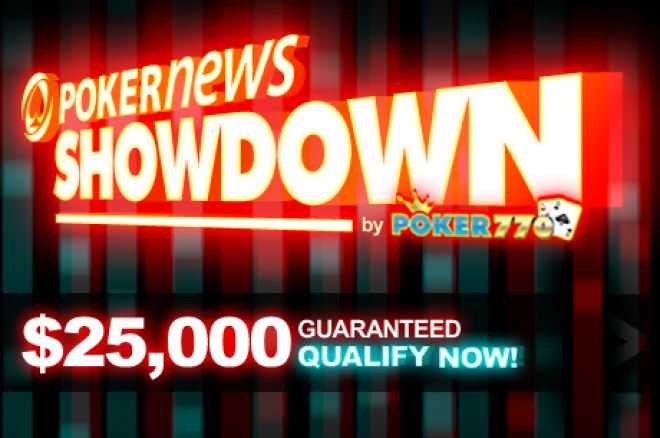 Download Poker770 to play in an exclusive $7.70 rebuy event with a $25,000 guarantee on Oct. 28 at 2100 CET. Qualify daily through a series of daily freeroll and cheap-roll qualifiers.
If you are constantly on the lookout for tournaments with overlays, make sure to bookmark The PokerNews $25K Showdown on Poker770. For the second time this year, we have come together with Poker770 to bring you one of the best prize-pool guarantees in online poker.
Taking place on Oct. 28 at 2100 CET, the PokerNews Showdown is a $7.70+$0.77 rebuy tournament with a guaranteed $25,000 prize pool. There is a cap of 3,000 players, rebuys are limited to 10 until the first break, and there's one add-on.
This tournament is almost certain to miss the guarantee because it needs the equivalent of 3,247 rebuys to get there. When you consider each player is limited to 11 rebuys, that means realistically it will need close to one thousand players to have a shot at meeting the $25k guarantee.
Qualify for Free
You can win your seat in the PokerNews $25K Showdown for free through a series of freeroll and micro-stakes qualifiers running now.
Freeroll Satellites
Daily at 1600 CET — 10 seats guaranteed; Minimum of 10 players to start.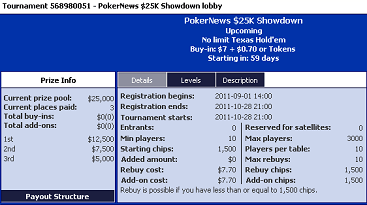 Freeroll for Australia Satellites
Tuesday and Saturday at 1100 CET — 10 seats guaranteed; minimum of 10 players to start.
Cash Satellites
$0.77+$.07, Daily at 2100 CET — 1 seat guaranteed, additional seat for every 10 Players
PokerNews Showdown $25,000 Guaranteed
$7.70+$0.77 Rebuy, Oct. 28 at 2100 CET
This tournament is open to everyone regardless of where they signed up to Poker770. But, if you do sign up to Poker770 through PokerNews you will be eligible for all future PokerNews exclusive promotions, of which there have been many over the last few years. Make sure you use bonus code "PKRNEWSEN" to guarantee eligibility and to get a 200% up to €1,400 first deposit bonus.
If you experience any problems with this or any of our promotions, please contact our Ticketed Promo Support System.