Overlay in Tonight's $25,000 PokerNews Showdown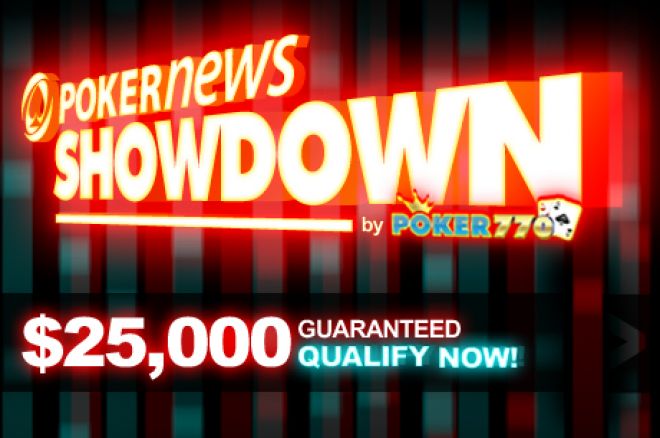 Download Poker770 to play in an exclusive $7.70 rebuy event with a $25,000 guarantee kicking off on Oct. 28 at 2100 CET.
The Show is About to Begin
The time has come for the The PokerNews $25,000 Showdown to kick off on Poker770 and with the event set to feature a massive overlay, you don't want to miss your chance to take your share of the prize pool.
The event is a $7.70+$0.77 rebuy tournament, taking place Friday, Oct. 28 at 2100 CET and features a huge $25,000 guaranteed prize pool. The field is capped at 3,000 players and rebuys are limited to 10 per player, plus one add-on. We're not psychics, but it looks like an overlay is a guarantee, so with all of that extra value, you definitely shouldn't miss it!
Juicy Overlay This Friday
If you like the sound of a juicy overlay, the PokerNews $25,000 Showdown is just the tournament for you since we can announce that an overlay is almost certainly a lock.
You might ask how we know this with one day still to go before the tournament, but we can tell you with confidence that an overlay is almost a guarantee for a few different reasons.
First, in July PokerNews and Poker770 came together and hosted a similar tournament called The PokerNews Giant. The $2 rebuy event featured a $30,000 guaranteed prize pool, but the event had a $15,000 overlay.
The PokerNews $25,000 Showdown is looking to have a similar overlay and considering there are currently less than 1,000 players registered, there would still need to be almost double the amount of players and each player would have to rebuy at least once to even get close to the $25,000 guarantee!
Don't Miss Out
Make sure you don't miss out on the tremendous value because the PokerNews $25,000 Showdown is set to become one of the most talked about overlay tournaments in 2011.
While it doesn't matter where players signed up for an account, make sure you download Poker770 through PokerNews to be eligible for all the future exclusive PokerNews promotions.
If you don't already have an account but the overlay of the Poker770 PokerNews Showdown sounds good to you, remember to use our 200% up to €1,400 first-deposit bonus by using the bonus code "PKRNEWSEN."
If you experience any problems with this or any of our promotions, please contact our Ticketed Promo Support System.