Where Are They Now: 2005 WPT World Poker Open Champion, John Stolzmann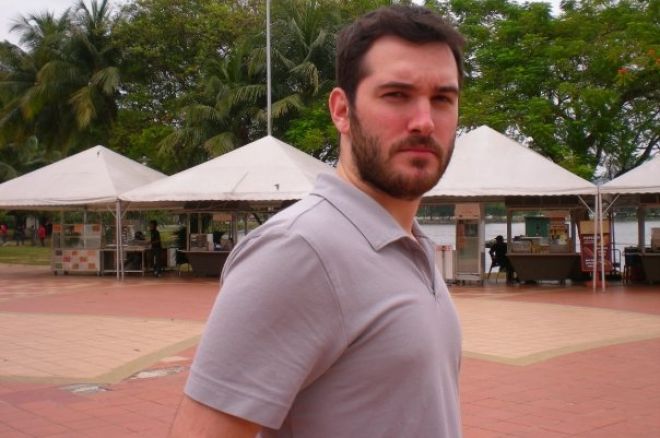 In January 2005, John Stolzmann, a 23-year-old student at the University of Wisconsin-Madison, traveled to Tunica, Mississippi, with his father to play a little poker. Both father and son were well-versed in the game, but it was the latter who made a deep run in the World Poker Tour's Sixth Annual Jack Binion World Poker Open.
Slowly but surely, the younger Stolzmann navigated a field of 512 entries and found himself at the televised final table. Unfortunately for him, he was joined there by some of poker's top professionals including Michael "The Grinder" Mizrachi, Scotty Nguyen, Daniel Negreanu, and Chau Giang. It was a tough final table, to say the least, but Stolzmann managed to do the improbable and defeated his experienced foes, becoming a WPT champion in the process and capturing the $1,491,444 first-place prize.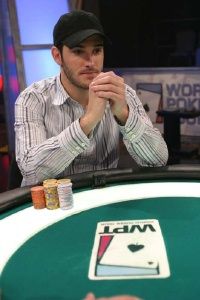 *Photo courtesy of the World Poker Tour
$10,000 WPT 2005 World Poker Open Championship Results
| Place | Player | Prize |
| --- | --- | --- |
| 1st | John Stolzmann | $1,491,444 |
| 2nd | Chau Giang | $773,448 |
| 3rd | Daniel Negreanu | $384,322 |
| 4th | Scotty Nguyen | $336,282 |
| 5th | Michael Mizrachi | $288,241 |
| 6th | Raja Kattamuri | $240,201 |
After his big score, Stolzmann dropped out of school and gave up the cold Wisconsin winters for the sunny shores of California. He began playing tournaments full time, but discovering success on the tournament trail eluded him outside of his WPT score. In fact, his biggest cash outside of that payday was a seventh-place finish in a $2,500 No-Limit Hold'em Event at the 2005 Five-Star World Poker Classic for $14,275.
Stolzmann's Results
| Date | Event | Place | Prize |
| --- | --- | --- | --- |
| Dec. 5, 2004 | $2,599 NLHE Caribbean Poker Classic | 4th | $15,000 |
| Jan. 24, 2005 | $10,000 WPT Sixth Annual Jack Binion World Poker Open | 1st | $1,491,444 |
| Apr. 7, 2005 | $2,5000 NLHE Five-Star World Poker Classic | 7th | $14,275 |
| May 25, 2005 | World Poker Tour Battle of Champions III | 6th | None |
| Jan. 17, 2006 | $1,000 Super Satellite Gold Strike World Poker Open | 13th | $10,400 |
| Nov. 15, 2006 | WPT Father & Sons Tournament World Poker Finals Invitational | 5th | None |
Over the past six years, Stolzmann's poker journey has taken many turns. PokerNews recently sat down with the now 30-year-old to find out what he's been up to in the past seven years.
What have you been up to since your WPT win?
The first thing I did was drop out of school because I wanted to move out to California to focus on poker. My girlfriend lived out there, who was also a professional poker player, so it made sense for me at the time. I spent the next year out in California playing tournaments and cash games. I didn't really parlay the [WPT] tournament, the tournament stuff didn't go well. I was winning in cash games, but didn't really have any cashes in tournaments. After a year, I basically stopped playing in those except for the Main Events.
I had promised my mom I would go back to school and finish my degree at Wisconsin, so my girlfriend and I broke up. She was playing at Commerce all the time, and I really didn't want to butt heads with her there, so I moved back to Wisconsin. I finished my degree, which only took two semesters, and stayed out there playing poker for about three years, and then I decided it was about time to come back out to California. I started playing for a living here in cash games, and then about a year and a half ago I got a job as a prop, a house player, at Hawaiian Gardens, and that's what I've been doing.
For those who may not know, what does being a prop player entail?
Now I get paid a pretty sick wage, plus health benefits, to play like $30-$60 limit and $5-$10 no limit at the Gardens. I'm playing with my own money, but I have to work a set schedule. They just pay me hourly and I keep what I win. If I lose, I lose [my money]. Then I get my wage on top of that plus my benefits.
The only job aspect to it is I have to get up when the game fills up. So sometimes I'm just there making my hourly wage and not in a game, but I'm really happy doing it because there's so much less stress knowing that you'll never have a losing month because your wage more than covers any terrible month that you'll have. The games are really good there, and I've been doing well. It's like my dream job because it makes it viable long term.
You've mentioned that you used to play online quite a bit. Did Black Friday have a negative effect on you?
Yeah, I lost a little money on Black Friday. Not an incredible amount. I thought I was in the clear; I actually had a friend who lives out of the country who I was able to transfer to, within like an hour after when the transfers were still legal but cashing out wasn't. So I transferred to my friend, but he still couldn't cash it out. I had my prop job and stuff, but I'd play Rush Poker now and then. I'd play a little bit of limit poker on PokerStars, where at least I got my money back.
How did you come to play the WPT Sixth Annual Jack Binion World Poker Open?
I didn't even want to go, really. I had school and had just missed for a poker tournament down in Costa Rica, but my dad was qualified for Tunica; he had won an online WPT vacation sit-and-go, so he wanted me to go and wanted to invest in me. I had been playing professionally in the summers, and when I first started out and didn't have any money he bankrolled me for a piece of my winnings.
The deal he gave me [for the WPT] was just so awesome that I said all right. He bought me into a $3,000 event that I busted out of, and then a $1,000 satellite into the Main Event. I won then and then won Tunica.
That final table boasted quite the lineup. Was that kind of intimidating?
I guess a little bit at that time. I just basically played accordingly. At that time, I had barely played any no-limit hold'em at all; I was a limit hold'em player. I had played tournament here and there online, so I knew I was inexperienced. Looking back, I don't think I played that well. I did play well given the circumstances, that being I had to take big chances and try to play for big pots. I didn't want to play small ball with these guys and try to become involved in a lot of pots and try to outplay people, because I knew that wasn't going to happen.
So, preflop, I would put huge percentages of my stack in so there was no real thinking postflop. In a sense I wasn't intimidated because my strategy kind of took their game away. It made me an underdog, but less of an underdog that I would have been had I not done that.
You took home nearly $1.5 million. Did you make any big purchases with that money?
Mostly I just used it as a poker bankroll, but I did buy a house out in California, which ended up being a terrible decision, looking back. I took a loss on it. I also bought a car, but not right away because my girlfriend at the time had two awesome cars, so I'd just use one of those. When we broke up, I bought an Audi. Nothing too splurgy. I took a lot of vacations.
You also played in a WPT Father and Sons Tournament at the 2006 World Poker Finals. Can you tell us a little bit about that?
That was a really nice thing that the WPT did. That was just a little side event after Foxwoods. It was an invite-only thing. They invited six teams* of fathers and sons who were important to the WPT to play in a little event. What ended up happening, it was like a tag-team event, so at any time my dad could play or I could play, likewise for everyone else.
When one father and son team wins, then the father and son would play heads up for an entry into the $25,000 World Championship. It was just a freeroll. My dad got all-in with aces against Todd Brunson's kings, and Brunson hit a king [laughs]. That's how we got knocked out in fifth.
*Teams included: Barry Greenstein/Joe Sebok (1st); Doyle Brunson/Todd Brunson (2nd); Barry Shulman/Jeff Shulman (3rd); Michael Simon/Rome Simon (4th); Steve Stolzmann/John Stolzmann (5th); and Dick van Patten/Vince van Patten (6th).
Get all the latest PokerNews updates on your social media outlets. Follow us on Twitter and like us on Facebook today!