Don't Miss Out on a Potential Overlay in Tonight's Poker770 $15,000 Xmas Tournament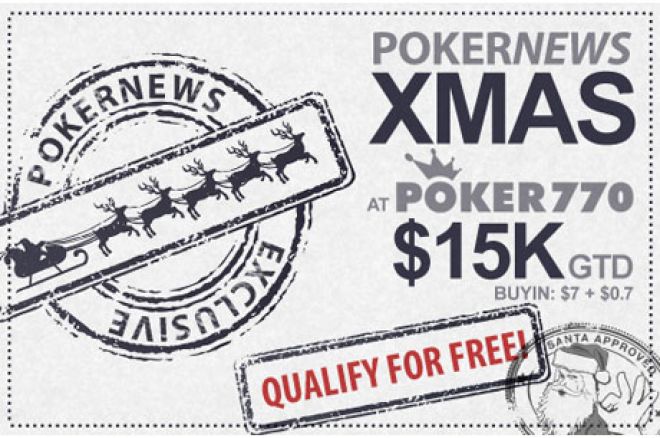 Christmas is almost here and thanks to the PokerNews $15,000 Xmas Tournament you could be celebrating with a lot of cash, so make sure you download Poker770 now!
There are not many better ways we could imagine celebrating this holiday season than with a share of $15,000 in cash. Thanks to PokerNews and Poker770, this is exactly what you could be doing. The $15,000 Xmas Tournament on Poker770 kicks off tonight!
Last Minute Christmas Cheer
Taking place Dec. 23 at 2000 CET, the exclusive Poker770 $15,000 Xmas Tournament is sure to give our players a Christmas they won't soon forget.
The tournament only costs $7.70 to enter and will be run as a rebuy tournament. This small buy-in gives players of all bankrolls an opportunity to play in an event that we can happily say will most likely offer an overlay. We say this because the last two events PokerNews hosted on Poker770 ended up with giant overlays!
The first event to offer a valuable overlay was the The PokerNews Giant in July. That event ended up with a $15,000 overlay and was talked about for weeks to come. A few months ago another overlay was featured in the Pokernews $25K Showdown and players again cashed in on massive value thanks to PokerNews.
Don't miss out your chance to take your share of this possible overlay in tonight's $15,000 Xmas Tournament and you could be padding your bankroll with thousands of dollars just in time for Christmas.
All the action kicks off at 2000 CET and the tournament is capped at 3,000 players. Each player will be limited to 10 rebuys and will be allowed one optional add-on at the break. The tournament will be played in the standard Poker770 format.
Remember, the PokerNews $15,000 Xmas Tournament is exclusive to PokerNews players. This means players must have signed up to Poker770 through PokerNews. If you haven't already done this make sure to use the bonus code "PKRNEWSEN" when making your first deposit and you can receive our massive 200% up to €1,400 bonus.
If you experience any problems with this or any of our promotions, please contact our Ticketed Promo Support System.
Follow PokerNews on Twitter for up-to-the-minute news.