Epic Poker League on CBS: Klodnicki Versus Lichtenberger for Mix-Max Title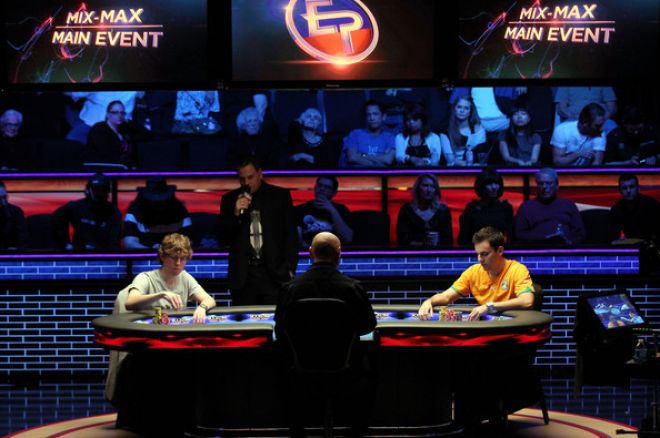 Since Black Friday, it's not often the world is treated to poker programming, but that wasn't the case this past weekend as the third episode of the Epic Poker League aired on CBS. The broadcast featured the finals of the EPL's Mix-Max Main Event, which attracted a field of 100 in December.
The tournament was designed to test players in different formats including eight-max, seven-max, six-max, four-max and heads-up poker. The latest episode picked up the action in the heads-up part, which was a best-of-three battle between Andrew "LuckyChewy" Lichtenberger and Chris "SLOPPYKLOD" Klodnicki. Those two players had navigated a final table that included Michael "The Grinder" Mizrachi, Scott Clements and Joe Tehan to duke it out for an $801,680 first-place prize.
During the first two matches of the heads-up melee, players began with the stacks they had built throughout the tournament. In the third match, if required, the competitors would begin with even stacks.
Chips Counts at the Top of the Broadcast
| Place | Player | Chip Count |
| --- | --- | --- |
| 1st | Chris Klodnicki | 3,366,000 |
| 2nd | Andrew Lichtenberger | 1,3634,000 |
And They're Off: Commissioner Annie Duke kicked things off by introducing the players and welcoming them to the stage. With a crowd of spectators surrounding the set, Lichtenberger and Klodnicki took their seats as action kicked off with the blinds at 6,000/12,000.
In the first hand, Klodnicki opened for 25,000 from the button with
only to have Lichtenberger three-bet to 80,000 with
. Klodnicki made the call, and watched as Lichtenberger bet 77,000 on the
flop. Klodnicki, who picked up a gut-shot straight draw and had just a 39 percent chance of winning the hand, responded by making it 200,000 to go, which Lichtenberger called.
On the
turn, Lichtenberger check-called a bet of 260,000, leading to the
river. Again Lichtenberger checked, and this time Klodnicki fired out a huge bet of 550,000. The arena was silent as Lichtenberger considered his options, ultimately choosing to fold the best hand, giving Klodnicki a 4-1 lead.
Getting to Know Klodnicki: The EPL aired a segment featuring Klodnicki, who graduated from Lehigh University with a degree in finance but chose to pursue a game he loved instead.
"My junior year of college was when I decided that I would give poker a shot. When most people were getting internships, I decided to play poker all summer," Klodnicki explained. "I ended up doing really well and then when I graduated college, I decided to try playing full time. If I didn't go with poker, I'd probably be working on Wall Street somewhere, waking up at 7 a.m., working 12-hour days, not much time off, wouldn't have much freedom. It wasn't that I didn't like finance, but I feel like I wouldn't like it as much as poker."
Lifetime Membership: A brief montage was shown honoring Doyle Brunson, who played his first Epic Poker League event and was honored with the first "Lifetime Membership" ring. "If a statue's ever made of a poker player, I'm sure it's going to be Doyle," said longtime friend Barry Greenstein.
Likewise, Jennifer Harman honored Brunson when she took to the podium: "He truly is the best poker player in the world."
Lichtenberger Doubles: Klodnicki was on a roll and had a dominant lead, but Lichtenberger managed to close the gap a bit. It happened when Lichtenberger raised to 26,000 with
and was called by Klodnicki, who was holding
, leading to a flop of
.
Klodnicki checked, Lichtenberger bet 60,000, and Klodnicki came alive with a check-raise to 160,000. Lichtenberger responded by moving all-in for 845,000 more, and Klodnicki made the call. Unfortunately for the latter, he couldn't complete his flush draw on the
turn and
river, meaning he sent 27 percent of his stack over to Lichtenberger.
Not So Lucky Chewy: Although the broadcast made it seem like the match was brief when it actually lasted 140 hands. In the final hand of the match, blinds were 25,000/50,000/5,000 when Lichtenberger raised to 100,000 holding
. Klodnicki three-bet to 250,000 with
, Lichtenberger called, and the flop came down
. Klodnicki bet 250,000, Lichtenberger raised to 575,000, Klodnicki moved all-in and Lichtenberger called.
The stacks were pretty even at the start of the hand, but Lichtenberger was the at-risk player. "I managed to get it in pretty bad here," Lichtenberger said about his 32 percent chance of winning the hand, which dropped to 18 percent on the
turn. The
river changed nothing, and Klodnicki went up 1-0. "Good game, sir," Lichtenberger said with a resigned chuckle.
Reset, Same Result: The chip stacks were reset and the blinds lowered for the second match, though it wouldn't be quite the marathon session the first match was. Although it lasted 66 hands, only a few were shown on the broadcast. Lichtenberger was never able to get anything going.
With the blinds at 10,000/20,000/3,000, Lichtenberger raised to 40,000 on the button with
and Klodnicki three-bet to 110,000 holding the inferior
. Lichtenberger then four-bet 260,000, Klodnicki five-bet to 505,000, and Lichtenberger six-bet to 750,000. This time Klodnicki just called and watched the flop fall
. He liked his nut-flush draw and fired out 500,000, but Lichtenberger moved all-in over the top. Klodnicki made the call to put his opponent at risk.
It was a coin flip for the 4.2 million pot and essentially the match. The turn wasn't a diamond, but it was the
, which gave Klodnicki the lead with a pair of fours. "My outs are very limited," Lichtenberger deadpanned. Sure enough, he needed a black king on the river to keep his Epic Poker dreams alive, but it was not meant to be as the
peeled off. Lichtenberger finished runner-up and earned $514,480.
"Good game, man" Klodnicki said as he shook his opponent's hand. Both players were all smiles, but it was certainly a subdued celebration for the quiet and unassuming Klodnicki.
"As I entered the final table, [Lichtenberger] was the person I did not want to play heads up," the champion told host Ali Nejad in his postvictory interview. "He plays really great, doesn't really give anything up. I had to get pretty lucky to beat him on the last hand."
Final Table Payouts

| Place | Player | Prize |
| --- | --- | --- |
| 1 | Chris Klodnicki | $801,680 |
| 2 | Andrew Lichtenberger | $514,480 |
| 3 | Joe Tehan | $306,800 |
| 4 | Michael Mizrachi | $174,640 |
| 5 | Scott Clements | $89,680 |
With his win, Klodnicki moved into second place on the leaderboard for the top 27 money earners in the first season of the EPL.
*Photo courtesy of Epic Poker League.
Get all the latest PokerNews updates on your social media outlets. Follow us on Twitter and like us on Facebook!