Last Chance to Qualify for the Unibet Poker Million!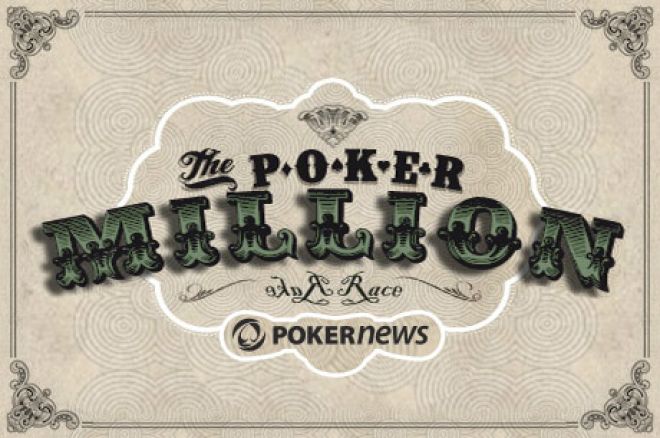 Download Unibet Poker and win a seat to the Poker Million Live Final in Prague where you could walk away with a cool €1,000,000!
Want a Shot At €1 million?
Most people could only ever dream about holding €1 million in their hands, but that dream can come true this month at Unibet. Until Feb. 5, Unibet's valued customers can compete in a €25,000 Rake Race that will see the top 50 point earners receive a share of €25,000.
In addition to getting their hands on some free cash, the top six point earners will also win an €800 package to the Poker Million Live Final that takes place in Prague on Feb. 19 during the Unibet Open festival. These six players will participate in an exclusive six-handed sit-and-go tournament where the eventual winner gets the chance to draw envelopes for €1 million! Each envelope contains a check with the minimum of €5,000!
The €800 package includes two nights stay at The Hilton Prague, as well as travel and spending money.
€25,000 Rake Race
The Poker Million Live Final is an invite-only event, open to the top six points earners in the €25,000 Rake Race. Players are awarded five leaderboard points for every $1 they rake at the cash tables or in tournaments. Players can check their progress on the regularly updated top 100 leaderboard on the Unibet site.
Here's a look at the full list of Rake Race prizes: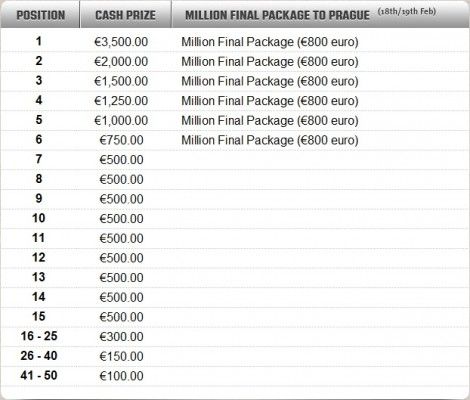 Poker Million Live Final
If you are one of the top six finishers in the €25,000 Rake Race then you will be jetting off to the luxurious Hilton Prague Hotel in the capital of the Czech Republic. Here, you will take part in the six-handed sit-and-go that kicks off at 1500 CET on Feb. 19. Your starting stack in the Poker Million Live Final depends on your final finishing position on the Race Race. Check out the table below for the full breakdown!
| Position | Starting Chip Stack |
| --- | --- |
| 1 | 12,000 |
| 2 | 10,000 |
| 3 | 8,000 |
| 4 | 7,000 |
| 5 | 6,000 |
| 6 | 5,000 |
The Poker Million Euro Live Draw
If you win the Poker Million Live Final, you'll be one step closer to being a millionaire! The winner will select from 35 identical envelopes, all of which contain a check for at least €5,000. When that person selects three envelopes of matching amounts, they'll take home that amount. Here's the breakdown of the envelopes:
25 envelopes will contain €5,000
7 envelopes will contain €25,000
3 envelopes will contain €1,000,000
If you do not have a Unibet Poker account yet, then you are entitled to a huge sign up bonus of up to €1,000 that requires no deposit to activate! Head to the Unibet Welcome Bonus page and find out how you can get your €1,000 bonus and then download Unibet Poker through PokerNews and start competing in the €25,000 Rake Race!
If you experience any problems with this or any of our promotions, please contact our Ticketed Promo Support System.