PokerStars and Monte-Carlo® Casino European Poker Tour Grand Final Day 4: Final Table Set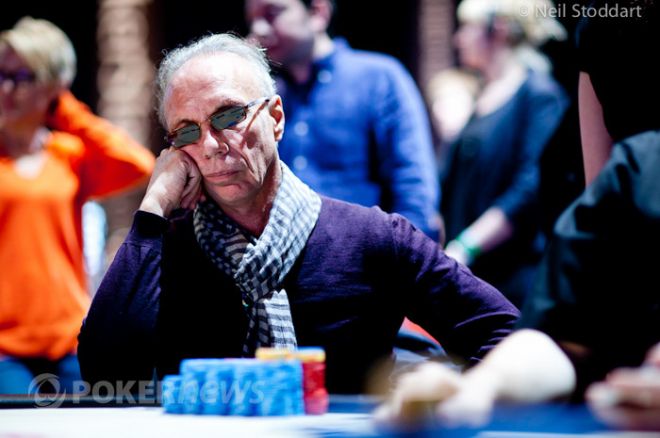 Day 4 of the PokerStars.com and Monte-Carlo® Casino European Poker Tour Grand Final ended on Sunday after five hours of play. At the end of the day, the final eight players, who will come back on Monday to play for the €1.5 million first-place prize, were determined. Bernard Guigon begin the fifth and final day of play with a leading chip stack of 4.9 million.
Final Table Lineup of the 2012 PokerStars and Monte-Carlo® Casino European Poker Tour Grand Final
| Seat | Name | Chips |
| --- | --- | --- |
| 1 | Rodrigo Caprioli | 2,945,000 |
| 2 | Bernard Guigon | 4,900,000 |
| 3 | Michael Dietrich | 1,550,000 |
| 4 | Sergio Castelluccio | 1,410,000 |
| 5 | Moshin Charania | 2,215,000 |
| 6 | Daniel Gomez | 2,665,000 |
| 7 | Clayton Mozdzen | 1,430,000 |
| 8 | Lucille Cailly | 2,865,000 |
The rate of eliminations came at a steady rate right from the beginning of the day. Andrew Pantling was first to go when he shoved his short stack right into an opponent's pocket aces. The first double EPT champion will have to wait until at least Season 9 because Vadzim Kursevich, the last remaining champion, shoved with
and was called by Ben Vinson who was holding
and went on to make a flush.
Amit Makhija was eliminated in 23rd place after he ran queens into kings for 20 big blinds. All these players busted from the TV table and that was one of the stories of the day. Apart from the blessed few who made it through, most of Day 4's eliminations came under the bright lights, as if their stacks were melting.
Jason Wheeler was eliminated in somewhat of a cooler when he ran top two-pair into top set. He keeps knocking on the doors at majors and it won't be a surprise if a door opened soon for him. Pratyush Buddiga was another player in good form and high on confidence after his final table appearance at EPT Berlin last week. He was eventually outdone when his ace-eight was bested by the pocket kings of Bernard Guigon.
Vinson came into Day 4 with a top-five stack and doubled that within the first couple of levels, partly due to the aforementioned hand he was involved in. He was on the TV all day so details of how his stack was dismantled are sparse. He was eliminated when he pushed with
and ran into Andoni Larrabe's pocket nines. The same can be said for the overnight chip leader Geert-Jan Potijk's day. His day ended when he three-bet all-in with king-nine from the small blind only for the player in the big blind to wake up with queens.
We lost the 10th and ninth place finishers within seconds of each other. Vadzim Markushevski was devastated to bust with a dominating ace, but the fact he was eliminated less than a minute after Larrabe made him an extra €15,000. Alex Mostafavi busted in ninth when his
could overcome Guigon's pocket jacks. As Mostafavi was led away each of the other players embraced each other in a tired but joyous way.
EPT Live will broadcasting along with our coverage. As the broadcast will have the players' hole cards face-up, all coverage — written and visual — will begin live at 1430 CET (0530 PDT), a one-hour delay from the live action.
Follow PokerNews on Twitter for up-to-the-minute news.