EPT9 Sanremo: The Biggest Poker Hands From the Main Event & €10,000 High Roller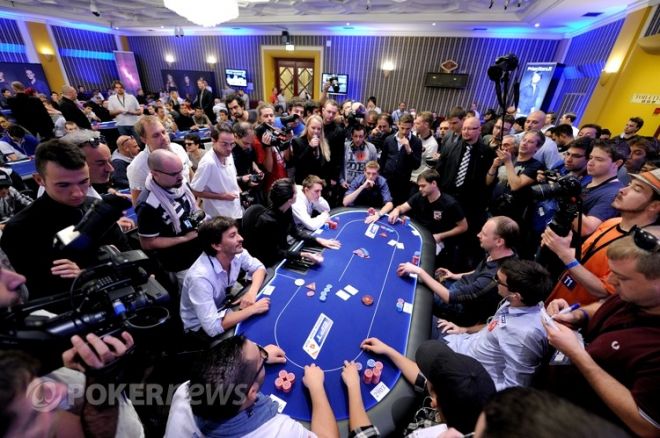 For the past week, Casino Sanremo has hosted the Season 9 PokerStars.com European Poker Tour. There have been plenty of big events and notable winners, as highlighted in our recap of the side events, but the headline events are the €5,000 Main Event and €10,000 High Roller.
The stop attracted some of the most notable players in the game, including many who went straight from the World Series of Poker Europe to the second stop of the EPT Season 9. For example, Daniel Negreanu, Chris Moneymaker, Jason Mercier, Andy Frankenberger, Yevgeniy Timoshenko, Michael Benvenuti, Matt Salsberg and Liv Boeree are just a small sample of the players who have called Sanremo home this past week.
Moschitta the Last Team Pro Standing
When you think of PokerStars, you no doubt think of players like Daniel Negreanu, Chris Moneymaker and Vanessa Rousso. They're all quite popular, but every one of them fell before Luca Moschitta of PokerStars Team Online, who became the last Team Pro standing in the EPT9 Sanremo Main Event. Both Moschitta and his girlfriend, Sofia Lovgren, made deep runs, and it was interesting to see how they supported one another throughout. Lovgren eventually fell in 30th place, but not before cheering on Moschitta in one of the day's more entertaining hands.
We just saw a huge hand take place that inspired a celebration so boisterous that the entire room, including the €2,000 side event, grew eerily quiet.

Luca Moschitta nails the river.

It began when Eric Nhouyvanisvong opened for 22,000 and received a call from Micah Raskin in the cutoff. Luca Moschitto of Team PokerStars Online then moved all in from the small blind for 296,000. Nhouyvanisvong made the call, and then Raskin opted to move all in himself for 499,000 total. Nhouyvanisvong thought long and hard before making the call.

Showdown
Nhouyvanisvong:
Raskin:
Moschitta:

Both Nhouyvanisvong and Moschitta seemed demoralized when they saw Raskin's red aces, but the flop made things interesting as it gave the Italian a flush draw.

"Heart, heart," Moschitta's girlfriend, Sofia Lovgren, yelled from one table over.

"Black," Raskin countered. The dealer obliged with the on the turn. "Black," Raskin said again knowing he was just one card away from the chip lead. This time the dealer did not listen and put down the . Muschitta hit his cards and celebrated at the top of his lungs, a celebration that caught the attention of everyone in the room.

Raskin was left shaking his head, though he did collect the side pot, while Nhouyvanisvong was crippled down to just 200,000.
While Moschitta was able to use the chips to advance a bit further, he ultimately fell at the end of Day 4 in 25th place for €19,000.
A Hero Call Gone Wrong for Forsmo
Very few players enjoyed the success that Inge Forsmo did in the EPT9 Sanremo Main Event, at least for the first four days. Forsmo was among the chip leaders through the first few days of the tournament, even finishing as the chip leader on both Day 2 and Day 3.
Although he didn't finish on top on Day 4, he did enjoy a fruitful day, advancing to Day 5 as the second biggest stack. But that's when things went terribly wrong for the Norwegian qualifier. His downfall began when Micah Raskin hit a two outer on the river to double, and that put Forsmo on tilt and lead to a questionable hero call. Here's the hand in question:
It has not been a good day for Inge Forsmo. He was unlucky in that huge pot before, and now he just called off his entire stack with ace high to bust.

Igne Forsmo

The Norwegian opened to 50,000 from the cut-off and was called by Negjdel Avdylaj before Jason Lavallee three-bet to 178,000 from the small blind.

Only Forsmo called to see a flop where he called a 205,000 c-bet from the Canadian. The turn came and Lavallee shoved with .

Forsmo didn't think long and called off his remaining 810,000 with for ace high! Lavalle stared hard trying to find a draw or something in his opponent's hand. When he realized the situation he shook his head.

The river came and that was that for Forsmo.
Forsmo was no doubt disappointed with his 23rd-place finish for €23,000 after gracing the top of the chip counts for so long.
Both the EPT9 Sanremo Main Event and €10,000 High Roller are set to conclude on Thursday, and you can read about the action in both in our Live Reporting Blog.
Spindler Scores Double Knockout in €10,000 High Roller
Day 2 of the 2012 PokerStars.com European Poker Tour Sanremo €10,000 High Roller concluded on Wednesday after 44 players returned to the felt and played down to just seven. One of the surviving players was none other than Benny "toweliestar" Spindler, who is more accustomed to appearing in the Online Railbird Report than in the Live Blog. The high-stakes pro caught a hand midway through Day 2 that allowed him to make the final table second in chips:
From under the gun, Franck Kalfon raised to 7,300. In the next seat was Benny Spindler, and he reraised to 19,500. Behind Spindler, action folded to Christophe Benzimra in the cutoff seat. Benzimra, the 2009 EPT Warsaw champion, reraised all in for 59,600. Play then folded back to Kalfon, and he moved all in for 87,400. Spindler took a minute, then called.

Benny "toweliestar" Spindler

Spindler:
Benzimra:
Kalfon:

On the flop, Kalfon took the lead when the fell. Benzimra had a second-best hand now with his queen kicker losing to Kalfon's king kicker, but Spindler picked up a flush draw, so both players could still very easily lose.

The turn was the , leaving Spindler in need of a spade that wasn't the king to bust both players and Benzimra needing a nonspade ten.

The river completed the board with the , and Spindler made his flush. He busted both players en route to shooting up over 500,000 in chips.
The €10,000 High Roller will conclude on Thursday, and you can find out how it all went down in the PokerNews Live Blog.
Former EPT Sanremo Champions
| Season | Date | Buy-In | # of Players | Prize Pool | Winner | Top Prize |
| --- | --- | --- | --- | --- | --- | --- |
| 4 | April 1-5, 2008 | €5,000 | 701 | €3,100,000 | Jason Mercier | €869,000 |
| 5 | April 18-23, 2009 | €5,300 | 1,178 | €5,713,300 | Constant Rijkenberg | €1,508,000 |
| 6 | April 15-21, 2010 | €5,300 | 1,240 | €6,014,000 | Liv Boeree | €1,250,000 |
| 7 | April 27-May 3, 2011 | €5,300 | 987 | €4,786,950 | Rupert Elder | €930,000 |
| 8 | October 21-27, 2011 | €4,900 | 837 | €3,734,694 | Andrey Pateychuk | €680,000 |
| 9 | October 5-11, 2012 | €5,300 | 797 | €3,865,450 | ??? | €800,000 |
Don't forget to follow us on Twitter and like us on Facebook.