World Poker Tour on FSN: Marvin "Mad Marvin" Rettenmaier Goes Wild at World Championship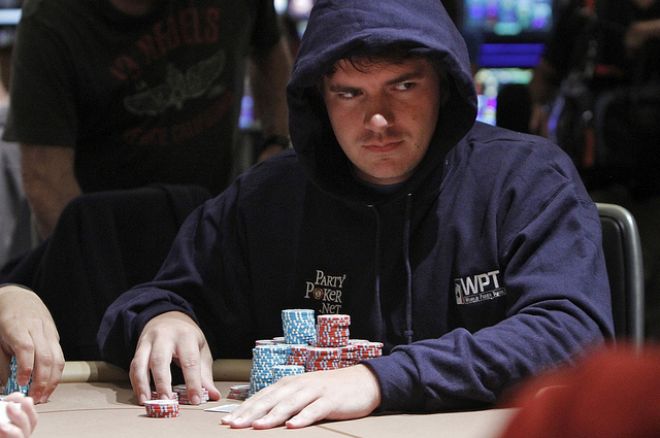 The Season X World Poker Tour $25,000 World Championship continued on FSN on Sunday night with part two of a three-episode arc. The tournament originally took place at the Bellagio in Las Vegas from May 19 to 26, 2012, and attracted 152 players, creating a prize pool of $3,660,500. At stake was a top prize of $1,196,858 and the title to one of the world's most prestigious poker tournaments.
In Part I of the WPT Championship, the early stages of the tournament were highlighted, which saw Joe Serock emerges at the Season X Player of the Year after the tightest race in WPT history. It also showcased the first elimination of the final table, which happened when Trevor Pope moved all in for 1.46 million from the button holding
. Philippe Ktorza then moved all in for 1.7 million from the small blind with
, pushing Michael Mizrachi out from the big blind. Pope was a 3-1 dog and was up out of his seat even before the flop fell
, giving him a gut-shot draw to a wheel. The
turn gave Ktorza a set, but it also gave Pope an added flush draw. Unfortunately for him, the
river was not what he needed and Pope finished in sixth place for $155,571.
Here's how things stacked up at the top of the broadcast:
WPT Season X $25,000 World Championship Final Table
| Seat | Player | Chips |
| --- | --- | --- |
| 1 | Michael Mizrachi | 1,910,000 |
| 2 | Marvin Rettenmaier | 6,305,000 |
| 3 | Steve O'Dwyer | 1,030,000 |
| 4 | Nick Schulman | 3,060,000 |
| 5 | -empty- | N/A |
| 6 | Philippe Ktorza | 2,935,000 |
The Fashion Report: The WPT's Mike Sexton has been a proponent of dressing nicely at high-profile final tables, and they don't get much bigger than the WPT Championship; as such, I figured I'd put my keep fashion eye to the test and size of the five finalists.
Michael Mizrachi: I've seen "The Grinder" on the circuit quite a bit, and more times than not he wears a hat. That wasn't the case at the final table as Mizrachi sported a shaved head and a plaid long-sleeve maroon and grey button-up complete with a Deepstacks patch. It was a strange getup in that it wasn't too casual, but wasn't really fancy. Grade: B-
Nick Schulman: A black t-shirt is definitely not classy, but when you look at the big, strapping Nick Schulman, you think more bad-boy outlaw, so the black t-shirt, which showed off the tattoo on his right arm and silver bracelet, worked just fine for the young pro. Grade: B
Marvin Rettenmaier: Those Europeans sure know how to dress, and this German pro is no different. "Mad Marvin" was sporting a long-sleeve white button-up, and when rolled up, the sleeves showed a fancy design. He completed that with a PartyPoker patch and a light brown scarf fastened in a way I've only seen in Europe. All he needed was a haircut! Grade: A
Steve O'Dwyer: A blue and white plaid button-up isn't particularly special, but then again Steve O'Dwyer's look is more about his trademark beard and flowing locks than anything. A shirt is a mere accessory, and in this case it did its job. Grade: B
Philippe Ktorza: Much like his European counterpart, Ktorza sported a white button-up with the sleeves rolled up. The Frenchman didn't have a scarf, but he did sport a patch of the French flag, a nice watch, and a pair of Blue Shark Optics. It didn't pop, but it was definitely upscale casual. Grade: B+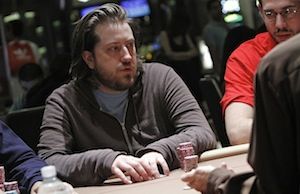 Crazy Three-Way: With the blinds at 40,000/80,000 and a 10,000 ante, Michael Mizrachi looked down at
and raised to 200,000. Marvin Rettenmaier, who was next to act, came in with a three-bet to 485,000 holding
, prompting Steve O'Dwyer to move all in for 965,000 with
. Mizrachi proceeded to five-bet all in for 2.14 million, and after thinking about it for a few moments, Rettenmaier called to put both players at risk.
Mizrachi was a 57 percent favorite to take down both the 2.35 million chip side pot and 3.025 million chip main pot, while O'Dwyer had just a 2 percent chance of winning outright, though he could still chop the main pot with Rettenmaier. The
flop wasn't of note, and neither was the
turn. The
river gave Mizrachi, who was going for his third WPT title, the chip lead with 5.375 million while sending O'Dwyer to the rail in fifth place for $192,176.
The Ladies Love Ktorza: Nick Schulman opened for 250,000 with
only to have Philippe Ktorza move all in for 1.55 million after looking down at
. Schulman thought long and hard before asking, "Hammer time?" He then dropped in a call and both players were up out of their seats. I'd like to say there was a good sweat, but the
flop made sure there wasn't one as Ktorza flopped four queens, leaving Schulman drawing dead. The French contingent went wild on the rail as the meaningless
turn and
river completed the board.
Five Questions Outtakes: Throughout Season X, the WPT aired a popular segment called Five Questions. This week's segment featured outtakes from throughout the season. Here' a small sample:
What is with your hairdo?
Will Failla: "Well, I was in Cannes, south of France, I'm watching all these French fries win all these chips, and I'm saying to myself, 'What is it? What is it?' And all of a sudden it hit me, I see their hairdo, and everybody's got this French comb over. Haven't lost a tournament since I've had the French comb over."
Irv Gotti on his friend Phil Ivey: "I'll give you one Phil Ivey story, he's going to hate this too. He was really pissed when he lost that [WSOP] Main Event when he got to the final table, so when he got interviewed and everything, he kept his poker face, but when we went out, he was like, '[BLEEP].' It was the first time I've ever seen him upset about poker. Usually he's got ice in his veins."
Schulman Out in Fourth Place: With the blinds at 60,000/120,000 and a 20,000 ante, action folded to Marvin Rettenmaier in the small blind and he raised to 280,000. Nick Schulman responded by moving all in for 2.765 million and was snap-called by Rettenmaier. Even before the cards were turned up, Schulman's face said he was in trouble.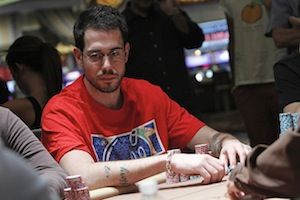 Showdown
Schulman:
Rettenmaier:
The crowd was unusually quiet, and both Rettenmaier and Schulman were on their feet. Schulman needed some help, but the
flop left him wanting. The
turn paired Schulman, but the 27-year-old pro still needed either another five or an ace on the river keep his hopes of a second WPT title alive. The dealer burned and revealed the
. Rettenmaier celebrated with his rail as Schulman exited in fourth place for $256,235.
"I just thought maybe he was a little card dead, getting a little desperate. I thought I might have him dominated, but you know, in retrospect, maybe I never do. It was probably a bad call," Schulman told Jessica Welman in his post-elimination interview after being asked about his curious
call against Philippe Ktorza. "I think I played pretty well, this last hand, he's opening almost every hand in that spot… sometimes it just doesn't go your way."
Who will be the next to join this prestigious list:
| Season | Player | Earnings |
| --- | --- | --- |
| 1 | Alan Goehring | $1,011,886 |
| 2 | Martin De Knijff | $2,728,356 |
| 3 | Tuan Le | $2,856,150 |
| 4 | Joe Bartholdi | $3,760,165 |
| 5 | Carlos Mortensen | $3,970,415 |
| 6 | David Chiu | $3,389,140 |
| 7 | Yevgeniy Timoshenko | $2,143,655 |
| 8 | David Williams | $1,530,537 |
| 9 | Scott Seiver | $1,618,344 |
| 10 | ??? | $1,196,858 |
Tune in Next Week:The conclusion of the WPT World Championship is set to air on Sunday, Oct. 21, on FSN, so be sure to check your local listings. If by chance you miss it, check back next week for the latest recap of all the action here on PokerNews.
Get all the latest PokerNews updates on your social media outlets. Follow us on Twitter and like us on Facebook now!
*Pictures courtesy of World Poker Tour.