Sign up for One Free Week at SharpSide.com
SharpSide.com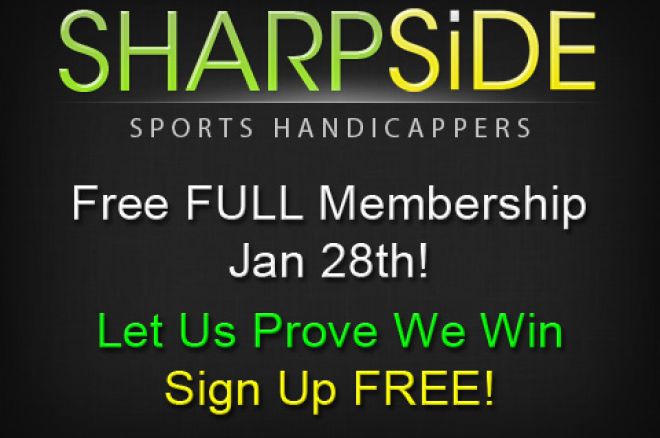 *Sponsored
SharpSide.com Professional Handicapping's mission statement is, "Make clients happy through consistent winning and great service." While SharpSide.com is a relatively new, their handicappers are not. The guys behind SharpSide.com have been beating all the major sports for years. With bookies and sportsbooks shutting them off over and over again, these guys have decided to go public with their information. Helping the public enjoy the same success that they have seen.
Special Offer: Sign Up for Free at SharpSide.com

All members (even free ones!) will receive one week of full-price service completely free from Jan 28, 2013. No credit card, no fees. New members who sign up will receive a full service membership for the week, and all paid members will have their subscriptions extended a full week free!
One of the most unique features with SharpSide.com service is that they don't rate plays. They do not offer "stone cold lead pipe 10 dime" plays. Every play they make, they feel will be a winner. Not only that, every play is shown on the website. Whether they go 11-0 or 0-8 that day.
SharpSide.com single focus is consistent earnings. They recommend never betting more than two percent of your bankroll, and you can reach out to them for advice, whether you bet $50 or $10,000. They will never demand more money for secret plays or up-sell you. All subscribers get all the plays!
As of this writing, SharpSide.com has never had a losing month. That's consistency. Of course they go on bad runs - everyone does, it's gambling - but with smart bankroll management and consistent betting, they just keep making money.
VIP services are offered by SharpSide.com. These are on a case-by-case basis tailored to your needs. Services include anything from local agents at casinos, to managing your offshore accounts, to private betting advice, and more.
Who Are They?
Team SharpSide.com consists of five guys with over 60 years of experience in the business. Three of the four professional bettors focus on what they know best, while the final decision on which games to give out is decided by a fourth man.
John: The youngest of the group and the resident tech geek. With a background building enterprise software systems, he's in charge of our membership subscription system. This includes live schedules, odds, scores, custom databases, and data mining tools. Like a lot of our players, he gave up his 9-5 job once he realized the potential of having the right information.
Jeff: 30 years in the business. Both as a former owner and founder of a large Caribbean sportsbook as well as a very respected sports bettor. His unique view as a book let him see angles the public isn't always aware of. He saw certain players consistently beating the lines, and realized how profitable the right information can be.
Gio: 15 years in the business. He may be the least experienced, but is the most dedicated and sharpest of them all when it comes to picking winners. He's the most dedicated to gathering information, spending upwards of 80 hours per week watching and handicapping sports. Gio specializes in soccer.
Nick: Since he retired from professional golfing 15 years ago due to an injury, he has been dedicated to sports betting. With a huge network of contacts around the world of sports, he always gets great info. His great benefit is learning certain things that only someone who has been a professional athlete will get access to.
PG: The man, the myth, the legend. No one knows how to use the information he gathers better than this guy. He is the final decision maker in the group.
Sign up now at SharpSide.com.