Player Reactions to the World Series of Poker Schedule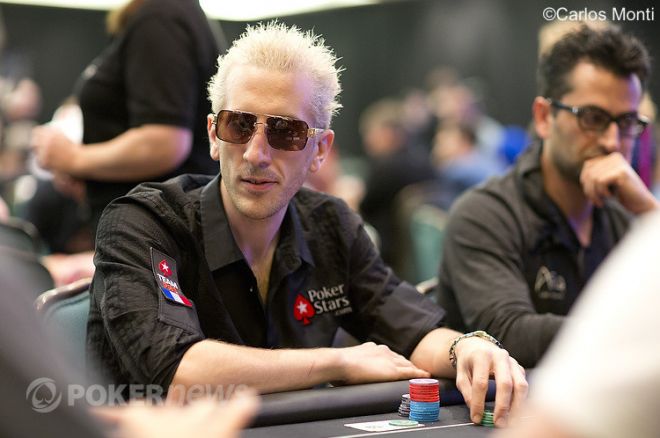 On Thursday, Caesars Interactive Entertainment released the schedule for the 2013 World Series of Poker. Among the additions are a $1,500 "Millionaire Maker" event in which the first-place prize will be a minimum of $1 million; a non-bracelet, open-face Chinese poker event; and a new, $10,000 price tag for the Ladies Event.
Female players will receive a $9,000 discount for playing in the Ladies Event; males will have to fork over the entire buy-in.
PokerNews reached out to some of the most notable players in the game to find out their favorite and least favorite changes.
Matt Glantz: "I love the way they found a creative way to handle the Ladies Event. I never understood why several male poker players felt the need to ruin something that is very good for poker, and I never got a valid reason from otherwise sensible poker players that decided to crash that party.
"To answer your question, "what is the worst change for the WSOP this year," I would really have to nitpick to find an answer. For that reason, I don't think I have a legitimate answer. They did a great job. Ty [Stewart], Jack [Effel], Seth [Palansky] and the rest of their team really should be commended for putting together another excellent schedule and always running what seems like a enormously overwhelming endeavor."
Jason Mercier: "I don't see too many changes in the schedule, but I am excited about the $111,111 buy-in event. I'm also looking forward to the $1,500 event with first place guaranteed to be $1 million.
"As far as events removed, the only one I really noticed was the $1,500 no-limit 2-7 single draw. That event was always a fun one because the atmosphere was great and it was a good way of drumming up interest for 2-7 single draw — a game that's not spread that frequently."
David "Doc" Sands: "By a wide margin, my favorite component of the 2013 WSOP schedule is the addition of the $111,111 super high roller. What a great event! I play $100,000 events all over the world, and this one promises to be the largest, most prestigious and most publicized — and its right in my back yard! With the prestige of the WSOP, this event could draw 100 players and pay $4 million to first place. I am also excited about the $25,000 six-max event and the addition of re-entries to a couple of the weekend events. As virtually anyone who plays primarily no-limit hold'em will tell you, this is my favorite WSOP schedule ever.
"By and large, the schedule is great, and I have very few complaints. I would, however, prefer it if they had left the Pot-Limit Hold'em Championship event as a $10,000 buy-in. This year they reduced the buy-in to a $5,000, and I really don't see the point. I think they reduced the buy-in to attract a few more players, but the change will almost certainly have a negative impact on the prize pool, which will undoubtedly be smaller than it was last year. Going forward, I would also like to see the WSOP add more $2,500 no-limit hold'em events. The events become so much more skill-based with the extra starting chips, and the prize pools are generally bigger than they would be if the event was a $1,500 buy-in."
Adam Levy: "I think it's great that they added an eight-max tournament to the schedule. I wish every World Poker Tour or big main event was eight-max. While only losing one seat doesn't sound like that big of a deal, the difference in play is considerable, and more leg room is always a plus. Also, this year more than ever they have put a lot of great tourneys at the beginning of the WSOP, which will provide for great attendance right off the bat. TheOne Drop high roller tourney will be a blast to rail, and I'm happy they at least have a super high buy-in event this year after the success of the One Drop last year.
"Obviously, the biggest change is the Ladies Event, and I am happy that they have figured out some sort of loophole regarding it. I do think there will be one bonehead guy who decides to put down the $10,000. I'm sure some of the ladies will still be very annoyed if a guy plays, but this time they will be completely paying for it — literally tenfold. From a strictly tourney poker standpoint, go right ahead, make that prize pool juicier, but I assume only the true lady grinders will realize that."
Christian Harder: "I think largely, the WSOP did a good job with the changes. I especially like the $1,000 turbo event and the $5,000 eight-max event. Eight-max is now the trend for all high-roller events, and it makes a lot of sense to add it to the schedule. All the players who will play like it, and it's a slightly more skillful form of poker. The $1,000 turbo event will, of course, be a fun addition, and I don't think it will diminish the integrity of the bracelet or anything.
"Taking away the half pot-limit Omaha, half no-limit hold'em heads-up tournament and the $1,500 no-limit 2-7 single draw was a little disappointing, but I can't blame the WSOP for taking them off the schedule."
Bertrand "ElkY" Grospellier: "My least favorite change is definitely the number of events with the possibility to re-enter or rebuy. I just don't think it's good for most amateur players who are already at a disadvantage for a bracelet. I just don't think WSOP bracelet events should be re-entry or rebuys. Instead, they could have a $50,000 rebuy high roller non-bracelet [event]. That would be much better, in my opinion.
"I love the Ladies Event change and also the fact that they now have a few four-day events — they should have more. Overall, it's a great schedule and I'm super excited to be going back to fight there again this year!"
Unfortunately, none of the female players were available for comment regarding the change to the Ladies Event, but many posted their thoughts on Twitter.
Wow finally a classy move on @WSOP 's behalf about the Ladies event. 10K price tag but ladies only pay 1K. #CLASSY #FINALLY

— Maria Mayrinck (@Maridu)
Love the @WSOP ladies special event this year :D finally all those men with ">1000% ROI" can enter for just 10k!

— Vanessa Selbst (@VanessaSelbst)
Selling WSOP Ladies' $10K at .9 to 1. It's a bargain, you guys. #markdown

— Jamie Kerstetter (@JamieKerstetter)
Get all the latest PokerNews updates on your social media outlets. Follow us on Twitter and find us both Facebook and Google+!