Kevin "BeL0WaB0Ve" Saul Wins WSOP Circuit Foxwoods Main Event for $194,178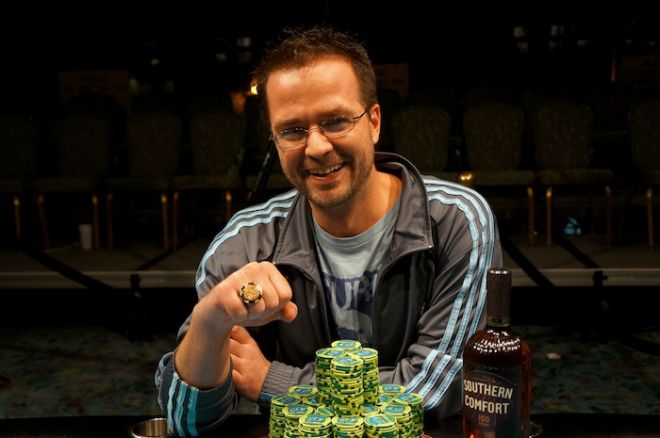 After three days of intense play, the 2012-13 World Series of Poker Circuit Foxwoods Main Event came to an end Monday night. The final 16 players of a 615-player field returned to play down to a winner, and after seven levels of play, Kevin "BeL0WaB0Ve" Saul emerged victorious to capture his first WSOP Circuit gold ring, the $194,178 first-place prize and a seat in the National Championship.
WSOP Circuit Foxwoods Final Table Results
| Place | Player | Prize |
| --- | --- | --- |
| 1st | Kevin "BeL0WaB0Ve" Saul | $194,178 |
| 2nd | Lall Bharat | $119,742 |
| 3rd | Cory Waaland | $87,842 |
| 4th | Paul Snead | $65,096 |
| 5th | Ben Reason | $49,007 |
| 6th | Bobby Corcione | $37,356 |
| 7th | Ethan Foulkes | $28,662 |
| 8th | Pete Campo | $22,654 |
| 9th | Stephen Dare | $18,031 |
Action recommenced with Level 26 (10,000/20,000/3,000), and it didn't take long for the first elimination of the day to occur. It happened when John McNabola opened from the cutoff seat with a raise to 60,000, and Stephen Dare called the raise from one seat over. Play then folded to Eric Blair in the big blind, and he reraised all in for 245,000. McNabola didn't hesitate very long before making the call. Dare then thought for a bit before letting his hand go.
Blair:

McNabola:
The flop came
, giving both players a straight draw, then the
arrived on the turn. Only a jack could save Blair, but his opponent already had two of them. The river then brought the
, and Blair became the first elimination of Day 3.
From there, Mike Massri busted in 15th ($11,836), Eric Rando finished in 14th ($11,836), Alex Wilson fell in 13th ($11,836), and Chris Schonbach headed to the rail in 12th ($14,425).
After McNabola was eliminated in 11th place for $14,425, the final table bubble was on. It was then, in Level 28 (15,000/30,000/5,000), that a monster pot of 3 million chips developed between Saul and Lall Bharat.
Action began when Saul opened for 65,000 from early position and Bharat three-bet to 100,000 from the button. Saul responded with a four-bet to 400,000, and Bharat five-bet all in for just under 1.5 million. Saul snap-called, and the cards were tabled, revealing that Saul's
had Bharat's
dominated.
According to the PokerNews Odd Calculator, Saul was a massive 87.23% favorite to win the hand, and that increased to 93.74% on the
flop.
"Don't worry, there will be a diamond on the turn," someone at the table said.
Sure enough, the
peeled off, and that increased Baharat's chances from headed to the river. Saul was primed to win the huge pot and take a commanding chip lead to the final table, but the dealer burned and put down the
on the river. Both players had made a wheel and chopped up the pot.
The bubble finally burst when Chris Mintchev was eliminated in 10th place by Paul Snead, and then it took about two hours of play at the final table for Dare to fall in ninth place. It happened when he shipped all in for 480,000 from middle position and received a call from Snead, who barely had him covered.
Snead:

Dare:
It was a classic flip, and Dare just needed to avoid big cards and diamonds to stay alive. He managed to fade on both the
flop and
turn, but Snead could still win with either an ace, queen or ten on the river. The dealer burned and delivered what would be the last card Dare would see in the tournament — the
. Snead hit his ace to eliminate Dare, who took home $18,031 for his result.
From there, the pace picked up as Snead eliminated Peter Campo and Ethan Foulkes in eighth place and ninth place, respectively. Then a big hand developed between Saul and local Bobby Corcione, who you may recall as the 21st-place finisher in the 2012 WSOP Main Event.
The hand, which took place in Level 31 (30,000/60,000/10,000) began with an open-raise to 140,000 by Corcione from under the gun and a call from the big blind by Saul. The flop came
, and Saul led with a bet of 155,000. Corcione responded by raising to 455,000. After studying the situation for a short while, Saul announced he was pushing all in over the top. As Corcione contemplated what to do next, Saul's stack was counted out. Saul said it appeared his opponent had him barely covered in the hand, meaning Saul would be the player at risk if Corcione called.
Finally, Corcione did call, turning over the
. Saul had the
for both straight and flush draws, giving him plenty of equity in the battle. The turn was the
, and Corcione's aces were still hanging on, but the river brought the
and shouts from the onlooking crowd. Saul had made a flush, catapulting back up close to 3 million while Corcione was left with but 10,000 chips — just one single ante.
Corcione managed to survive the next hand, sextupling up to 60,000, but he was soon all in again from the small blind with the
versus Cory Waaland's
, and when the board ran out
, the river five gave Waaland the knockout. Minutes later, Ben Reason followed Corcione out the door in fifth place for $37,356.
While Snead had his fair share of knockouts, his number was called in Level 32 (40,000/80,000/10,000) when Bharat opened with a raise to 225,000 from the button, and Snead took a look at his hand in the small blind before moving all in. After that, Saul leaned forward and Snead counted out his chips to show his bet was for 1.455 million total.
Saul thought for a while, then said he, too, was reraising all in, letting Bharat know that his bet was for 3.815 million. Bharat gave his hand up, and Snead tabled the
. Saul had the
. The dealer burned a card and spread the flop...
! Saul had made quads, making the
turn and
river just a couple of trivial items. Snead smiled and shook hands with the three remaining players while Bharat revealed that he folded
.
"Why didn't you call?!?" said Waaland while a laugh by Saul echoed the same sentiment.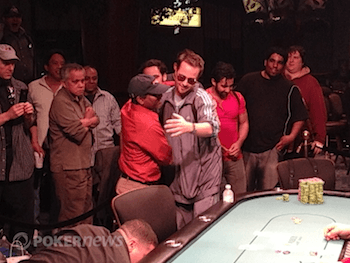 Later on in the same level, Waaland took his leave in third place, and that left Saul and Brahat to battle heads up with the former holding a chip lead of 7.4 million to 4.6 million.
Saul managed to whittle his opponent down to about 1.9 million in chips before delivering the final blow. It happened when Bharat had the button, looked down at his cards, and announced he was raising all in. Saul called instantly.
Bharat:

Saul:
Saul had picked up a monster, and he had the big advantage going to the flop. The first three cards came
, and Saul's hand was still in front. The
then landed on the turn, which meant the
river card was of no consequence as Bharat was already drawing dead. The pair shook hands and shared a hug afterwards, with Saul complimenting Bharat for playing well. Bharat earned a cool $119,742 for his finish. Saul, who has more than $2.3 million in career earnings (most of which came back in 2007), scored his first WSOP Circuit victory and claimed the $194,178 top prize.
Congrats to Kevin "BeL0WaB0Ve" Saul on his first WSOP Circuit win and National Championship qualification. With that, PokerNews' coverage from Foxwoods has come to an end, but we'll be at the next stop at Harrah's Cherokee in North Carolina for even more great WSOP Circuit action!
Get all the latest PokerNews updates on your social media outlets. Follow us on Twitter and find us both Facebook and Google+!