Poker Pros Discuss New "Accumulator" Event at World Series of Poker APAC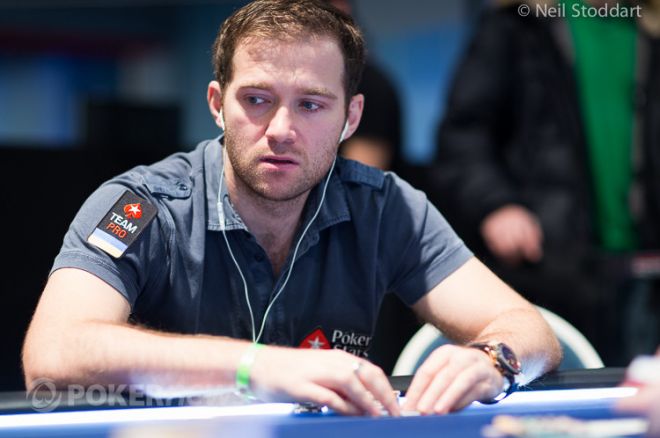 How do you strategize for a tournament format you've never seen before? That's a question many of poker's top talents have been attempting to solve this week in Melbourne.
The World Series of Poker led off its inaugural Asia-Pacific series with a brand new event, a $1,100 No-Limit Hold'em Accumulator which offers players a chance to amass a stack on each of the three Day 1 flights and take the total amount into Day 2. The format, created by Crown Poker Room Tournament Director Christian Vaughan, was new to hundreds of players hunting for a WSOP bracelet in Melbourne this week.
The event was a huge success for the WSOP as a total of 1,085 entrants created the largest WSOP event ever held outside the U.S.
"I think it's cool. It's the first of its kind," Team PokerStars Pro Eugene Katchalov told PokerNews on Saturday. "I think it's a good warm-up for everyone. Everyone is just relaxed since it's a lower buy-in tournament in comparison to other events. And I think it's good to start off a new event at a lower buy-in to see how it works out."
Thirteen-time WSOP bracelet winner Phil Hellmuth, who played all three starting days of the Accumulator event and finished with a total of 20,650 in chips, had a similar opinion.
Very happy to have #WSOPAPAC #1 the Accumulator event. Gives all of us that travel all the way to Melbourne a chance to get our bearings

— phil_hellmuth (@phil_hellmuth)
But because it was the first time the Accumulator was ever held on a big stage, most players were developing methods to approach the new format, creating some interesting tactics from poker's top tournament players.
"I would have to figure out the math behind it a little more if it becomes a regular thing," said two-time World Poker Tour champ Marvin Rettenmaier, who failed to survive any of the three Day 1 flights. "I'm not sure if there is a number of chips to get on Day 1a where you really shouldn't play on Day 1b and 1c. Then again, it doesn't really matter. I would play anyway because it's a bracelet event, and I need one of those bracelets."
European Poker Tour champ Mohsin Charania, who arrived to Melbourne in time for Day 1b of the Accumulator, came up short in each of his Day 1 flights. But he believes the structure plays heavily in favor of the poker pros.
"You get 3,000 chips so there's not much accumulation going on," Charania told PokerNews. "But it's good that you get to play three times. It gives pros more of an edge because I don't think everyone is registering all three times. You have to get to 9,000 chips within the first two or three levels or you're in a world of hurt."
Charania said he approached this event a bit differently than a regular no-limit hold'em freeze-out.
"I was generally just playing really tight both days because we were 10-handed and the table just made a lot of mistakes," he added. "But it's so hard to win pots 10-handed that you need to make the stone nuts. If you don't get it, you're not going to have as much of a chance."
Meanwhile, Katchalov had his own strategy for the new format.
"I've been approaching it just like a re-entry tournament just because looking at Day 1 you had around 350 people starting and only 46 made it through," he said. "So essentially you're almost in the money when you make Day 2 because it's such a fast-paced structured tournament. I didn't realize it was that fast, so my chances of making Day 2 aren't as high as I thought."
The World Series of Poker eliminated rebuy tournaments as bracelet events in 2009, but they're beginning to make a comeback in 2013. In addition to the Accumulator in Melbourne, the WSOP is introducing the Little One for One Drop in Las Vegas this summer. The $1,111 buy-in bracelet event will feature unlimited re-entries over two starting days.
Katchalov said he'd prefer to see the Accumulator tested more before it becomes a regular fixture on the WSOP schedule.
"I would like to see a couple more run-throughs before seeing it at the World Series in Las Vegas," he said. "If you're doing a higher buy-in event where it's deeper, it might be quite different because more people are accumulating chips and making Day 2. It would basically be a re-entry tournament."
As far as awarding a bracelet to the winner of the new Accumulator, the eager Rettenmaier claimed he was fine with the WSOP's decision.
"I do like it," he said. "I didn't think that the Big One for One Drop should have been a bracelet event because it's an amount of money that most people can't afford. It's kind of the same as an invite-only tournament where you give out a bracelet. And I don't think they should have rebuy tournaments at the World Series, but this one is fine."
Stay tuned to PokerNews.com for daily reports, interviews and feature stories from the inaugural WSOP-APAC from Melbourne, Australia.
Get all the latest PokerNews updates on your social media outlets. Follow us on Twitter and find us both Facebook and Google+!