188BET is Offering Risk Free WSOP Packages, €500 Freerolls and More!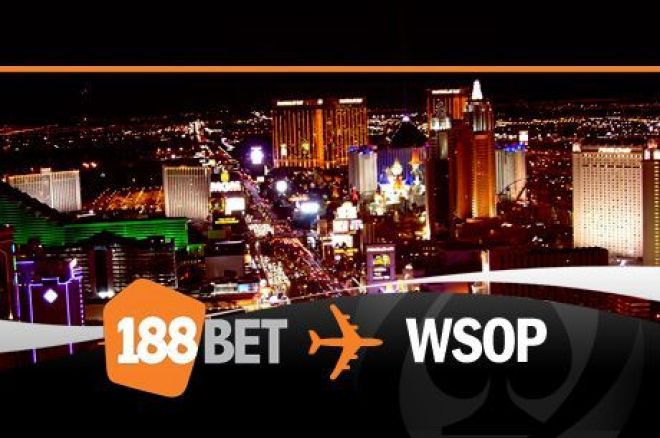 188BET has some fantastic ongoing promotions right now, including €5.50 World Series of Poker satellites, weekly €500 freerolls and much more besides. Keep reading for an insight into the value-packed world of 188BET.
€5.50 WSOP Satellites end June 2. Act now!
188BET is offering customers the chance to jet off to Las Vegas to compete in the 2013 World Series of Poker for just a €5.50 outlay. That's correct, 188BET is running WSOP satellites that only cost €5.50! These €5.50 buy-in satellites feed into the Las Vegas Trip 2013 Final on June 2 where at least two lucky winners will walk away with a Las Vegas Trip package worth $2,500. Each package consists of:
The $1,000 buy-in for Event #42 of the 2013 World Series of Poker.
$1,500 for accommodation and travel expenses.
Event #42 is the $1,000 buy-in No Limit Hold'em event that is certain to attract a massive field and offer gigantic prizes. Past winners of $1,000 buy-in events include Michael Gathy (won $440,829 in prize money), Max Steinberg ($440,238), Rocco Palumbo ($464,464), Will Jaffe ($500,075) and Dominik Nitsche ($654,797). Could you be the one the poker media reports on at the 2013 WSOP?
The next €5.50 buy-in Las Vegas Trip Satellite is 18:00 U.K. time on May 18--tomorrow evening--so you don't have long to wait. 188BET will award one seat to the €100+€10 Las Vegas Trip Final for every 20 entrants in this satellite.
These superb satellites will not be available after June 2, which is only two weeks away. Act now or you could miss out on the poker trip of a lifetime.
Will you run hot at Blaze Poker?
Do you wish you could play hundreds of hands per day but just don't have the time to do so? Then Blaze Poker could be just what you have been looking for.
Blaze Poker is 188BET's offering to the exhilarating world of "fast-fold" poker. Instead of being seated at the same table, Blaze Poker players join a large player pool in which opponents change every hand!
If you get dealt a weak hand such as
and do not want to play it just fold — even if the action is not yet on you — you will be whisked to a new table and dealt another hand. Don't like your new hand either? Fold again and receive new cards almost instantly!
Those of you who are superb at multitasking will be happy to know it is possible to play multiple Blaze Poker tables simultaneously, meaning you will be able to play many more hands per hour than you would at a standard online poker table. This in turn potentially increases your profits by a substantial margin!
Win Big When You Lose With the 188BET Bad Beat Jackpot!
With 188BET poker, you could win a massive cash prize for losing, thanks to its Bad Beat Jackpot.
The Bad Beat Jackpot is triggered every time you lose with Four-of-a-Kind or better, and could see you walk away with tens or hundreds of thousands of euros! All you need to do to have a chance to win a vast sum of cash is opt into the Bad beat Jackpot — which only costs €0.02 per hand — and hope to lose with quads or better!
Check out the Bad Beat Jackpot page for full terms and conditions.
Have your WSOP Buy-In Refunded in 188BET's Risk Free WSOP!
Imagine the scene. You qualify for the 2013 WSOP at 188BET and are delighted at the prospect of flying to Las Vegas to play in the biggest tournament of your life. However, that elation soon turns to disappointment as your pocket aces get cracked on the bubble of your WSOP tournament to bust you out with nothing but memories and a bad beat story to tell your friends.
Now imagine how great it would feel for you to have your buy-in refunded because you did not cash in your WSOP tournament. Well that is what 188BET is offering its customers.
Be one of the first 100 players on MPN — the network that 188BET is part of — to win a WSOP package and if you do not cash in your target event, 188BET will refund your buy-in!
Check out the full terms and conditions at 188BET's Risk Free WSOP page.
Play in a €500 Freeroll on May 18
188BET is offering you the chance to play in a freeroll with a €500 prize pool just for registering for a poker account. No deposit is required, so this is a freeroll in the true sense of the word.
The next €500 freeroll takes place at 19:00 BST on May 18 and registration is already open. Visit the €500 poker freeroll page today for all the information you will require.
Get all the latest PokerNews updates on your social media outlets. Follow us on Twitter and like us on Facebook now!