Cheap WSOP Satellites, Risk-Free WSOP and Bad Beat Jackpots Await 188BET Players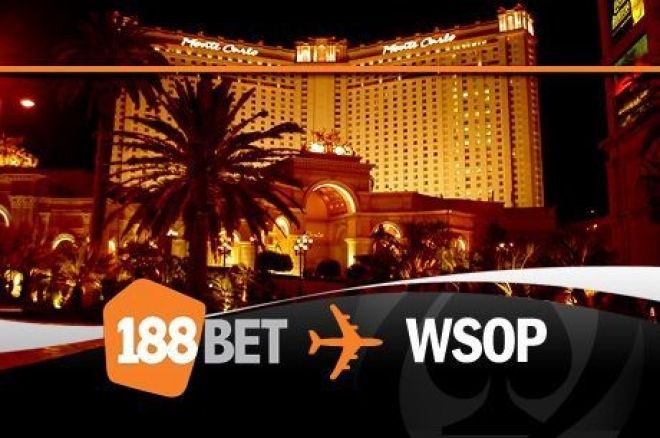 188BET's €5.50 WSOP Satellite Promotion Ends This Weekend
188BET is offering customers the chance to jet off to Las Vegas to compete in the 2013 World Series of Poker for just a €5.50 outlay. That's right, 188BET is running WSOP satellites that only cost €5.50! These €5.50 buy-in satellites feed into the Las Vegas Trip 2013 Final on June 2 where at least two lucky winners will walk away with a Las Vegas Trip package worth $2,500. Each package consists of:
The $1,000 buy-in for Event #42 of the 2013 World Series of Poker.
$1,500 for accommodation and travel expenses.
Event #42 is the $1,000 buy-in No Limit Hold'em event that is certain to attract a massive field and offer gigantic prizes. Past winners of $1,000 buy-in events include Michael Gathy (won $440,829 in prize money), Max Steinberg ($440,238), Rocco Palumbo ($464,464), Will Jaffe ($500,075) and Dominik Nitsche ($654,797). Could you be the one the poker media reports on at the 2013 WSOP?
The next €5.50 buy-in Las Vegas Trip Satellite is 18:00 U.K. time on June 1 --tomorrow evening-- so you don't have long to wait. 188BET will award one seat to the €100+€10 Las Vegas Trip Final for every 20 entrants in this satellite.
The June 1 tournament is the last €5.50 satellite so time has almost run out if you are planning on winning your way to the WSOP for such a small amount of money. We urge you to keep your schedules free and to set your alarms so you do not miss this last qualifier, otherwise you will be kicking yourself if you miss out on the chance of a poker trip of a lifetime.
Have Your WSOP Buy-in Refunded if you Don't Cash!
Although nobody plans on not reaching the money places when they win their way to a World Series of Poker tournament, it is quite a common occurrence. The very nature of tournament poker, where only the top 10-15% of players are paid, means the majority of the field goes home empty handed. But not if you won your seat at 188BET.
Be one of the first 100 players on MPN — the network that 188BET is part of — to qualify for a WSOP package at 188BET, and if you do not manage to make it into the money when you head to Las Vegas, 188BET will refund your buy-in into your 188BET account! That is correct, 188BET is offering its WSOP qualifiers a completely risk-free WSOP experience!
This is an amazing offer and one that you really do not want to miss out on. For a full breakdown of the terms and conditions head over to the dedicated 188BET promotion page.
Lose With Quads and Potentially Win Huge!
The revamped 188BET Bad Beat Jackpot could pay you a potentially life-changing sum of money when you lose with four-of-a-kind or better and you have opted into the Bad Beat Jackpot.
Imagine you are sat at a cash game at 188BET and after a brief but intensive raising war you get your money in on the flop with a set and find yourself up against a straight flush draw. The turn improves you to quads, but the river is cruel and completes your opponent's straight flush. Ouch. The pain of losing with such a strong hand is suddenly replaced by joy, as tens of thousands of euros are deposited into your 188BET account because you just triggered the Bad Beat Jackpot!
As you have probably gathered from the above example, the Bad Beat Jackpot is triggered every time you lose with four-of-a-kind or better. All you need to do to have a chance to win a vast sum of cash is opt into the Bad beat Jackpot — which only costs €0.02 per hand — and hope to lose with quads or better! Think of it as an insurance policy if you will; an insurance policy that could pay dividends when it pays out. And at just €0.02 per hand, can you really afford not to be in the Bad Beat Jackpot?
It is not just the loser of the big hand that receives part of the Bad Beat Jackpot. Almost everyone who has opted in will receive a payout. Check out the list below to see who benefits when the BBJ is triggered. Eighty percent of the current jackpot is distributed as follows:
40% is awarded to the losing hand (the bad beat winner)
20% is awarded to the winning hand
10% is awarded to the other players at the table where the jackpot was triggered
10% is awarded to players playing the same stakes and have opted into the bad beat jackpot.
The remaining 20% of the jackpot is used to "seed" — that is start — the next Bad Beat Jackpot.
Check out the Bad Beat Jackpot page for full terms and conditions.
Get all the latest PokerNews updates on your social media outlets. Follow us on Twitter and like us on Facebook now!