Ken Horrell vs. Attack Poker: A Cautionary Tale of Poker Contracts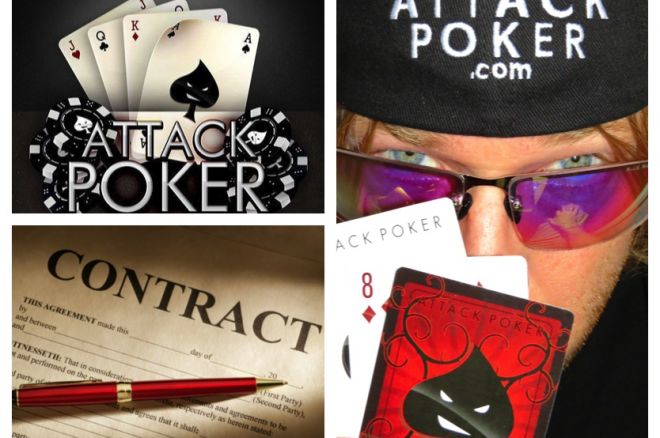 Always read the fine print. Words of wisdom that have been passed down from generation to generation. The dictum relates to contracts, so it only makes sense that it would apply to the world of poker promotions and sponsorships, a lesson one man, Ken Horrell of Honolulu, Hawaii, learned all too well at the 2013 World Series of Poker.
Horrell, who was introduced to poker in 2010, cut his chops on free-to-play sites such as Zynga Poker on Facebook and Emil Interactive's Attack Poker. Earlier this year, Horrell won Attack Poker's Battle for the Seat – a bracket competition featuring 32 qualifiers and 32 Attack Models — under the screen name "QUENCHED." The top prize was a seat in the 2013 WSOP Main Event, and needless to say it was a dream come true for Horrell. Unfortunately for him, that dream soon turned into a nightmare marred by a bitter contract dispute.
Getting to Sin City
Horrell's promotional win did not account for travel and accommodation, which was a deterrent for the family man. He contemplated accepting the $2,500 in cash instead of the seat as offered in the promotion's terms and conditions, but Horrell ultimately decided to cover expenses by selling 22% of his action online and to co-workers at Gordon Biersch.
With funds secured and the Main Event rapidly approaching, Horrell reached out to his contact at Attack Poker, Tomas Yi, for more details.

Horrell made his way to Las Vegas and was taken to the Emil Interactive offices where he was "wined and dined." It was there that he claims he was offered a sponsorship opportunity as a Team Attack Pro beyond the 2013 WSOP Main Event.
"[I was] offered two contracts. One was you won the $10,000, we buy you in, you wear our patch, hat, etc. in case you get on ESPN," Horrell claims. "Second was a one-year 'staking' contract where they pay my buy-in fees to tournaments throughout the year. In return I would forfeit 50% of any money won [in the Main Event], and 25% if I reached the final table. I would also forfeit 50% of the $10,000 I had already won. I chose second contract and in haste signed."

________________________________________________________________________________________________________________________________
He Said, She Said
Horrell was understandably excited, but soon realized that certain details – such as the tournaments he would be allowed to play – were not in the contract. In fact, upon closer inspection of the contract Horrell realized there was no mention of future sponsorship beyond the 2013 WSOP Main Event.
"What you can't see in the contract is Attack Poker giving me the hard sell on a year staking contract into future tournaments," Horrell continued. "They were looking at signing an Online Pro. They said I would be getting the same contract as [their Team Attack Pros] Lisa Hamilton, Eli Elezra, and Luke Schwartz."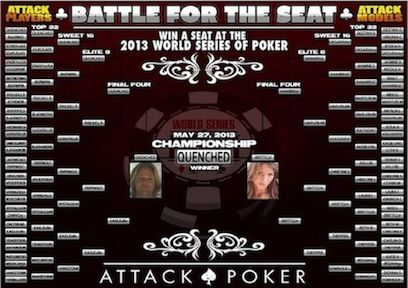 "I got the run around for two days and finally got Tomas on the phone since we signed the contract and told him I was planning for the WSOP Circuit at Foxwoods then down to the Seminole after. That was when Tomas revealed that if I cash the Main Event, then they will give me future staking," Horrell explained. "Now I am a bit naive here and I understand that. I also am smart enough to see that they are willing to take 50% of my action and then give me back portions if I cash the toughest tournament in the world. If I manage to actually cash it then they will give me portions of my own winnings back at their discretion. This is completely different from our agreement and I withdrew my prize and came home."
On Sunday, July 7, 2013, a day before he was supposed to play in the Main Event, Horrell withdrew the $10,000 buy-in and refused attempts by Attack Poker officials to convince him to either play or return the money. For example, this email to Horrell from Yi:
Ken

We really missed a great opportunity when you decided not to enter the WSOP Main Event this year.

Can you please explain to me why you decided not to enter?

Tomas Yi
Horrell simply responded: "Vague and ambiguous contract conditional on cashing in the main event, with no guarantee of future endeavors."
"In effect they had conned me into giving them half of my winnings and they would assume no future risk unless I made money off my already won prize. In effect they would be returning my own winnings to me if and however they wanted," Horrell told PokerNews. "I had been misled and purposefully lied to. In effect there wasn't a one year staking deal at all."
Attack Poker on the Offensive
PokerNews reached out to Attack Poker for comment on the situation, and received the following response from Emil Interactive Game's Marie Vozikis, who is a signee of the Sponsorship Agreement alongside Horrell:
We appreciate the opportunity that you have given us to write about our issue and do feel that this would make a great article. The fact is Mr. Horrell is no victim. The victims are the thousands of players that competed for the opportunity to play at the WSOP that felt cheated by Mr. Horrell's actions.

Our company has invested millions of dollars creating one of the best Free-to-Play poker sites in the US. It was very important for us to have our players see first hand the great opportunity given to them by Attack Poker. Mr. Horrell was expected to attend the main event which he deliberately chose not to attend. We had a camera crew, Attack Poker models and a professional photographer waiting for Mr. Horrell.

The previously attached recording demonstrates that Mr. Horrell was provided with the initial agreement advertised on the website. He decided to choose an Attack Poker Team Pro agreement which would require a 50% participation.

The bigger story is how Mr. Horrell purposely had the intention of doing this all along, both from his Facebook comments and on air interviews with OnTilt Radio*. He is now trying and hoping that a smear campaign against our company will work.

Our Company has every intention of pursuing all legal remedies against Mr. Horrell.
*Listen to Horrell's interview with OnTilt Radio here:

________________________________________________________________________________________________________________________________
Indeed, Emil Interactive Games, LLC has filed a civil lawsuit against Horrell in the Clark County District Court in Nevada alleging the following: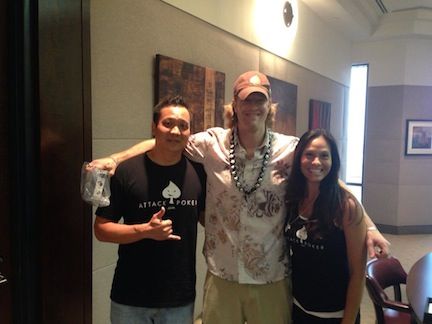 Breach of Contract
Breach of Covenant of Good Faith and Fair Dealing
Monies Due and Owing, Conversion
Punitive Damages
Quantum Meruit/Unjust Enrichment
Promissory Estoppel
Declaratory Relief
Intentional Misrepresentation/Fraud
Emil Interactive Games, LLC is seeking in excess of $30,000 from Horrell. You can view a copy of the lawsuit by clicking here.
The contentious contract dispute has turned into a he said/she said affair with each side alleging malice. Horrell claims Attack Poker "took advantage of my naivety," while Emil Interactive Games, LLC believes Horrell is nothing short of a con artist. The truth likely lies somewhere in the middle, and Horrell is concerned Attack Poker officials may only have Yi's account of events, someone Horrell now claims is no longer with the company.
"I actually believe that the people behind Attack Poker may have only his version of events and actually believe I just went there to steal the $10,000," Horrell said of a sentiment shared by some in the poker community.
Who is right? Who is in the wrong? Ultimately, the matter will be resolved in a court of law, but before that happens PokerNews' legal contributor, Mac VerStandig of Offit Kurman, P.A., will offer his expert opinion on the situation in an upcoming article
In the meantime, let this serve as a cautionary tale – when it comes to poker contracts, always be aware of what you're signing.
Get all the latest PokerNews updates on your social media outlets. Follow us on Twitter and find us on both Facebook and Google+!