Poker Data Powers Unite: PocketFives' Adam Small Talks Partnership with the Hendon Mob
Earlier this month, three of poker's most valuable resources joined forces to provide a wealth of information to their readers. The Global Poker Index, The Hendon Mob (owned by the GPI), and PocketFives.com agreed to share their respective tournament results and rankings, allowing each of the respective sites to enhance their overall offerings to their audience.
Going forward, a player's PocketFives online poker ranking and online tournament results will be displayed on the GPI and The Hendon Mob's websites along with their live tournament results and GPI ranking. PocketFives' worldwide ranking data will be displayed in players' GPI and Hendon Mob profiles, with links back to PocketFives where full online poker results can be displayed.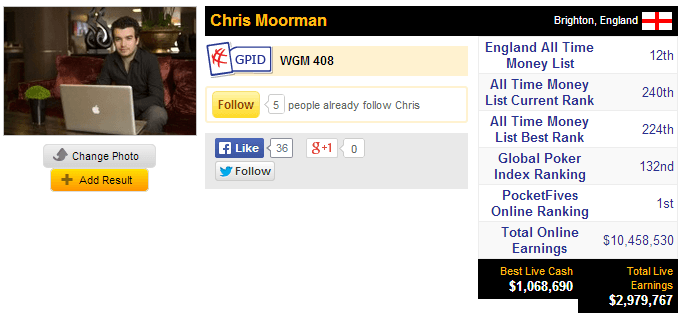 Zokay Entertainment, which owns the GPI, acquired The Hendon Mob in July. With the addition of PocketFives' online tournament results and rankings, the Hendon Mob now offers visitors an inclusive look at each player's performance on the felt.
"I'm excited that the leading rankings companies are building a relationship that will help expose poker players globally and locally, both online and offline," said Zokay Entertainment CEO Alex Dreyfus. "Our common goal is to promote poker, and offering these results to our respective audiences will be a huge advantage for the future. This exclusive agreement will definitively help each company be stronger and bring more innovation into poker."
PokerNews recently sat down with PocketFives co-founder Adam Small to discuss the partnership and how it will benefit the popular rankings site and community.
PokerNews: For a long time, online and live tournament data were separated and viewed as completely different ways of measuring a player's success. What does this partnership with the GPI/Hendon Mob mean for the future of tournament results in the industry?
Small: This was absolutely the case when we started PocketFives back in 2005. In fact, almost every individual player was at the time considered either a live player or an online player. There was definitely some competition between the two. Over the last several years, the gap between online players and live players has essentially disappeared. Almost all the best live tournament players are people who are also well known in the online poker community. So there's definitely reason to consider live and online results side-by-side. I think that's kind of what's going on here, at least partially. Our two companies are together wading into the space of measuring players' current position in the poker world by both their online and live poker accomplishments.
How did this deal come about?
It's been in the works for a while. Members of both companies' ownership have been aware of the synergies and were trying to find a way to get mutual benefit by sharing some information. It's a pretty limited deal for the time being - we are sharing some recent results and current ranking information with each other.
Have you considered creating a comprehensive ranking system that includes both online and live tournament results?
Nothing is in the works there currently. It's certainly something that's come up for us in meetings a number of times over the last several years. We've always ended up deciding to mainly focus on the online space, and that's still our plan for now. We've made efforts over the years to give recognition to our members for live accomplishments, and I think this GPI deal is more a way for us to do that. I don't really expect combined live-online rankings to happen in the near future.
Regarding the database, I guess I should note that we actually do not have the Hendon Mob database at our disposal - and GPI/Hendon Mob does not have the PocketFives database at their disposal. We're trying to add relevant information from GPI to players' PocketFives profiles, and GPI is doing the same with the profiles on their site. But the scope of what's being shared is very limited at this time, so there aren't likely to be further innovations on either site that use the other site's data.
What is your vision for PocketFives in the coming years?
We've got all kinds of plans for our site, mostly focused on continuing to build and grow our PocketFives Local Communities. We've seen huge growth in the traffic of those pages over the last year and a half, and we're going to keep trying to make those better and build more features that give our members a more personalized experience.
For news, updates, and more follow PokerNews on Twitter and Facebook.