Abe Mosseri Savors $900,000 Side Bet Sweat in Poker Players' Championship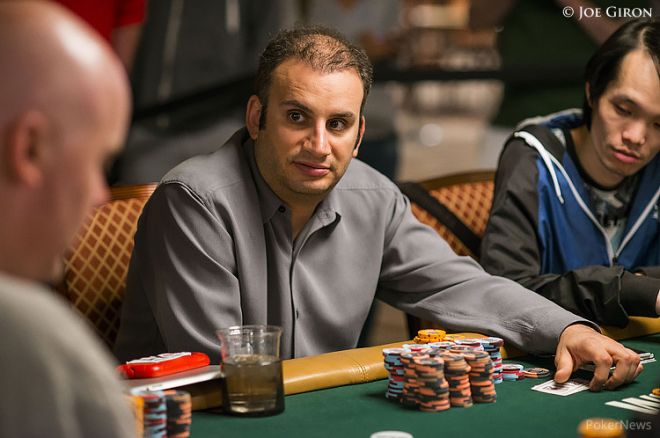 The fact that Abe Mosseri is within reach of an elite title in the World Series of Poker's five-figure buy-in eight-game mix comes as no surprise to those that know his game.
In 2009 Mosseri made his bracelet breakthrough, taking down $2,500 2-7 Triple Draw Lowball, and that same year he final tabled the $10,000 Seven Card Stud Hi-Low Split-8 or Better Championship, where he placed seventh. The following year Mosseri made a third non-hold'em final table in the $10,000 Omaha Hi-Low Split-8 or Better Championship (eighth place), and earlier this month he made yet another big buy-in final table in the $10,000 No-Limit 2-7 Draw Lowball Championship (seventh place).
But for those that know Mosseri best, it's his gamble that defines him. So during a break in Day 1 of the $50,000 Poker Players' Championship, with the final 15 players anxiously waiting for the money bubble to burst, it was no surprise that Mosseri found himself thinking about much more than a min-cash.
Mosseri is well-known among the high-stakes poker community as a man who is more than willing to make a wager when he feels he has found an edge, and even after ponying up $50,000 to play a poker tournament, the avid bettor decided to sweeten the pot.
A series of prop bets involving his fellow pros and longtime friends — including Matt Glantz, Doyle and Todd Brunson, and a few others who shall remain nameless — has provided Mosseri with added incentive to run deep against one of the toughest fields in tournament poker.
If Abe Mosseri wins the Players Championship, i'm going to nominate him for the Poker Hall Of Fame. But, it cost me 180K in side bets.#gulp

— Doyle Brunson (@TexDolly)
"I have a bunch of pending bets with a lot of other poker players," Mosseri explained to PokerNews during a break on Day 4. "Matt Glantz, Todd... I didn't bet with Todd, but I bet with Doyle and he picked Todd. A lot of my bets I do with certain people, and they pick a bunch of guys against me. Basically the way it works is I bet against them making the money, and they're betting against me making the money. Also making the final table, and winning the tournament. Three separate bets, three separate thresholds."
Mosseri managed to achieve the first milestone in his triumvirate of triumph on Wednesday night, and by the time chips were bagged and tagged he had put himself in prime position to add another notch to his belt. Mosseri ended Day 1 in second place on the leaderboard with 3,485,000, trailing only Brandon Shack-Harris when the final eight players reconvene at the unofficial final table Thursday afternoon.
With a first-prize payout of $1,517,767 awaiting the eventual winner, each of the eight players left in contention is eyeing an enormous score, but Mosseri has a little extra on the line. As it currently stands, Mosseri is one elimination away from crossing the second of three thresholds that, if the rumored stakes are anywhere near accurate, could be worth nearly a million dollars in supplementary income.
"That's probably true," said the chip-leading Mosseri about the reported $900,000 he stands to earn with a win. "I'm on the first sweat now, and it seems like I'm pretty good to make it."
Asked about the impetus behind such sky-high side action, Mosseri was not shy about revealing his reasons.
"Motivation to play better," he said. "And, you know, you play for higher. Usually, you can win a lot, or lose small. I'm feeling really good, I'm going for the final table. Hopefully it goes fast!"
Be sure to follow our live coverage of the $50,000 Poker Players' Championship all day to find out if Mosseri can close it out!