partypoker Wants to Give You a Free £10 (No Deposit Required!)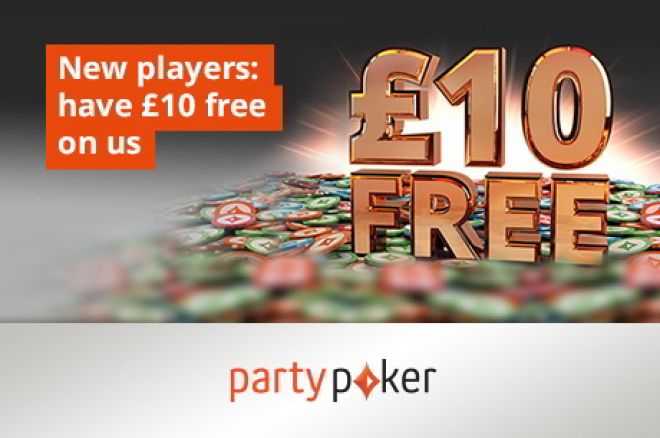 Are you based in the United Kingdom and are yet to sign up for a partypoker account? Well now is the perfect time to download partypoker via PokerNews because doing so entitles you to a free £10 and you don't even need to make a deposit in order to claim it!
Getting your hands on the free £10 from partypoker is one of the easiest things you will ever do. Simply, download partypoker via PokerNews, create your account (ensure all of the details are accurate), verify your email address, verify your identification and once you complete those steps partypoker will place a crisp £10 into your account within 48-hours.
Once you have the free money in your account all you need to do is sit yourself down at one of partypoker's Casual Cash Games, which are easily identifiable thanks to the smiley face icon displayed next to them in the lobby.
These casual cash games are unique to partypoker and are designed to create a more relaxed environment for those who play them, which in turn attracts the more recreational player types. They achieve this by only allowing whoever plays them to sit at that one table and no other cash games until they leave the Casual Cash Game they're seated at.
A couple of terms and conditions that you do need to be aware of is the fact the free £10 is a cashout-restricted bonus that can only be used at Casual Cash Games with blinds no greater than $0.10/$0.25. The £10 bonus, or any winnings, cannot be withdrawn until you have earned 10 partypoints, and you must do this within 14 days of accepting the bonus otherwise it is forfeited.
You receive two partypoints per $1 paid in cash game rake or tournament fees so earning 10 in a 14-day period should not pose a problem.
This special offer is only open to residents of the United Kingdom who do not already have a partypoker, partycasino, partybets or partybingo account and stops being available on April 30, so act now!
Combine the Free £10 With The Chance Of Winning an iPhone 6
If receiving a free £10 isn't enough to attract you to partypoker then what about if we told you that signing up to partypoker via PokerNews could see you win a brand new iPhone 6? Now we have your attention, don't we?
The iPhone Challenge is a new PokerNews-exclusive promotion that runs until March 27 and sees one lucky winner walk away with a brand new Apple iPhone 6. Not only would you be the envy of all of your friends, imagine how awesome it would be to brag about winning one of the most sought-after gadgets in the world for free!
To find out more about the iPhone Challenge head over to the dedicated landing page now, familiarise yourself with the terms and conditions then get involved!