Romain Paon Talks About the EPT Grand Final, Ole Schemion and Anton Astapau
David Poulenard

Giovanni Angioni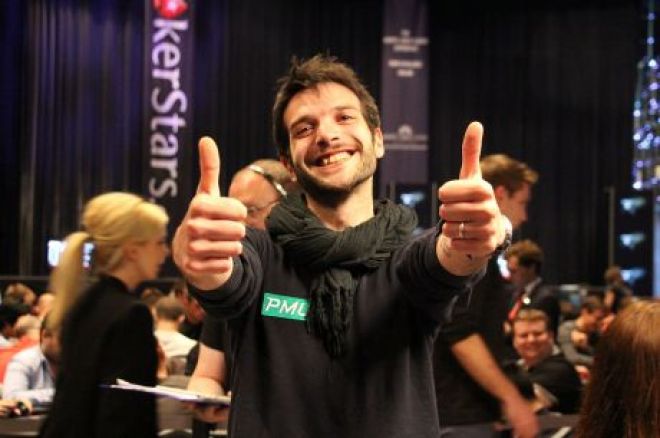 Romain Paon's debut as a member of PMU Poker Team Pro couldn't have gone any better as the jazz double bass player from Annecy, France ended his adventure in the 2015 PokerStars and Monte-Carlo® Casino European Poker Tour Grand Final Main Event with a 13th-place finish worth €66,500.
Part of PMU Poker since the beginning of April when he won a promotion called Pro Dream 2015, Paon, who has a background in philosophy, has been playing poker full time for approximately four years.
With only three entries on his HendonMob profile prior to his cash at the EPT Grand Final Main Event, Paon appeared on the poker radar for the first time in November 2012 when he collected €22,000 for his runner-up finish in the Barriere Poker Tour Main Event in Deauville.
Right after his run in Monte-Carlo, which included him finishing as the Day 1b chip leader, PokerNews France David Poulenard met with Paon to discuss his performance at the EPT, and to know more about the player's future plans - which, according to his pro contract with PMU, will include his first-ever visit to Las Vegas to play in the 2015 World Series of Poker Main Event.
PokerNews: A few days have passed since you cashed for €66,500 in the Main Event of the EPT Grand Final. How do you feel about it?
Paon: I still haven't fully understood what happened in Monte-Carlo. I think I have just started to realize the importance of my performance there, especially thanks to the many warm messages that I have received after that. Usually, things don't go like that, and I am starting to enjoy it.
The EPT Grand Final was your first big international live event, and your first tournament wearing PMU's patch. How does it feel to be off such a positive start?
I don't think I am the first player who does well right after the signing of a sponsorship deal with an operator. I believe the signing of the first sponsorship contract pushes one to try to do well and to play at his very best. All this being said, I know that I didn't achieve anything yet - I will still need to confirm my skills one event after the other.
Did having a sponsor change anything in the way you approached the event?
Yes, it did. First of all, it gives you the opportunity to play without the financial pressure, which is quite important. You get a nice hotel room all for yourself, and this means that you no longer have to share your place with five or six grinders who play until six in the morning. Also, I must say that it's pretty nice to have a place already booked for you at the restaurant during the dinner break.
Can you tell us how you felt during your deep run at the EPT Grand Final Main Event?
I tried to stay as focused on my game as I could, to stay inside my own personal bubble, and to play my best poker. But I also had fun. It has been an incredible experience for me.
I even took the opportunity to try to learn something. When you find yourself at the table with players like Isaac Haxton, Johnny Lodden, and Ole Schemion, you simply take off your headphones and watch what they do!
Which player impressed you the most?
Schemion! He does not make mistakes, he analyzes everything, he has an impeccable technique, he thinks all the time - and his thinking process really works. It's quite hard to play against him, even if he's very open and accessible at the table.
I would also name Anton Astapau from Belarus, who finished the tournament in 14th place. That guy is a monster. He does not make any mistakes and he constantly puts pressure on his opponents. You know, to play against players like them, it's simply great.
The Grand Final is considered one of the toughest tournaments on the calendar, do you agree with that?
To tell you the truth, I don't have the experience I need to answer to your question - even if I can confirm that the EPT Grand Final is a tough one!
There's action all the time, you need to fight for every single chip, and every decision matters. There are no fishes in the field, and you always need to play at your best to make sure you don't become the fish at the table.
It's a very hard event, bit I think it's also a great experience - and I believe that its difficulty comes from the fact that every player in the field is ultra-motivated.
Let's talk about your result and your cash. Will this change the plans you had for your immediate future?
Not much. I may choose to play some more events during the WSOP, but I am not going to push myself to play in every tournament I can. It may be a significant amount in most people's everyday life, but my winnings can disappear very quickly in the poker world - that's why I will use it to play some additional events and to make myself happy.
What did you hear from PMU Poker? Are they happy about your performance?
Yes, I think they are. In any case, I am as everything went very well and I had a very good time. I had some luck in having some great people around who encourage me all the time. At one point during the tournament, I remember that somebody even told me that there was nobody left at PMU's office because everyone came to follow and support me.
Want to stay atop all the latest in the poker world? If so, make sure to get PokerNews updates on your social media outlets. Follow us on Twitter and find us on both Facebook and Google+!