Win a Trip of a Lifetime to Barcelona And Play a Game Against Neymar Jr!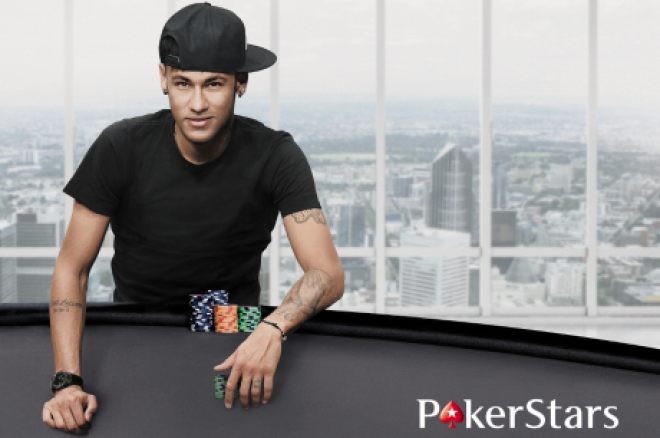 If you didn't make any plans for September yet, get ready to fight for an incredible week in Barcelona full of tapas, wine, football, and poker together with Brazilian football star Neymar Jr!
A new promotion launched by PokerStars aims to give you the opportunity to enjoy all the best the city has to offer.
Be one of the lucky winners, and you will be able to fly to Barcelona for free, join the tables of the first leg of the European Poker Tour (EPT) Season 12, get two seats at the legendary Camp Nou Stadium, and even play against Neymar Jr. in heads up - all during one same week!
And if this isn't enough to motivate you to play at the world's biggest poker room - okay, then you may want to know about the other prizes on tap.
Because by joining this promotion you'll be competing for a chunk of $400,000 (!) and a package to fly to the Bahamas and play at the 2016 Poker Caribbean Adventure (PCA) for free!
So, did I get your attention?
Meet Neymar Jr. in Barcelona
Are you a fan of Neymar Jr.? Did you think PokerStars made a mistake by signing him? Are you a Juventus fan and you want the Brazilian player to pay for 'stealing' the Champions League cup from you (and for trying to use his hand to score a goal)?
That's great. Because now it's time for you to meet your idol…or to get your revenge.
Just one month after PokerStars announced the signing of Neymar Jr. as an ambassador, you already have the chance to participate in a Neymar-related promotion.
From June 18 to July 30, you are going to have four chances to win one of the packages on tap. All you are requested to do is to take part to the special $100,000 Neymar Jr. Final tournaments that PokerStars will run on June 18, July 2, July 16, and July 30, at 13:15 ET.
Each of these events will feature a $100,000 guaranteed prize pool and will also award prizes like special Neymar Jr. card protectors. On top of that, the winner of each event will get the chance to celebrate his or her result by bringing home an incredible package including:
Two tickets to a football match in Barcelona
Seven nights' accommodation at a four-star hotel for two
$800 in travel expenses
An EPT Barcelona Festival side event prize worth €2,150
An invitation to meet Neymar Jr at the filming of a series of celebrity poker duels in Barcelona and the chance to take a PokerStars group photo with him
A PokerStars group photo with Neymar Jr.
What about the game against Neymar Jr. then? Here's where things get even hotter. As PokerStars stated at the launch of the promotion, one person in the audience will be randomly selected to play heads-up poker against Neymar Jr.
If you are confident about your poker skills and you think you have one thing or two to teach Neymar Jr. about poker - well, you will be happy to know that the player who will beat Neymar Jr. in heads up will walk away free 2016 PCA (PCA) package worth over $15,000!
How to Join The $100,000 Neymar Jr. Finals?
Given that you can't pay a buy-in to play for all that, you may want to know how to get a spot in the $100,000 Neymar Jr. Finals.
Make a deposit: Although one may say that this is for the laziest ones out there, it's also pretty much the easiest way to get a ticket and play for $100,000 and the package. Just make a deposit using one of the bonus codes below and you'll get a seat to the Finals.
| Deposit | Bonus Code | Tickets |
| --- | --- | --- |
| $15 or more | 1TICKET | one free Neymar Jr Final ticket |
| $30 or more | 2TKTS | two free Neymar Jr Final tickets |
| $40 or more | 3TKTS | three free Neymar Jr Final tickets |
| $50 or more | 4TKTS | four free Neymar Jr Final tickets |
Neymar Jr. Fans and Followers: If you don't want to make a deposit, have a look at this second path to one or more tickets - as you may be lucky enough to be selected as the lucky winner of a seat in the Finals during a special freeroll event. Every Wednesday from June 10 - July 29 at 14:00 ET, PokerStars will host a special $1,000 Neymar Jr Freeroll. At 14:15 ET — yes, that's exactly 15 minutes after the first virtual shuffle up and deal of each freeroll — the room will award two randomly chosen tables - including up to 18 players - tickets for the next Neymar Jr Final.
What's the catch, you ask? Well - although you won't need to pay any buy-ins to take part in these freerolls, you will have to keep an eye on Neymar Jr.'s Facebook and Twitter accounts, as that's where the player will publish the password you'll need to register.
This shouldn't be too hard - especially since you may already be one of the 18 million-plus Twitter followers and 51 million-plus Facebook fans who follow him every day.
The Neymar Jr. Missions: You can also secure a ticket to the Finals by completing the so-called Neymar Jr. 11 Missions - eleven simple tasks that you are required to complete in consecutive order. To get the full list of the missions available to you and to start completing them, you need to have an account at PokerStars and to open your Challenges window in the PokerStars desktop client or mobile app.
As for what I could see from the PokerStars website, here's what tasks are available to complete your Mission and earn your Neymar Jr Final ticket.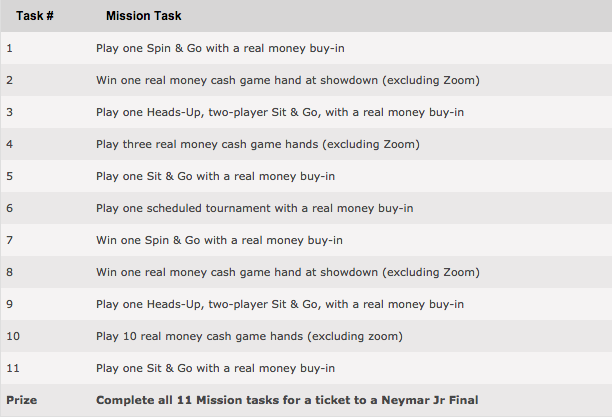 Here's One Useful Suggestion For You
All things considered, there's no reason for you not to follow the easiest path to a ticket to the Finals. The freerolls are a good option, but you will need to play for at least fifteen minutes just to get the chance to be selected. And if you care about the odds as much as I do, you know that this is not going to be 'a walk in a park'.
The eleven missions are not too hard to complete, it's true. But then, again, why would you want PokerStars to tell you what to play (and when) if you can get a ticket by doing exactly what you like?
So, here's my piece of advice:
Use Skrill to deposit $30 using the bonus code: '2TKTS' and the marketing code: 'PNEWS'
Enjoy two free Neymar Jr Final tickets, one ticket to the PokerNews-exclusive $2,500 freeroll running on July 10, and a free $20 bonus - courtesy of Skrill (more info here)
Use the $20 bonus from Skrill to make another deposit. Only, this time use the bonus code '1TICKET to win one extra free Neymar Jr Final ticket
Get all the latest PokerNews updates on your social media outlets. Follow us on Twitter and find us on both Facebook and Google+!