WSOP Insight: One Tequila, Two Tequila, Three Tequila, All-In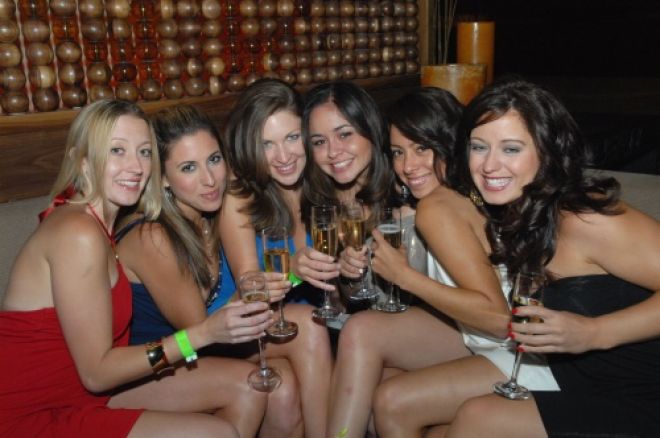 Mark Johnston claims that he had 10 drinks before walking into the Downtown Grand in Las Vegas on the eve of the 2014 Super Bowl, and then downed another 20 before walking out nearly a day later. In between, Mr. Johnston dropped $500,000 playing pai gow and blackjack. And so, at some point after the booze-induced haze cleared, the downtrodden casino patron did the downright cartoonishly American thing and sued the casino for his money back.
"Mr. Johnston, an experienced gambler, was dropping chips on the floor, confusing chip colors, and slurring his speech badly, and he was unable to read his cards or set his hands properly," alleged the suit, which is actually set to go to trial before a jury this October. The theory is simple: the Downtown Grand was wrong to ply an inebriated gambler with more booze, and ought not be allowed to benefit from its high proof hustle.
While this may be one of the first instances of a bettor suing a Nevada gaming outfit for getting him too drunk, there is actually a long and proud history of people turning litigious after dropping wads of cash while downing rounds in Atlantic City casinos. They range from outlandish to just moderately absurd, and with the 2015 World Series of Poker underway, complete with cocktail waitresses making their rounds at the Rio All-Suite Hotel & Casino, some of them merit revisiting.
Generally, these legal rendezvous all involve one of two central claims: First, that a casino was negligent in plying an already-drunk player with more alcohol, especially where state regulations prohibit pouring more drinks for someone who is visibly intoxicated; and, second, that a marker signed by a boozy gambler is invalid since she or he lacked the capacity to enter into a contract while three sheets to the wind. While personal responsibility advocates no doubt find this all to be a case study in the need for tort reform, it actually turns out that the second theory has picked up some momentum over time – and even the former theory had its one shining moment in the late 1980s.
Leonard Tose (Yes, That Leonard Tose)
Those in search of a "Too Drunk to Gamble" poster child need look no further than Leonard Hyman Tose, a man football fans will remember as the owner of the Philadelphia Eagles for some sixteen seasons of unblemished NFC East mediocrity. During his life, Mr. Tose made an enormous sum of money in the trucking business, survived four divorces, and apparently formed quite the penchant for making the short drive from Philadelphia to Atlantic City and betting big up and down the boardwalk. Those trips cost him his football team – when he finally sold the Eagles, a large portion of the proceeds were earmarked for satisfaction of gambling debts.
However, before disposing of Pennsylvania's most notorious clan of dirty birds, Mr. Tose went to court with the old Atlantic City Sands. As neatly summarized by a federal court hearing the controversy that followed the NFL owner dropping $1.2 million in just over two weeks, "Tose alleges that the employees at Sands served him alcohol even though he was visibly intoxicated, and as a result, he lost large sums of money. Although Tose knew the more he drank the more he would lose, he could not stop himself because he is addicted to both alcohol and gambling."
The Sands fired back with a creative, if not temporally flawed, defense: The NFL bigwig was actually an overall winner at the Sands (albeit likely not elsewhere) over the several years in question, so his alcohol-scented losses could not have created any damages. The court found this unavailing, though, noting, "The net winner theory would lead to inequitable results." Thus the case actually went to trial, with the jury being instructed to treat each gaming session independently. The first jury found for the casino on a number of counts, and could not reach a verdict on others; following a second trial, Mr. Tose officially lost each and every claim.
The Eagles owner was ultimately as much a loser in court as he was at the Sands, and the judge overseeing his case did not miss the opportunity to pithily sum up the Garden State's position on mixing booze and cards: "The public policies of New Jersey condone, and in certain ways even encourage, drinking, gambling and losing in a licensed casino."
Shmuel Aboud
Around the same time Mr. Tose was battling the Sands, Atlantic City's former Gold Nugget (not to be confused with its current parlor of the same name) sued Shmuel Aboud for payment of a $28,000 gambling debt. Not to be outdone, Mr. Aboud filed a reciprocal suit – known as a counterclaim – to recover $250,000 plus punitive damages. As explained in one court order, "Mr. Aboud is alleging that for the duration of his entire stay at the Golden Nugget, various casino floor employees observed Mr. Aboud gamble in an intoxicated and/or drugged state, and did nothing to stop him from doing so."
If Mr. Tose's court was generous in letting a jury hear some of his claims, Mr. Aboud's court was downright hospitable in its near-puritanical response to the creative counterclaim. In establishing what would – albeit only briefly – become the law of New Jersey, the judge wrote a lengthy opinion sternly commanding, "a casino has a duty to refrain from knowingly permitting an (player) to gamble where that patron is obviously and visibly intoxicated and/or under the influence of a narcotic substance." Things seemed to be worsened by the reality that Mr. Aboud was not merely on prescription drugs when he dropped a quarter million dollars but, indeed, he got those drugs from a doctor the casino summoned for him.
This case was not just about drugs, though, as the court reserved its harshest language for the practice of serving free drinks. Specifically, Mr. Aboud's judge fumed, "The potent effects of intoxicating substances on reasoning and judgment are not lost on casino proprietors like the Golden Nugget who make liquor readily and plentifully available to patrons while they are in the act of gambling," before continuing, with an unusual judicial tone of cynicism, "It is indeed curious that the appropriate 'beverages of choice' are seldom available to patrons on a complimentary basis outside of the gambling parlour. Consequently, in justice and fairness, a casino which negligently breaches this duty should be answerable, by applying traditional negligence concepts, for the damages that flow therefrom."
Ayhan Hakimoglu
Unfortunately for high rollers with weak livers, the precedent set in Mr. Aboud's case did not last long. In the mid-1990s, the case of Ayhan Hakimoglu landed in front of future Supreme Court Justice Samuel Alito, back when he was handling federal appeals out of New Jersey. Justice Alito proved significantly less sympathetic.
Mr. Hakimoglu was playing at the Trump Taj Mahal when he had a number of drinks and lost somewhere in the neighborhood of $2 million. Seemingly fueled by the fresh precedent of Mr. Aboud's case, Mr. Hakimoglu did not even wait for the casino to sue him to collect on his debt – he fired the first shot and filed a complaint alleging "negligence, intentional and malicious conduct, and unjust enrichment." The gaming operator counterclaimed, arguing it was owed the roughly $700,000 in bad checks Mr. Hakimoglu wrote (evidently, the account was closed by the time those checks were deposited) plus an additional $17,750 in baccarat commissions.
The aggrieved player, who presumably saw this counterclaim coming, quickly responded that the credit agreement was void since he was too drunk to enter into a contract, and that was a smart move, since the court wasted little time doing away with his affirmative claims – holding that one really cannot sue a casino for getting him or her too drunk to gamble intelligently, but that one certainly can invalidate a contract he or she was not sufficiently cogent to execute in the first place. (A key side note, worth observing: There is a long-standing, and mostly undisturbed, common law doctrine that holds a person cannot sign a contract unless they are of sufficient mental capacity to understand what they are signing. And even long before the era of casino markers, intoxication had been considered a legitimate basis to claim insufficient mental capacity.)
By the time the case landed on Justice Alito's appellate desk, the "too drunk to gamble" claims had been shredded by the trial court, and the future Supreme Court jurist piled on. His concern proved mostly pragmatic, laced with skepticism of casino activity in the first place, as he warned that such claims "could present almost metaphysical problems of proximate causation, since sober gamblers can play well yet lose big, intoxicated gamblers can still win big, and under the prevailing rules and house odds, 'the house will win and the gamblers will lose' anyway in the typical transaction."
Stated otherwise, Justice Alito was of the belief that since you can get wiped out sober, there is no real way to figure out how much less you would have lost had you not been plied with free booze, so the courts ought not entertain such suits. Ever since, that has been the prevailing rule in New Jersey.
Mark Luber
Still, even if Justice Alito stopped future gamers from being able to outright sue a casino for serving one, two or eighteen drinks too many, he did not stop credit players from being able to challenge the legitimacy of those credit contracts. So, years later, in 2011, when the Tropicana took Mark Luber to court to collect on $220,000 in counter checks he signed over to the casino over the course of less than three hours, all of which subsequently bounced, he responded by claiming he was too drunk to enter into a contract (and, trust me, a check is a contract).
That defense proved good enough to at least go to a jury, as the court hearing Mr. Luber's case found, "Were the jury to consider the evidence and conclude that Luber was intoxicated on November 13, 2008, it could then decide whether the degree of intoxication was so substantial and debilitating as to render Luber incapable of entering into a valid contract, i.e., the execution of the counter checks."
This is one of the more recent cases to address the interplay of drinking to excess while gambling to excess, and it comes so many years after Mr. Tose's initial rounds with the courts that it really cements what is now the undisputed – albeit potentially antithetical – law of New Jersey: drunk gamers playing with cash do so at their own risk, but those signing credit applications or forking over fresh checks might (and significant emphasis needs to be placed on the word "might") just have a way out.
Lest you think this is an ingenious freeroll, it is worth noting that juries have historically proved unsympathetic, and it is going to take more than a few shots of Jack Daniels to void a contract. Most casinos will cut patrons off well before they come anywhere close to entering the realm of being too inebriated to sign a contract, and any well-trained credit officer will know to withhold funds if a player wreaks of vagrancy.
Edward Doughty
Perhaps the most absurd – if not whimsically psychotic – claim, though, belongs to Edward Doughty, who went to New Jersey's federal court in 2008 and charged that Bally's had violated his constitutional rights. Mr. Doughty did not have a lawyer at the time he filed suit, nor did he have his freedom, and the absence of those two integral filters may well explain the precious oddity that followed.
As fabulously summarized by the judge overseeing that case, in an admirably even tone, "Plaintiff alleges that approximately five months before he signed the Complaint, he was a patron of the slot machines at Bally's Casino. He complains that members of Bally's staff encouraged him to drink alcohol by giving him free drinks, and Plaintiff succumbed to the persuasion and relapsed. Plaintiff asserts that while he was intoxicated in the casino, he was involved in a drug transaction with a person who turned out to be an undercover police officer. Plaintiff alleges that he was arrested and charged with a felony for distribution of drugs, and he has been incarcerated for the past five months on these charges. Plaintiff asserts that Bally's Casino is responsible because he would not have relapsed, become intoxicated, been arrested, and been incarcerated if Bally's had not given him free drinks. Plaintiff seeks damages from Bally's resulting from his loss of employment and his incarceration."
Yes, Mr. Doughty's case can be best summarized as "the casino got me so drunk I sold drugs to an undercover narc and got sent upstate," with the added oomph of "and so my incarceration is all the casino's fault."
Not surprisingly, this case was quickly thrown out of court.
Others
These are certainly not the only times gaming parlors have been summoned to state or federal court to answer for actions that supposedly flowed from their service of free drinks. For all the inane humor of Mr. Doughty's case, there is the tragedy of Bryan Glenn, who was found dead in his hotel room after allegedly being showered with alcohol by the Imperial Palace in Mississippi. And then, of course, there is Mr. Johnston, who will soon import the drinking/gaming dilemma to a Nevada jury box.
How Nevada's courts ultimately treat that claim remains to be seen, but if New Jersey's long, and somewhat storied, history with similar cases is any indication, gamblers are unlikely to prevail on any claim that does not involve the intoxicated execution of a credit marker. Even when credit markers become the focus of trial, convincing a jury – especially one in a gaming state – to forgive the debt is, well, almost as much of a long shot as trying to win a game of pai gow after downing 30 drinks.
Maurice "Mac" VerStandig, Esq. is the managing partner of The VerStandig Law Firm, LLC, where he focusses his practice on counseling professional poker players, sports bettors and advantage players across the United States. He is licensed to practice law in Maryland, Virginia and Florida, as well as in nearly a dozen federal courts, and regularly affiliates with attorneys licensed in numerous other states and jurisdictions. He can be reached at [email protected]
Want to stay atop all the latest in the poker world? If so, make sure to get PokerNews updates on your social media outlets. Follow us on Twitter and find us on both Facebook and Google+!