Jackpot Alert: Jackpot Giant Is At $1 Million!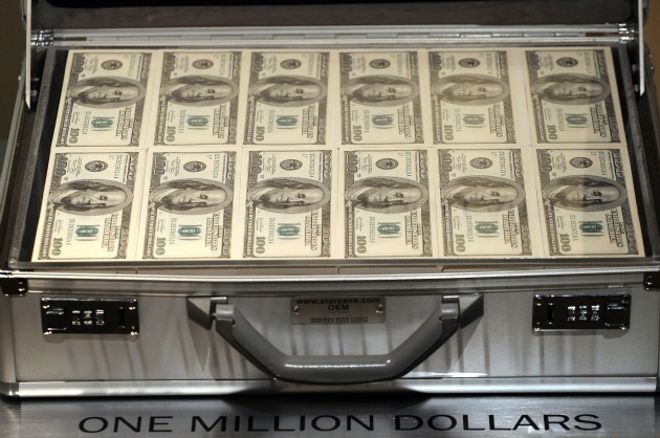 Do you know what all the most successful people on this planet have in common? A) They have a HUGE bank account and B) they did not sit and wait for luck to happen. They went for it.
Virgin Group's founder Richard Branson (estimated net worth: $5.2 billion) did not sit on a couch to imagine how nicer his life would have been with more money on his bank account. Brunson had a vision. He chose to pursue his dreams, and he worked so hard that all of a sudden his ambitions became bigger than our planet.
Nigeria's Aliko Dangote (estimated net worth: $14.3 billion) also didn't waste much time on his couch. Dangote wasn't born rich, so when he turned 20 he decided to borrow money from his uncle to start a trading business.
Somehow, he was sure that his bet would pay off and - well, so it did. Today, Dangote is Africa's richest man with a net worth is equal to 2.5 percent of Nigeria's GDP.
What about China's Lei Jun (Estimated net worth: $14.4 billion) then? After he had finished college he joined Kingsoft (China's answer to Microsoft) as an engineer. There, he worked his **** off until he was able to become the company's CEO, leave, and use the money he earned and the contacts he developed create a tech giant like Xiaomi.
So What? What's The Point?
If there's a lesson we can learn from these three remarkable individuals is that every time we don't do something - we miss a chance to change our lives.
Ask Brunson, Dangote, and Jun how many time did they fail, and they will talk about so many bad ventures that you'll even doubt they are as successful as they seem to be. Ask them how many times they think they'll fail in the future, and get ready to be amazed.
They know it will happen. They know they'll fail as many times as it takes until they finally nail it. And once they succeed - well, you know their stories. They will end up becoming richer than entire countries.
One Click. One Spin. One Million - One Decision.
Can casino gambling change your life? Most certainly not. Can a progressive jackpot make you a millionaire overnight? Only a fool would believe that.
Until it happens. Because when it happens…well, you know the drill. You usually get the reward you deserve.
The choice is yours. You can stay on your comfy couch, close this tab, and go ahead with yet another story of someone who made it. This way, you'll probably save a tenner, and you'll earn the precious right to wait for Luck exactly as Vladimir and Estragon waited for Godot.
You'll become a character of an absurdist play. It won't make you rich, but it'll help you understand the world around you.
Or you can take control of your life and invest that tenner into something that can change everything.
Jackpot Giant, a pretty fun game available at PaddyPower Casino, is set to give away more than $1 million to one lucky gambler. We believe the huge win will happen this weekend, and it won't take more than one spin to bring down all the money at once.
One click. One million. Done.
The choice is yours. You can fire up Netflix, laugh at Aziz Ansari's amazing performance in Master of None and whine about your life as much as you want.
Or you can just click here to open an account at PaddyPower, cash the €5 no deposit bonus we give to our readers, and play and to change your life, you couch, and your tv.
If you don't play, you lose. If you play - maybe you don't. The $1 million jackpot is there. It's your call.
Want to stay atop all the latest from the poker world? If so, make sure to get PokerNews updates on your social media outlets. Follow us on Twitter and find us on both Facebook and Google+!