Did You Know Betway Gives Away €18K in Freerolls - EVERY MONTH?!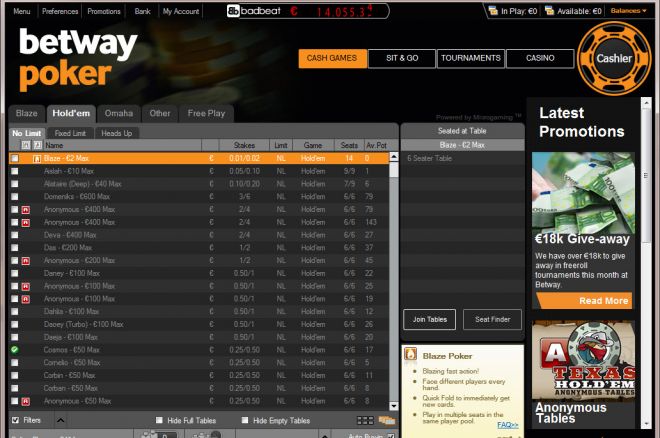 Raise a hand those who like big fat freerolls. Now, raise a hand those who have an account at Betway Poker and are enjoying a share of the €18,000 they give away every month in free poker games.
Do you see the discrepancy there?
Every single month, Betway gives away €18,000 in some of the easiest freerolls on the internet and you are not taking home even a single cent of that prize pool. How dumb is that?
€1,000 Saturday Freeroll
Since January 2016, you can play a €1,000 freeroll at Betway Poker every Saturday at 18:00 GMT. To qualify for the event and play for a €4,000 at no cost every month, you need to play 25 raked hands during the 24 hours that lead to each event.
€3,000 Sunday Freeroll
Bring the amount or raked hands up to 100, and you'll find yourself playing for a share of €3,000 in one of the best (read: easiest) freerolls you can find.
Betfair's €3,000 freerolls run every Sunday at 18:00 GMT and the only requirement you need to keep in mind is that you earn a seat every time you play 100 raked hands in the seven days before the event.
$300 Happy Saturday
Although this prize pool is a lot smaller than the two above, the Happy Saturday tournaments are among the most popular events at Betway Poker. Do you know why?
These freerolls run every Saturday 18:00 GMT and - guess what - they have no entry fee. You only need to play one raked hand in the seven days before the tournament to get a seat! To add to the fun (and to the prize pool), the Happy Saturday events feature a $0.25 rebuy/add-on period during the first hour of play.
$150 Survivor Freeroll
Although the 'Survivor' events have nothing to do with "Boston" Rob Mariano, you need to be some kind of poker hero to make it till the end of these events and bring home a share of the €150 prize pool on tap.
Running every Thursday at 18:00 GMT, the Survivor Freerolls are not your typical poker tournaments since the bottom 20 percent of the field is eliminated after each round, meaning only the best players progress. Do you have what it takes to be a winner?
$500 Freeroll Spin-up
Thanks to the Freeroll Spin-up events, you can pad your bankroll with a share of $500 every Tuesday at 18:30 GMT - provided that you play at least one raked hand in the fourteen days that lead to the event.
Daily Freerolls
If you need more than Texas hold'em, you should know that Betway Poker also runs five €50 GTD. freerolls every day. Here's the schedule of their daily freerolls:
| Event | Game | Time (GMT) |
| --- | --- | --- |
| €50 Freeroll | Razz PL | 01:30 |
| €50 Freeroll | Hold'em PL | 05:45 |
| €50 Freeroll | Omaha PL | 09:30 |
| €50 Freeroll | Hold'em NL | 13:00 |
| €50 Freeroll | Omaha H/L PL | 18:00 |
Do You Need An Account?
By now you probably understood that you should have an account at Betway Poker. I am not saying that you should play all you poker games there, but - who are you to say no to €18,000 in free money every month?
If you need an account, make sure you open it through PokerNews, since our links get you the best sign-up bonus on the market: a massive 200% match up to €750 bonus on your first deposit.
Click here to open a FREE account and play in the €500 New Player freeroll running on Wednesdays at 18:00 GMT - and this, I promise, it's one of the easiest poker tournaments you'll ever play. Are you ready to win?
Want to stay atop all the latest from the poker world? If so, make sure to get PokerNews updates on your social media outlets. Follow us on Twitter and find us on both Facebook and Google+!