PokerStars' Neil Johnson About the EPT Now Paying Out 20 Percent of the Field
Season 13 of the PokerStars European Poker Tour has kicked off in Barcelona with a hugely popular Estrellas Main Event and a €10,000 event. Yesterday, the €50,000 Super High Roller has started with a slate of familiar faces.
One of the big changes this season is the announced new payout structure that pays 20 percent of the field, compared to the 15 percent it paid in recent years.
We spoke to PokerStars Department Head of Live Poker Operations Neil Johnson about the change and its implications.
How did the European Poker Tour and PokerStars come to this decision?
We did a lot of research over the summer. We looked at the players, the player base, the overall tour, everything.
One of the interesting statistics we found is that 46 percent of the players on EPT Season 12, played only 1 or 2 events. The whole point, the reason why we have 100 events at a festival, is because we want people to be able to play as many as they can. That's why we have the $100 and $200 events for example; because we want people to be able to play more and have more fun.
One of the things that came up was looking at the payouts. One of the interesting things in our industry is that it has grown very organically over its history. The payouts have thus grown the same way, from winner-take-all to 5 percent, to 10 percent and 15 percent.
We started looking at the payouts in a vacuum and to see what made sense. We took all the preconceptions out of it. We saw that if we would pay out 20 percent instead of 15 percent, we could give 5 percent of the field a do-over. It's effectively like saying 'Thanks for coming, I hope you had a lot of fun. Sorry you didn't make it into the big money, good luck the next time because here's money for another shot." If someone has a buy-in to play another poker tournament, that's a good thing. So that's the direction we ended up going.
Have you done a survey amongst EPT players?
Before the start of Season 10, the last time we changed the pay-outs, we did a big survey. We had 1,600 responses to the question which pay-out percentage they wanted. The options were 10 percent, 12.5 percent, and 15 percent, and all three of them got 33 percent of the votes. Whatever we did, 66 percent was going to be angry. We did what we thought was in the best interest of the poker economy at that time.
This time, we ran all the data we had and decided again to do what we thought was in the best interest of the poker economy and poker players. We've done what we think was the right thing to do.
Is this a try-out, or is this a definitive decision?
We're doing it for the 2016 portion of EPT season 13; Barcelona, Malta and Prague. We really want to give it a solid run. It's like 200 tournaments and this way we will be really able to take a good look at it, and get the feedback from the players. This ultimately is a player driven industry and if the overwhelming feedback is that players love it, hate it, or want it tweaked, we'll certainly go back and look at it. But it will be in place for these 3 events.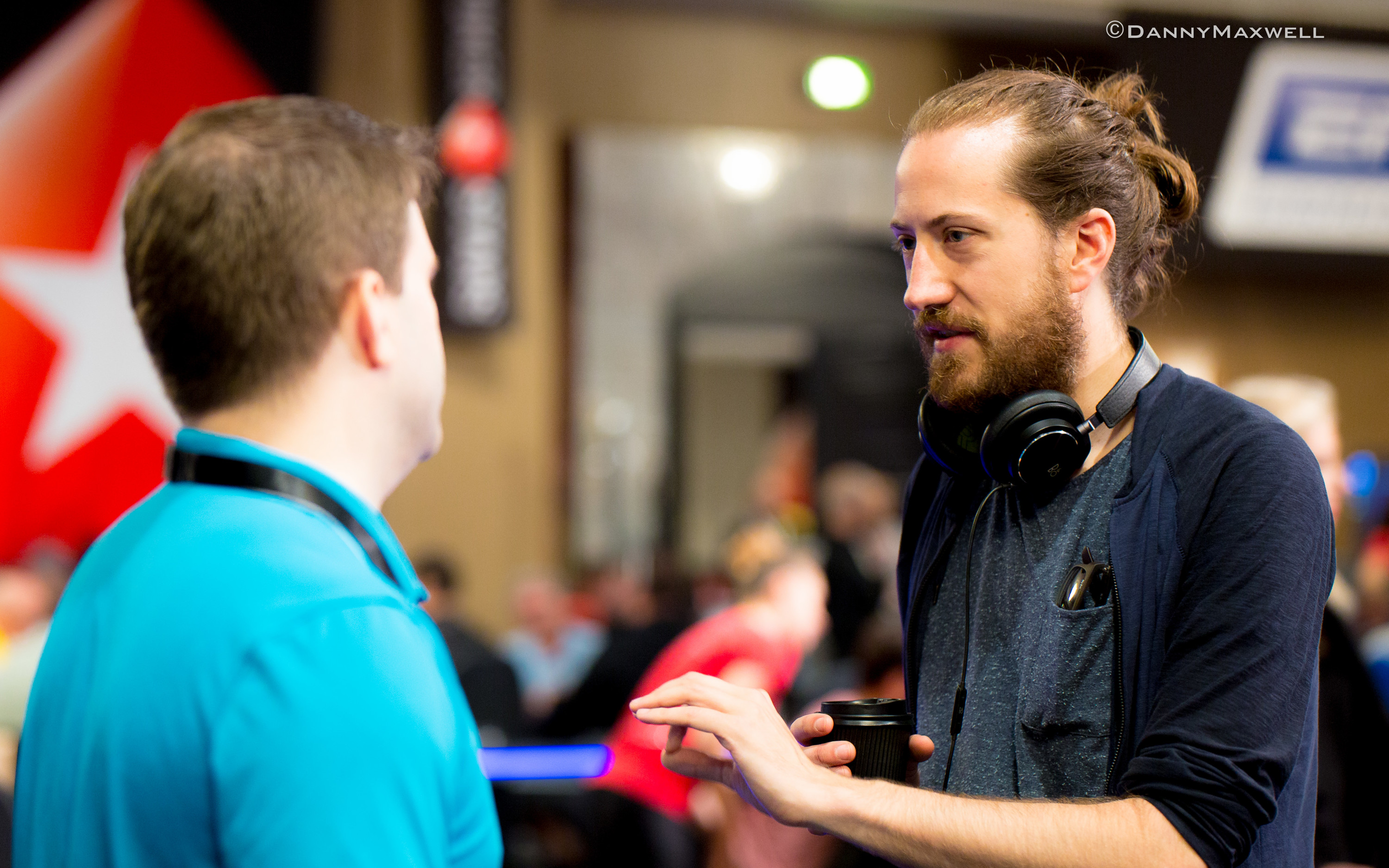 Super High Roller regular Steve O'Dwyer talking to Neil Johnson about the changes
Does the decision come from the ever growing field sizes in live events?
You have these massive small buy-in events where thousands of people sign up. Take for example the opening WSOP circuit events and the Colossus or our PokerStars Cup events. People are paying something like $300 and play huge prize pools, but a lot of money is never flowing back into the poker economy.
Let's say first gets $200,000 in a $300 buy-in event. That's great and amazing for that player. $197,000 of that is probably leaving the poker economy forever though. A $300 player is not going to become a $2,000 player overnight. That's just not how progression works in poker. Let's say we now make first place prize $175,000, that's still a huge number of times their buy-in and still life changing money. You take that $25,000 and pay out a lot of people at the bottom, and give them all another bullet to become that $175,000 winner in one of the other events.
To keep a healthy poker economy, a solid liquidity for live tournament poker, you need more winners. You need more people able to buy in and play so the fields continue to grow. You don't want to see a situation where it just stagnates, which happens if there's not getting new money in.
I read an interesting article on Part Time Poker by Steve Ruddock, talking about the consolidation of online gaming. He pointed out something we all know but not think about generally, that poker is the only vertical in gaming that requires other players. It requires a healthy liquidity and a healthy ecosystem and the operators do have to keep that in mind.
The announcement spoke of 20 percent, but the first big event it was implemented came out to 22.9 percent of the field in the money.
We definitely acknowledge the argument whether the 20 percent should be the ceiling or the floor. The old EPT payouts had a 15 percent payout where the 15 percent was the ceiling. Quite frequently events paid out 12 percent or 13.
As the emphasis of this new payout was to pay out more people, the decision was to make the floor 20 percent. In practice, that means it will be in the 20 to 22 percent range.
That's something we're open to looking at. Maybe, if we get all the feedback, that turns out to be a mistake and we move to 17 to 20 percent and make the 20 percent the ceiling. We want to do it in a way that players appreciate it so we're always open to looking at any decision as part of the overall process.
What was the consideration to implement a small min cash, worth just about the buy-in?
There was a commenter on the 2+2 forum, RedOak, and he said something that sometimes gets lost. When we went to 15 percent we had a lot of people saying 1.7 times the buy-in as a min cash isn't enough. People commented they needed gas money, hotel, travel money so 1.7 times the buy-in back is not enough.
The reality is that it's 1.7 times more than $0, which is what the previous payout was. So people that are saying 1.1 isn't enough are missing the point that we were paying zero dollars before, and now pay out the buy-in back. As that commenter accurately pointed out, these were people walking away with nothing, and now they're walking with their buy-in back. They're getting a do-over.
Some people might say 'That's now why we play poker'. We respect there's a bunch of pro's that say that and I certainly acknowledge that they play poker for a big first place prize, but is that the minority or the majority of people that are playing? We feel the vast majority of players are our online qualifiers and recreational players. While everyone does look at the first place prize, cashing an event is already a big deal for them.
Has the difference between low buy-in events with huge amounts of entries, and the (Super) High Rollers with relatively small field sizes been considered? And the differences between reentry events and freeze-outs?
We've taken a look at out reentry figures and they average out to between 15 and 20 percent over the course of everything. So that isn't really an argument to make for a bigger min cash. If 50 percent of the players in an event reenters you'd have the majority of players in for double the buy-in. But when the vast majority is in for just one buy-in, which is the case at EPT's, we think you need to cater to those guys.
We're going to talk to the guys in the Super High Roller. We've seen the tweets from Mike [McDonald], Steve [O'Dwyer] and Daniel [Negreanu]. There's two schools of thoughts. For a tournament that is unlimited reentry where people are firing 5 or 6 bullets, I absolutely agree to differentiate them. We have very few reentry events and the vast majority of them are single reentry though. The only unlimited reentry event is the Super High Roller.
The €50,000 and above Super High Rollers are a unique animal. It's the same 100-200 people across the world who play those. I personally would give 'em winner take all if they wanted to, really.
But below that is something slightly different. For all of EPT12 we had 6 High Rollers that had 1,672 entries and 1,309 uniques. We satellite 163 players in for 12.5% of the unique fields. So we would argue in that instance, you don't have 1,300+ individuals who are all massive 5-figure buy-in players that would be disappointed with €11,000, the min cash if it had today's pay-out structure.
People might say nobody wants their buy-in back as min cash, but, respectfully, our research disagrees and I will add again, we don't believe we lowered what the min cash means, we added spots that used to be €0 and now pay those spots a 1.0x to 1.2x cash.
They're the players we listen to all the time and we want their opinion, so I'm going to come in tomorrow before the event starts and talk to everyone. I don't know I would make a change right there for that event as it is difficult to build a consensus with a large group in such a short window of time.
Neil Johnson and the European Poker Tour, after this interview was conducted, decided to switch back the payout structure to 15 percent for the €50,000 Super High Roller and €25,000 Single-Day High Roller.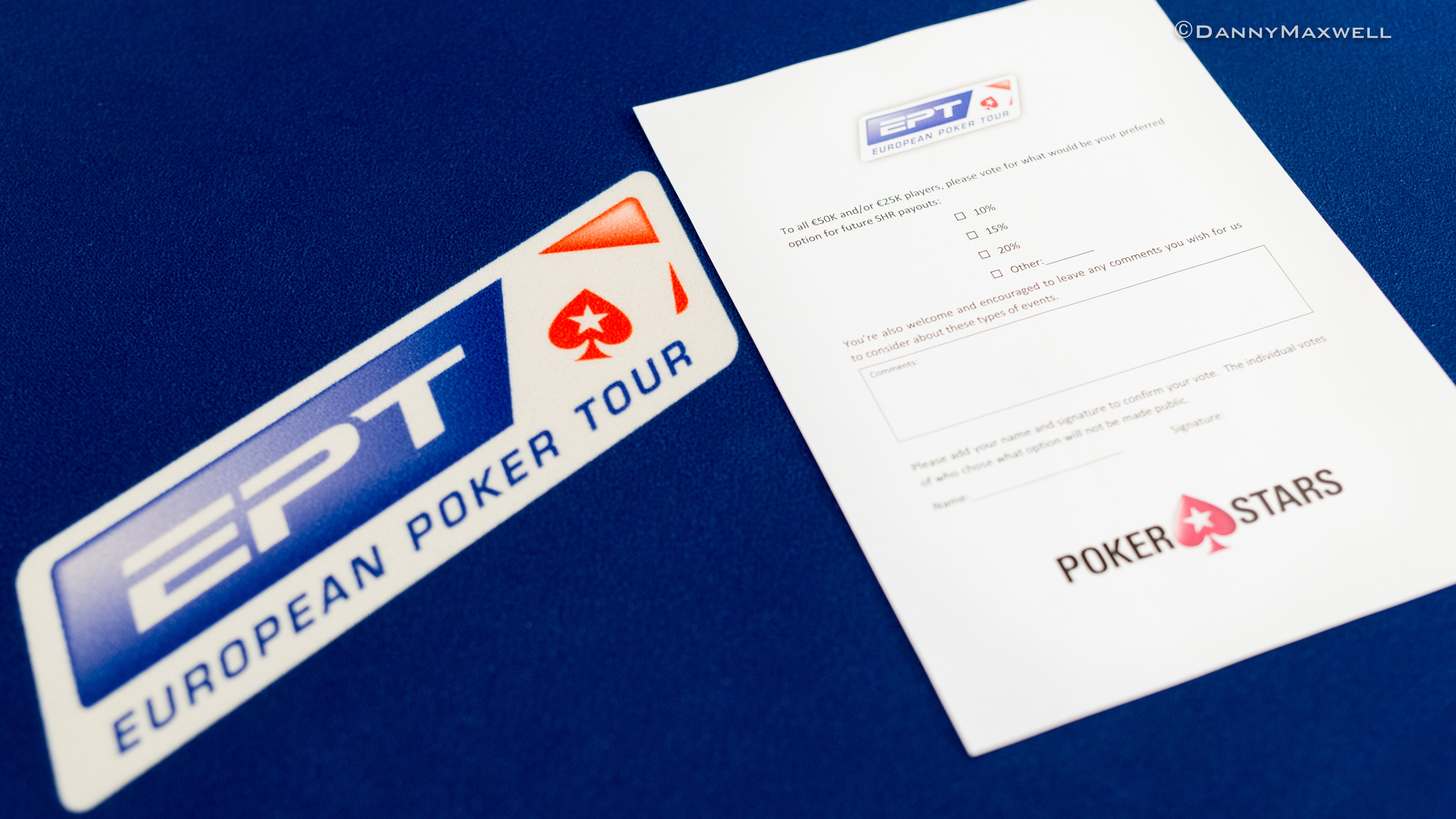 Twitter, Facebook, etcetera. We might not answer every Tweet or post, but everything gets seen or read and added to the feedback. We want to hear everyone's opinions on the change.
Hi all, thanks for the feedback on 20%, please keep it coming, we're reading it all. Thank you. @PokerStarsEPT #EPTBarcelona

— Neil Johnson (@NeilJPoker)