Global Poker Player of the Week: Nipun Java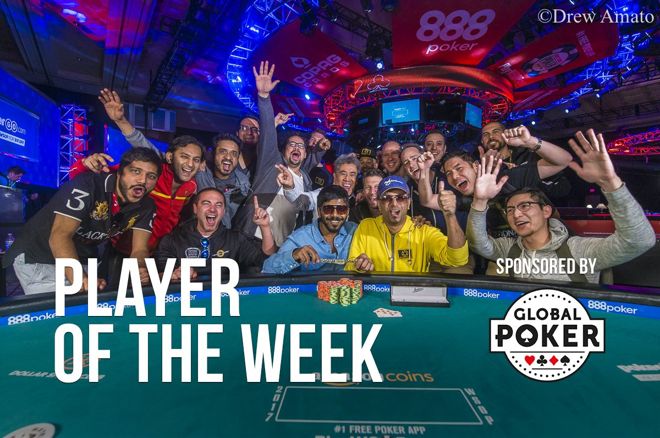 The country of India was able to break a bracelet drought and finally get on the board this summer. The first bracelet came in Event #10: $ 1,000 No Limit Hold'em - Tag Team when Nipun Java partnered with fellow countryman, Aditya Sushant to claim India's first WSOP gold bracelet. Then, just over a month later Java once again outlasted the field in Event 71: $ 1,000 No Limit Hold'em - WSOP.com Online Championship to add some hardware to his wrist with his and India's second gold bracelet.
"The tag team event was phenomenal because I teamed up with someone that came to Las Vegas as part of a group from India that comes every year. A lot of players come here to play, and not everyone has family support because it's a gamble. And If I can help with that transition in any way, then I'm up for it."
Java, who's proud to be Indian-born, feels more like an American these days but is thrilled to represent his country. He is excited about the possibility of leveraging his success to help grow the game back in his childhood home.
"I've been back to India a few times since I started playing professionally and I've played poker there each time," he said. "I would say my connection with Indian poker is not as deep as I would like. If I can bring any sort of inspiration back to India, then I would welcome it. It was hard for me to help grow the game back home at first because I was new to poker myself. I didn't know many people in poker, but that's changed, and I definitely want to do more and try to get involved."
"I'm very happy to win a bracelet. It was a great thrill, but the value in a tournament is more important to me."
Java's parents still live in India, and they make a point to see each other every year. Either they visit him or Java and his sister, who lives in New York, meet them in some common place for vacation.
"We met in Australia earlier this year. I was there for the Aussie Millions, and I just love it there. My parents are getting older, and I want to take care of them, but it's hard because we live so far away. I'm probably going to apply for citizenship either this year or next to see if I can get them here."
Coming from a traditional family, learning your son wants to leave his safe and secure job as a computer science engineer for a high-risk job without an income guarantee couldn't have been easy for them to accept.
"My dad was a little skeptical at the beginning. He's been a working man all his life, and he felt like I was taking a pretty big gamble. As an above-educated individual, choosing poker as a profession didn't make sense to him.
"But my mom has always been a believer because she knows I'm a little stubborn and that I'll be successful with anything I put my mind to. My mom is great and an emotional person, so she's like let him do what he wants. Nothing speaks louder than success. So once I started to see success, they were both elated and my dad's my biggest fan now."
Does that stubbornness his mother sees in him transfer to the poker table?
"I've played poker for a long time now, and I'm getting better at it every day. Everyone has some kind of weaknesses. But I'm better at setting goals and pursuing them and not letting other people's opinion affect how I think about myself. That's really needed, especially in poker."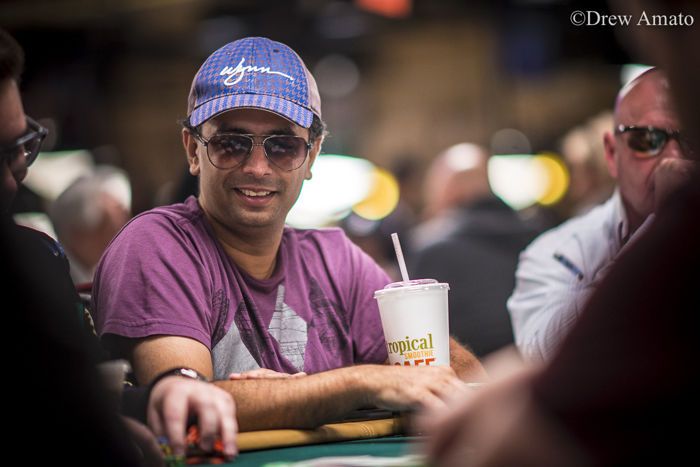 Java only made the full-time leap into playing poker professionally about three years ago. And unlike many pros, he didn't grow up in the game. He recently moved to Los Angeles and was looking for things to do in his free time when he happened to come across the amateur poker group, LA Rounders. The game rotates through 10-15 different homes in the San Fernando Valley.
"I clearly remember when I played for the first time in someone's home. It was great, and I made some really good friends that night. The guys still support me like I'm one of them and I support them. I've made some lifelong friends through that group."
At some point, Java realized he had a knack for the game. He kept playing and studying and slowly the results started rolling in.
We all know that playing in a home game is light years away from going professional. It has been a goal of Java's to become a professional for awhile.
"I was slowly getting more and more confident in my game and also having less energy and excitement for work. I was starting to play more, especially tournaments on the weekend. Since I was getting better and better, I knew going professional was a real possibility."
Even though professionally playing poker was a possibility, it can still be difficult to pull the trigger and let go of the guaranteed income.
"Unless I make money, I can't achieve my other goals. I'm very pragmatic about what I need to do to keep playing professionally."
"There were two major roadblocks to going pro, one was the bankroll, and the other was my citizenship. I decided to go full time because I had a good year with two big scores. And right before then I got my green card, so I was free to leave my job without any repercussions. Once everything lined up, I was excited to pursue poker."
2017 is Java's fourth summer as a bonafide professional, and when he comes to Las Vegas, he stays focused on his primary goal which is to make money so he can stay in business.
"Unless I make money, I can't achieve my other goals. I'm very pragmatic about what I need to do to keep playing professionally. Don't get me wrong; I'm very happy to win a bracelet. It was a great thrill, but the value in a tournament is more important to me. I would consider myself a value-hunter. It's kind of important for longevity in this business."
Java considers himself a tournament grinder which means he finds himself on the road about two-thirds of the year. And when he finally makes it home, you can find him looking for value in the local tournaments held at The Bike or Commerce.
And with two bracelets to his name, you can bet both The United States and India will try to claim him as one of their own. He might live in the U.S., but a big part of his heart still belongs to India.