All-in and Alive: Poker Player Overcomes Being Lit on Fire by Stranger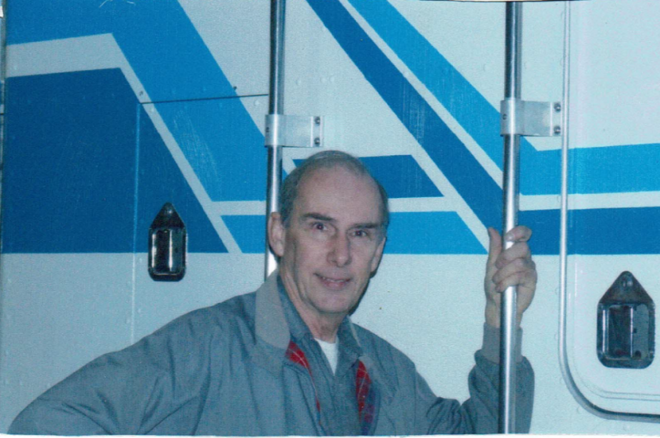 He smelled his hair and skin burning, literally melting away. The pain was indescribable. Scott Ranstrom lunged to the ground – rolling and squirming as flames engulfed his body. To say he feared for his life would be an understatement.
Only moments earlier, the 69-year-old Vietnam veteran had been sitting at his local Denny's in Portland, Oregon. It was a regular routine for Scott, a semi-retired owner of a small garment printing business. A longtime recreational poker player, he sipped a cup of coffee on the evening of April 19 while doing some paperwork. As per his usual, Scott fired up his laptop to play some free online poker to pass the time.
"All of a sudden I feel something wet flowing all over me. And before I could do anything ... I was on fire."
Workers at the Denny's knew Scott and that he played online poker that night on PokerStars and the World Poker Tour's ClubWPT site. He looked over his work, planning for the next day as he bet and folded – probably a routine many casual poker players do on a daily basis. Then at about 9:30 p.m., his personal hell began.
"All of a sudden I feel something wet flowing all over me," he says. "And before I could do anything there was a whoosh, and I was on fire. It was a good enough fire that it was all over me and I couldn't put it out."
By instinct, Scott lunged to the floor in an attempt to stop the burning and ultimately stop the pain as his skin and hair burned away in the flames. He held his breath and believes if he had inhaled, it wouldn't have ended well. As he rolled on the floor, a customer jumped a partition and extinguished the flames with his coat – saving his life.
"The next thing I remember I was being put in an ambulance," he says. "And then I was in a coma for two months."
It was mid-June before Ranstrom finally regained consciousness.
"I remembered everything in detail," he says. "I woke up alive and saw I had both my hands, and hadn't lost any fingers or anything."
That was a positive, but there were many complications. Skin grafts were required from Scott's hands to about one-third of the way down his arms – something he didn't even realize he had undergone until waking up.
"On my right hand, the skin was burned right down to the bone," he says. "My left hand wasn't quite as bad."
A complete stranger had entered the restaurant, soaked Scott with gasoline, and quickly lit him on fire. Despite waking up alive, the fight for regaining his former life was a long way from ending.
TABLE TALK
Raised in Portland until age 10, Scott then grew up in Alaska before entering the Army and serving two years in Vietnam. He then returned to the Portland area, marrying once and raising one child.
Card playing has been a part of Ranstrom's life for at least 10 years. He plays live and online to keep his mind in the game – and is missing it at the moment.
"I love poker," he says. "I feel that if you can win at poker online, then theoretically you can win at a real table and I've proven that to myself several times. I consider it playing for free online as practice."
"I love poker. I feel that if you can win at poker online, theoretically you can win at a real table."
A regular at games around Portland and even at some spots in Canada, Scott has notched some nice small tournament cashes and live scores through the years. His regular cash game in Portland features a $500 buy-in and he also jumps into some local tournaments with prize pools in the $40,000 range.
"I really zero in on the cash games," he says. "I can control the game a little better I think. Pretty much it's the same guys showing up and always a few newcomers. You want to catch them when they're busting out of the tournaments – they're a little loose."
Never would this businessman and poker player have thought he'd be attacked out of the blue by a complete stranger while playing the game he loves. Police used surveillance video to identify DeShaun Swanger as the alleged attacker. According to Portland's KATU.com: "Clackamas County Deputies arrested Swanger several days after the attack and charged him with attempted murder. Swanger was transferred to the Oregon State Hospital for treatment, a judge ordered him unfit to stand trial on charges of attempted murder."
After the attack, Scott learned the 24-year-old Swanger had attempted the same attack in two theaters in the area but couldn't get a match to light both times.
"He had just gotten out of prison and was at a halfway house," Scott says. "What he was doing out that late, we still don't know. They should have had a curfew."
According to KGW.com, attorneys for Swanger described him as psychotic and that he "hears voices and believes he is being controlled by others through a microchip in his brain."
ROAD TO RECOVERY
Still in recovery, Scott faces more recuperation – but is pleased just to be living.
"I almost died a few times in the hospital," he says. "I'm doing a lot better, but I'm not recovered. I've got one foot that doesn't work right. There's just a lot of little things. I have some internal injuries from rolling around like an 18-year-old, and at my age you can't quite do that."
Those injuries include significant liver and kidney damage. He requires dialysis three times a week until his kidneys begin functioning normally. Much of his week is now occupied with physical therapy, helping him learn to walk again. For now, he gets around with a walker, but is hoping to be moving on his own in a few weeks as he regains his strength.
"As long as I've got something to hold on to I can walk quite a ways now," he says. "But getting up is the hardest part, the first foot or so."
For four months he couldn't even speak, but is now able to talk and communicate. Overall, Scott will be in the hospital at least another two months and expects to recover to about 90 percent mobility.
"I almost died a few times in the hospital. I'm doing a lot better, but I'm not recovered."
As he spoke from his hospital bed, Scott praised his surgeon and entire medical team, the man who put out the flames, and friends and family. His two sisters and two brothers have been supportive in the recovery process. And while he's ready to get back to some poker, Scott still has some healing to do.
The attack will come with significant medical expenses, which Scott expects to be in the hundreds of thousands of dollars. Family and friends have set up a GoFundMe account to help defray the cost. The account reached $41,000 by Wednesday night and friends posting on the site noted him as a sweet-natured man.
Despite the attack and the entire ordeal, Scott doesn't hold a grudge toward his attacker and prefers to remain optimistic and hopeful.
"I've always had a positive attitude," he says. "I'm not dead, I'm alive. People have asked me if I hate this guy. No I don't hate this son of a bitch, but I don't want to see him out on the street again to do this to someone else.
"I want people to understand that you've got to have a positive attitude. You cannot look at today – you have to look to tomorrow."
A generous lot, poker players are asked to help. To donate, visit his GoFundMe account by clicking here. The family asks for your help and your prayers.
Be sure to complete your PokerNews experience by checking out an overview of our mobile and tablet apps here. Stay on top of the poker world from your phone with our mobile iOS and Android app, or fire up our iPad app on your tablet. You can also update your own chip counts from poker tournaments around the world with MyStack on both Android and iOS.