Daniel Negreanu Reacts to Big Changes Coming to PokerStars Events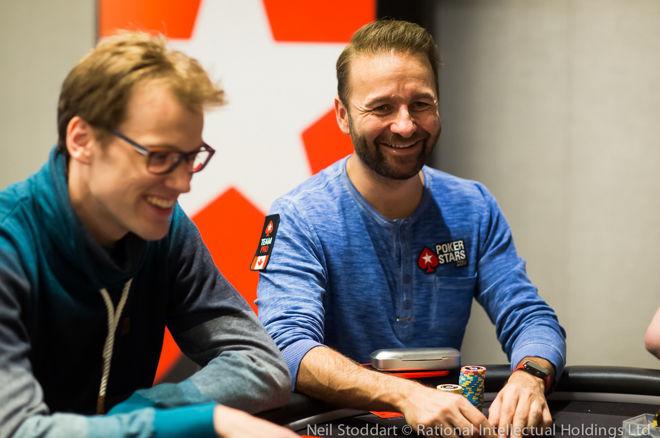 The PokerStars Players No Limit Hold'em Championship Trailer begins, "A poker tournament is the ultimate player competition."
With the announcement earlier today, PokerStars is showing a commitment to its player community by not only bringing back its most popular tours, but by creating the ultimate player competition with the PokerStars Players Championship set to debut in January 2019.
PokerNews' Frank Op de Woerd sat down with Daniel Negreanu from Team PokerStars to get his thoughts on the changes and his take on the competition for building a thriving poker community.
There were two big announcements on Friday. The first being the return of the extremely popular regional tours, the EPT, LAPT, and APPT. The second being the creation of the PokerStars Players Championship.
Negreanu's Take
"I think it's awesome. Really, when you think about it from a poker player's perspective, what do they want out of a tournament?" Negreanu asked. "Value. They want to know that it's gonna be a good tournament. And that's what they'll get with PokerStars contributing eight million dollars - the 300 seats, plus on top of that a million dollars added to the first-place prize. And it's rake-free, even if you buy-in for the $25K."
Well, that's value alright.
It's a positive sign that PokerStars isn't rushing to get the Players Championship on the schedule because it gives people time to plan — time to come up with the money and determine what events they are going to play in hopes of winning a Platinum Pass.
It also gives PokerStars time to plan a spectacular event. "We want to make it different than every other poker tournament," Negreanu explains. "We want to roll out the red carpet and show a commitment that PokerStars hasn't abandoned this community. We've had a tumultuous relationship of late, so with the changes that have happened, this tournament is one way to let people know we haven't forgotten what our roots are. This is a good way to do that. Like why would you not play this one?"
"We want to make it different than every other poker tournament"
Negreanu is obviously enthusiastic about the changes and as a very visible member of the PokerStars team, it stands to question how much involvement he had in the changes.
"It was clear to me when we changed the name that there were a lot of disappointed people because the EPT had such a long history," Negreanu said when asked if he had a role in the changes that were announced. "Has the shift to the new brand really had a positive effect? It didn't really feel like it had much of an impact, frankly. One way we can show in 2018 and beyond, that PokerStars is committed to giving the players what they want is to give them back the EPT, give them back the LAPT, and the APPTs. So this really was an easy decision, as far as I was concerned. It just took a little bit of logistical work to get it done."
So far, the reception has been positive.
An open 25k tourney with 320 seats given away + 1 million added to first.

— Jason Mercier (@JasonMercier)
And you can find other similar tweets in the timeline from players, poker media, and fans alike.
An Unprecedented $25K
It is pretty incredible to think that 300 random players are going to get their shot at a high roller normally reserved for the richest and very best players poker has to offer.
Negreanu was asked his thoughts about the fact that the PokerStars Players Championship seems to be giving back more to the high-stakes community, by putting 300 random players that don't regularly play $25K buy-ins into a tournament with the most skilled and experienced players.
"Yes, I think it certainly will help those players. The best of the best are going to get the biggest value," Negreanu said. "But I would take a different stance on this and say that players who don't play $25Ks — like $5K grinders can sell action to get into this thing because of the added value. So I think you're going to see a lot more players who are not high rollers or super high rollers but maybe some circuit grinders across America and the rest of world that are going to find a way throughout the year to put aside enough money or maybe sell pieces so that they can get into this tournament."
Negreanu is banking on the fact that the field will be huge and include a mix of high-stakes, mid-level grinders and low-stakes players in the field. And as we've witnessed in other large field tournaments, anything can happen. And isn't that why players like to take shots in the first place?
"What I'd like to see happen is fewer events but make them big and special and good."
Negreanu was asked if he had more insight into how the passes would be awarded beyond what was shared during the announcement. It appears some of the passes will be earned with a win and some will be awarded thanks to the luck of the draw.
Negreanu elaborates, "There are going to be so many different ways in which you can qualify and it's not based solely on skill. Some of it will be because you win a tournament. A lot of the time you're going to get a seat when you win, but not always. Others will be given just by simply participating."
Regarding earning a Platinum Pass by participating, Negreanu gave the example of a random table draw from all the tables on Day 2 of a tournament and placing a Platinum Pass in the pot on a specific hand. The winner of that pot gets the Pass. Negreanu estimates a 50/50 split between earning a Pass with a win or other skill-based tests and random draws.
This is one kind of participation trophy we can all get behind.
The EPT of the past had thirteen events, this year there were seven, but the new and improved EPT has only four events on the schedule with stops in Sochi, Monte Carlo, Barcelona, and Prague.
Negreanu addresses the downsizing, "Four is smaller. Overall, I think we have so many events now, I think we're up to about 90, which is actually, in my opinion, way too many. What I'd like to see happen is fewer events but make them big and special and good. Rather than just spread it out and have a lot of events that are kind of okay, having stops that are really great is more important. We are oversaturated now, with not only us but there's other competition. There's only so much of a budget people have to play.
Poker Tour Competition
Speaking of the competition, one has to wonder if these changes are a response to the rise in popularity of partypoker and it's commitment to live events that are attracting big fields.
Negreanu loves the competition and thinks it is good for everyone. "Honestly, I'm super stoked and happy about the competition, because I think it's better for the players when they have an opportunity to play a wide variety of events. It pushes all the companies who are running tournaments to do better and to give the players more."
He continued to say he's happy to see other organizations put money, time and a focus on growing poker, something he feels PokerStars has been doing on their own since Black Friday.
"So I love the fact there's competition. I think it's pushed this [the changes] and I think it's going to continue to give players more options."
"If you really think about it since Black Friday there has been one organization and one organization only that has been investing in poker. Poker as a sort of online gaming venue has been in a decline. And nobody else is spending money like PokerStars has been spending money. Other sites have cut back their marketing budgets completely and just sort of like piggybacked, which is fine. So I love the fact there's competition. I think it's pushed this [the changes] and I think it's going to continue to give players more options."
And Negreanu is banking on the fact that if the competition wins, the players win. "I root for them. I hope that other organizations up their game to the point where we can look at that and say how do we one up that? And then who wins? The players win."
The 2013 WSOP Main Event champion, Ryan Riess, tweeted what we are all thinking: "Welcome back, PokerStars."
PokerNews' Laura Cornelius also caught up with Negreanu on Friday to discuss the big announcements. Watch the full video below.
The Stars Group owns a majority shareholding in iBus Media